Friday, July 12, 2019
  Awards and Recognitions
By Priscilla Ramirez
RIO GRANDE VALLEY, TEXAS – The University of Texas Rio Grande Valley has been ranked sixth in the state by OnlineColleges.com on its list of Best Online Colleges in Texas for 2019-20, for the affordability and quality of its online programs.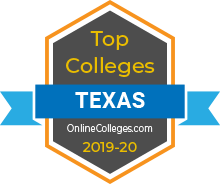 Universities across Texas were ranked based on several key factors, including accreditation, affordability, accessibility, student satisfaction and online growth.
In the "Annual Tuition and Fees" category, UTRGV came in at $7,587, based on criteria that refer to the average in-state tuition and required fees for full-time undergraduates and graduate students as of 2017-19. Statistics are based on reports from the National Center for Education Statistics.
The university's "Distance Education Participation," which refers to the percentage of students taking either some or all courses via distance education, is assessed at 46 percent.
And in the "Number of Programs Offered" category, which indicates the count of degrees and certificates available via distance education at any level as of 2017-18, UTRGV offers 15.
All category rankings listed assess four-year institutions.
For more information about online and accelerated online graduate programs at UTRGV, visit the UTRGV Graduate College website or call 956-665-3661.
ABOUT ONLINECOLLEGES.COM
OnlineColleges.com is a resource for people who want reliable information about online colleges and degree programs. It uses a system of ranking based on several contributing factors across several aspects of universities. Number of programs offered, average tuition, graduation and retention rates, university services and resources for grant aid to students. Onlinecolleges.com gathers data from sources that include The National Center for Education Statistics, The Integrated Postsecondary Education Data System, The Bureau of Labor Statistics, and The U.S. Census Bureau.
ABOUT UTRGV
The University of Texas Rio Grande Valley (UTRGV) was created by the Texas Legislature in 2013 as the first major public university of the 21st century in Texas. This transformative initiative provided the opportunity to expand educational opportunities in the Rio Grande Valley, including a new School of Medicine, and made it possible for residents of the region to benefit from the Permanent University Fund – a public endowment contributing support to the University of Texas System and other institutions.
UTRGV has campuses and off-campus research and teaching sites throughout the Rio Grande Valley including in Boca Chica Beach, Brownsville (formerly The University of Texas at Brownsville campus), Edinburg (formerly The University of Texas-Pan American campus), Harlingen, McAllen, Port Isabel, Rio Grande City, and South Padre Island. UTRGV, a comprehensive academic institution, enrolled its first class in the fall of 2015, and the School of Medicine welcomed its first class in the summer of 2016.