Wednesday, July 10, 2019
  Alumni, Announcements
By News and Internal Communications
By Cinthia Monsivais
RIO GRANDE VALLEY, TEXAS – The University Transportation Center for Railway Safety (UTCRS) rode into the world of STEM and transportation at its sixth annual summer camp for area elementary school students.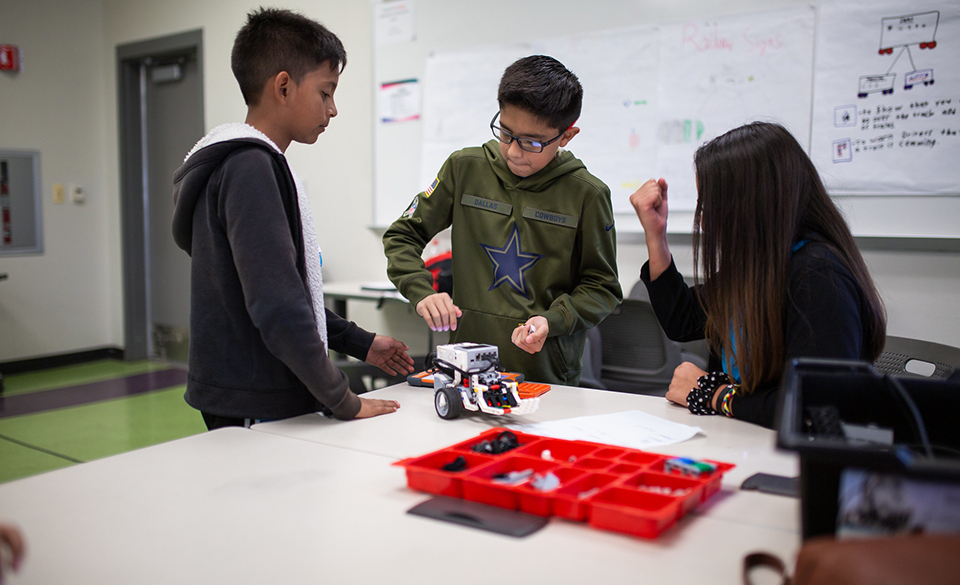 This camp was the center's largest to date, with 1,500 participants from grades three to 12.
Organized by Dr. Constantine Tarawneh, director of the UTCRS, the camp is founded on the center's missions to aid workforce development in the STEM fields and create community outreach and engagement.
"We deal with elementary students, and we want to show them at an early age that they can pursue STEM careers and make them more aware, more confident and less scared of pursuing these careers," Tarawneh said.
The camp is designed to raise awareness of transportation infrastructure and STEM careers, but the camp's goals also include building representation for underrepresented groups, including Hispanics and women, in the transportation and STEM career fields, Tarawneh said.
Delving into topics like Newton's Three Laws of Motion, coding and programming, students experimented with balloon rockets and even got to create their own robots.
Every June, the center hosts its annual UTCRS Summer Camp, one of the largest transportation summer camps in the nation, and has reached some 6,800 students and 600 teachers.
For more information about the UTCRS Summer Camp, visit https://www.utrgv.edu/railwaysafety/education/summer-camps/index.htm.
ABOUT UTRGV
The University of Texas Rio Grande Valley (UTRGV) was created by the Texas Legislature in 2013 as the first major public university of the 21st century in Texas. This transformative initiative provided the opportunity to expand educational opportunities in the Rio Grande Valley, including a new School of Medicine, and made it possible for residents of the region to benefit from the Permanent University Fund – a public endowment contributing support to the University of Texas System and other institutions.
UTRGV has campuses and off-campus research and teaching sites throughout the Rio Grande Valley including in Boca Chica Beach, Brownsville (formerly The University of Texas at Brownsville campus), Edinburg (formerly The University of Texas-Pan American campus), Harlingen, McAllen, Port Isabel, Rio Grande City, and South Padre Island. UTRGV, a comprehensive academic institution, enrolled its first class in the fall of 2015, and the School of Medicine welcomed its first class in the summer of 2016.