Wednesday, July 3, 2019
  Around Campus, Community
By Maria Elena Hernandez
RIO GRANDE VALLEY, TEXAS –  As one of two students at his school who plays piano, Andre Jesús García Garza, of Jubilee Brownsville, was looking for the opportunity to meet others who share his interest.
"I wanted to be able to be with other piano students. I wanted to have that experience," he said.
The UTRGV Young Artist Piano Camp in Brownsville gave him that chance.
UTRGV associate music professor Dr. Kenneth Saxon, who led the camp, said it is mainly for for intermediate to advanced piano students.
"So they're mostly high school students, some late middle school students," he said.
Participants auditioned to get into the five-day piano camp.
"We get some really outstanding students at these camps," Saxon said. "This is particularly a great group this year."
Garcia Garza agreed, and said he was happy to be in such good company.
"They're really good. They're really talented," he said.
The Jubilee Brownsville student said he was nervous about his own audition and hoped the camp would improve his sight-reading.
That's the same skill Jamyleen Vazquez, a piano camp participant from Brownsville who attends Lopez Early College High School, wanted to build.
Like Garcia Garza, this is Vasquez's first time attending a piano camp.
"It's something new. It's something out of my comfort zone, so it's a great opportunity," she said.
In addition to sight-reading, students studied theory and technique.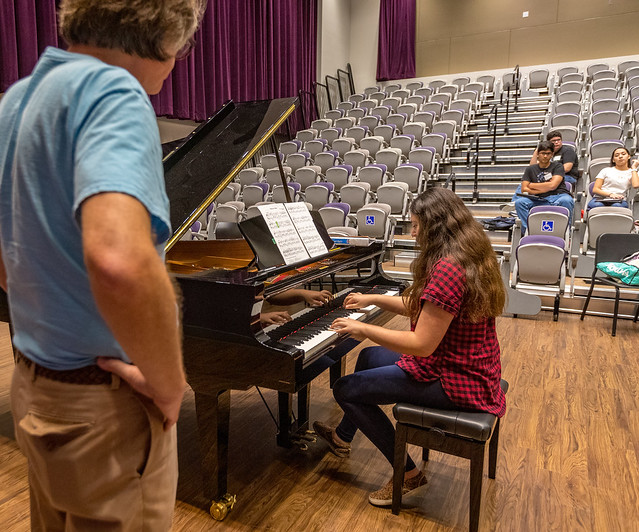 "They get several performance opportunities, and they also study other aspects of musicianship," Saxon said.
The piano camp this year was held at the UTRGV Music, Science & Learning Center, one of the newest buildings on the UTRGV Brownsville Campus.
"We have terrific facilities to do everything that we want to do," Saxon said.
Camp participants ended the week of training with a concert at the UTRGV Music, Science & Learning Center.
To learn more about summer camps available at UTRGV, visit utrgv.edu/camps.
ABOUT UTRGV
The University of Texas Rio Grande Valley (UTRGV) was created by the Texas Legislature in 2013 as the first major public university of the 21st century in Texas. This transformative initiative provided the opportunity to expand educational opportunities in the Rio Grande Valley, including a new School of Medicine, and made it possible for residents of the region to benefit from the Permanent University Fund – a public endowment contributing support to the University of Texas System and other institutions.
UTRGV has campuses and off-campus research and teaching sites throughout the Rio Grande Valley including in Boca Chica Beach, Brownsville (formerly The University of Texas at Brownsville campus), Edinburg (formerly The University of Texas-Pan American campus), Harlingen, McAllen, Port Isabel, Rio Grande City, and South Padre Island. UTRGV, a comprehensive academic institution, enrolled its first class in the fall of 2015, and the School of Medicine welcomed its first class in the summer of 2016.