UTRGV faculty recognized with award for excellence in teaching entomology

  Friday, June 28, 2019
  Research
By News and Internal Communications
By Karen G. Villarreal
RIO GRANDE VALLEY, TEXAS – A bug-loving faculty member at UTRGV is sending his students out with nets.
And they're returning not just with bugs, but with a passion for learning more about their insect specimens.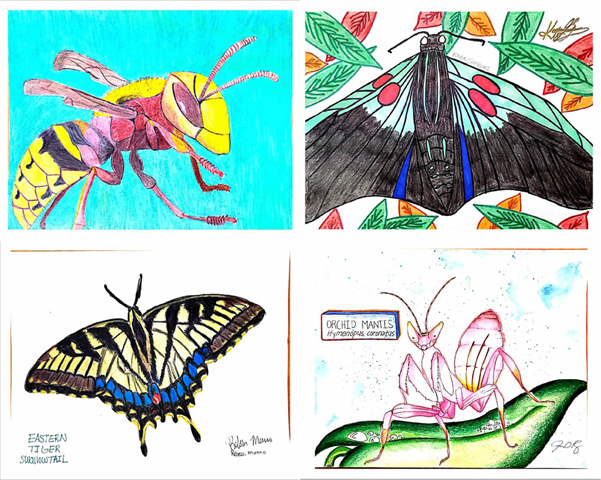 The ESA awards honors faculty who are making an impact in the field of entomology through effective classroom instruction and student mentorship, as well as other aspects of teaching in higher education, including research, publications and grants. 
Jesus Chavana, one of the students who nominated Kariyat for the award, said his professor is "at the forefront of entomology and making it relevant to younger generations."
Entomology is the study of insects and their development, physiology, reproduction and function (how they interact with plants and other insects). Kariyat said many students find it hard to memorize all of those things because they are dealing with insects they've never seen before, except maybe in textbooks.
In the Kariyat Lab, that's not the case. There is no textbook. 
Instead, he keeps his students engaged by tailoring his lecture slides with his own research, as well as with two-minute videos from educational sources like Planet Earth, PBS and professionals who work with insects on YouTube.
The greater part of the class, though, is in the hands of the students themselves.
"They go out and catch insects," Kariyat said. "I make it very local. I ask them to collect insects that are available in the area." 
Each student is required to submit at the end of the semester a specimen box with 50 labeled insects and a lab notebook with all their records. They also create artwork of the insects based on live studies, and have an opportunity to practice public speaking through a weekly "show-and-tell," where they bring in multiple specimens of one type of bug to pass around the class, and participate in a class discussion about it. 
"It cannot be anything too common like ants or honeybees," Kariyat said.  
By the end of the semester, students get hands-on interaction with as many insects as there are students enrolled in the class, often about 30.
While Kariyat was recognized for innovative teaching methods, the ESA also considers the type of student taught by the faculty member up for nomination. UTRGV has many non-traditional, first-generation students. Kariyat is mindful of this, so he meets with each student by appointment at least once per semester to review their work.
"This way, I am able to get to know the students and identify any who are struggling, and try to help them," he said.
The Distinguished Award in Teaching also recognized that Kariyat's class is rigorous. His students are undergraduates in an elective class, but they are developing skills through assignments that prepare them for future research. Former students of his are continuing the work as graduate students, with one already publishing an entomological paper and two more on track to publish. They caught the research bug in Kariyat's analytical labs, while collecting specimens and data and doing statistics and dissection.
Kariyat said he is thankful for the support of his department, as well as the research grant that allows him to focus on his research with a lighter teaching load.
"I really enjoy this class," he said. "I teach it by choice. I'm very grateful for that."
ABOUT UTRGV
The University of Texas Rio Grande Valley (UTRGV) was created by the Texas Legislature in 2013 as the first major public university of the 21st century in Texas. This transformative initiative provided the opportunity to expand educational opportunities in the Rio Grande Valley, including a new School of Medicine, and made it possible for residents of the region to benefit from the Permanent University Fund – a public endowment contributing support to the University of Texas System and other institutions.
UTRGV has campuses and off-campus research and teaching sites throughout the Rio Grande Valley including in Boca Chica Beach, Brownsville (formerly The University of Texas at Brownsville campus), Edinburg (formerly The University of Texas-Pan American campus), Harlingen, McAllen, Port Isabel, Rio Grande City, and South Padre Island. UTRGV, a comprehensive academic institution, enrolled its first class in the fall of 2015, and the School of Medicine welcomed its first class in the summer of 2016.