Wednesday, June 26, 2019
  Student Life
By Letty Fernandez
RIO GRANDE VALLEY, TEXAS – This summer, 170 UTRGV students are traveling the world to discover new experiences through the Study Abroad program.
In May, students along with their faculty advisors traveled to China, Spain, London, and South Korea as part of UTRGV's Minimester Study Abroad program.
Amanda Meda, who has a bachelor's degree in Communication Sciences and Disorders, was one of six graduate students who participated in a seminar in Multicultural Speech Langauge Pathology in Spain. The course was designed to expose students to diverse cultures and immerse them in a new environment. Meda said she enjoyed the food and the sights, and that the trip was "unlike any other educational experience" she had ever had.
"We had the opportunity to completely immerse ourselves into the Spanish culture. The most interesting thing was being able to note the differences between our culture and theirs," she said. "This trip taught us all to be broader in the way we view the world. I'm extremely grateful I was given this opportunity to make new friends and see a totally new part of the world."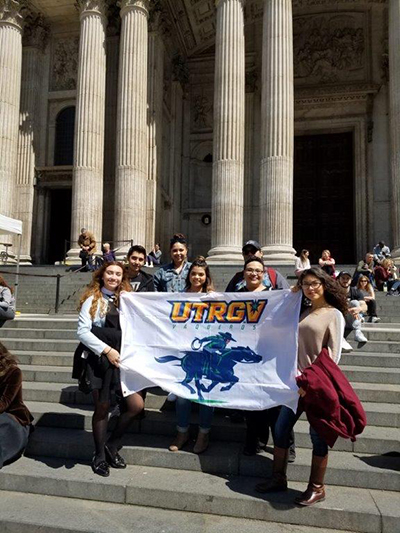 While in Spain, students traveled to the cities of Salamanca, Madrid, Toledo and Valladolid. They also visited the Institute of Neurosciences of Castilla y León at the University of Salamanca, and met with students in the Communication Sciences and Disorders program.
Another group of UTRGV students traveled to London in May for an English course entitled "Write Along the River Thames." For the class, students were asked to read and analyze British poetry, short stories and novels, and to write travel blogs based on their experiences.
"We went on a number of excursions, including visiting the Tower of London, Stonehenge, Windsor Castle and Bath. We also went to a medieval banquet where we celebrated with King Henry VIII and Anne Boleyn," said Marianita Escamilla, a Lecturer III in Writing and Language Studies.
She said service learning was also part of the London experience, and students spent the day volunteering at the Felix Project, where they packed and delivered food to charities.
Students also learned about the impact of the Koestler Trust, a charity that helps ex-offenders, hospital patients and immigration detainees in the United Kingdon to express themselves creatively.
Dr. Xin Zhang, a Lecturer in the UTRGV College of Liberal Arts, accompanied eight undergraduate students to Beijing, China.
"Our course provided students with in-depth training of Chinese proficiency in business contexts," Zhang said. "The course included linguistics, as well as social cultural topics related to doing business in China using the Chinese language."
While in Beijing, students toured several companies, colleges, and historic sites including the Badaling Great Wall and Tian'anmen Square, and visited with a Chinese family.
The study aboard program is housed in the Office of International Programs and Partnerships in the Office of Global Engagement. Short- and long-term trips are available for undergraduate and graduate students to travel and study in the United States and abroad.
Alan Earhart, UTRGV director of International Programs and Partnerships, said study abroad is a high-impact learning practice.
"It stretches students by placing them out of their comfort zone into new environments, where they must navigate a different culture, language and world view," he said. "Students often return to their studies with a renewed sense of purpose." 
For more information about the UTRGV study abroad program, visit https://www.utrgv.edu/ipp/study-abroad/index.htm
ABOUT UTRGV
The University of Texas Rio Grande Valley (UTRGV) was created by the Texas Legislature in 2013 as the first major public university of the 21st century in Texas. This transformative initiative provided the opportunity to expand educational opportunities in the Rio Grande Valley, including a new School of Medicine, and made it possible for residents of the region to benefit from the Permanent University Fund – a public endowment contributing support to the University of Texas System and other institutions.
UTRGV has campuses and off-campus research and teaching sites throughout the Rio Grande Valley including in Boca Chica Beach, Brownsville (formerly The University of Texas at Brownsville campus), Edinburg (formerly The University of Texas-Pan American campus), Harlingen, McAllen, Port Isabel, Rio Grande City, and South Padre Island. UTRGV, a comprehensive academic institution, enrolled its first class in the fall of 2015, and the School of Medicine welcomed its first class in the summer of 2016.