Friday, June 21, 2019
  Announcements
By Victoria Brito
Vector-borne diseases are illnesses caused by living organisms – like fleas, ticks and mosquitoes – that can transmit infection between humans, or from animals to humans.
The two-day meeting, held at the Medical Education Building on the Edinburg Campus, featured scientists and researchers who presented updates on a variety of projects, as well as on recent efforts to enhance outreach, education, training and research initiatives.
Dr. Janna Arney, deputy president of UTRGV, updated the group on what the university's ongoing research and stressed the importance of studying vector-borne disease in the Rio Grande Valley.
"We are considered high risk for vector-borne diseases, an area of science that has an impact on our region," Arney said. "We are honored to be partnering with experts across the state, because in order to do this research, we need the best and the brightest."
The keynote speaker on Thursday was Dr. Chris Paddock, a CDC pathologist and rickettsiologiist who specializes in tick-borne rickettsioses like Rocky Mountain spotted fever, which is rare. Still, as recently as 16 years ago, two new diseases and four new vectors have been recognized, he said.
"We have since discovered an expansion of recognized diseases and vectors," Paddock said.
One of the newly discovered diseases was tick-borne rickettsia – infections caused by a variety of bacterial species from the genus.
"As it turns out, these ticks are most abundant in remote areas on the Texas-Mexico border, and most of the people affected by rickettsia are Border Patrol agents," he said.
Tick-borne rickettsia in western North America are considerably more complex than previously believed, Paddock said, and there are numerous opportunities in Texas alone for research.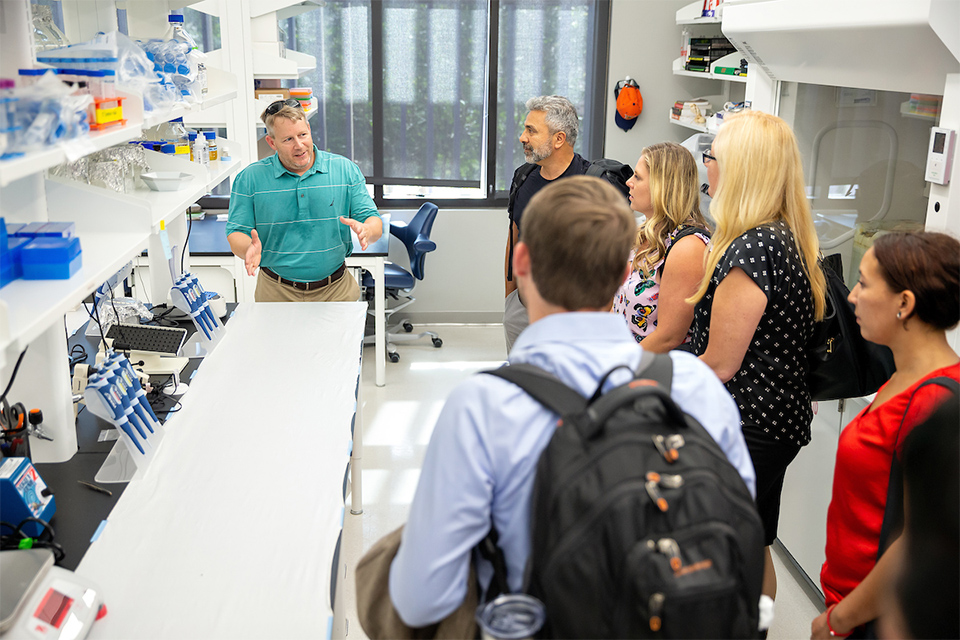 THE IMPORTANCE OF COLLABORATION
Dr. Christopher Vitek, UTRGV associate professor of biology, said the meeting serves as an opportunity to highlight what UTRGV and other institutions are doing in the field of vector-borne disease research.
"UTRGV is an active participant, and we are ready to step onto the main research stage and add to these projects with our expertise," he said. "It also is good for people who are not from Texas to see what we are doing here."
He updated the group on how UTRGV is teaching vector-borne topics with his presentation on medical entomology, which highlights teaching as a career in the study of insects and arthropods that impact human health.
With academia broken into research, service and teaching, he said, UTRGV professors are required to teach six courses per year. To maximize resources, Vitek said, he brings teaching into the lab through his research.
"Your lab work depends on the students that you have, which is why I am happy to say I have very productive, very enthusiastic, and motivated students," he said.
Both Vitek and Dr. John Thomas, UTRGV assistant professor of biology, are part of UTMB's Western Gulf Center for Excellence for Vector-Borne Disease, a multi-institutional consortium aimed to enhance Zika virus surveillance efforts in cooperation with local public health and vector-control agencies.
They also are part of the UTRGV Center for Vector Borne Diseases, along with the following UTRGV faculty: Dr. Teresa Patricia Feria Arroyo, associate professor of biology; Dr. Beatriz Tapia, assistant dean for faculty development at the UTRGV School of Medicine; Dr. Tamer Oraby, assistant professor of mathematical and statistical science; and Dr. Erin Schuenzel, associate professor of biology.
The UTRGV center's multi-disciplinary focus encourages research collaboration and cooperation between students, researchers and departments at UTRGV and with external partners.
The event continues today (Friday, June 21) with presentations from Thomas and Vitek on their South Texas surveillance research, city and county public health updates, and a Q&A for public health partners. 
ABOUT UTRGV
The University of Texas Rio Grande Valley (UTRGV) was created by the Texas Legislature in 2013 as the first major public university of the 21st century in Texas. This transformative initiative provided the opportunity to expand educational opportunities in the Rio Grande Valley, including a new School of Medicine, and made it possible for residents of the region to benefit from the Permanent University Fund – a public endowment contributing support to the University of Texas System and other institutions.
UTRGV has campuses and off-campus research and teaching sites throughout the Rio Grande Valley including in Boca Chica Beach, Brownsville (formerly The University of Texas at Brownsville campus), Edinburg (formerly The University of Texas-Pan American campus), Harlingen, McAllen, Port Isabel, Rio Grande City, and South Padre Island. UTRGV, a comprehensive academic institution, enrolled its first class in the fall of 2015, and the School of Medicine welcomed its first class in the summer of 2016.