Friday, May 17, 2019
  Alumni, Community
By Amanda Alaniz
RIO GRANDE VALLEY, TEXAS – UTRGV legacy alumna Mercy Renteria's love for dance began when she was just 3 years old.
The Houston native said her mother would drive her to dance classes, and that's when her passion started to grow.
"I love being on stage. I've been on stage since I was 3 years old. It's like my home," she said. "I love being there and being able to connect with the audience."
She earned her bachelor's degree in marketing and management from UTPA, recognizing that even a dancer would need business sense.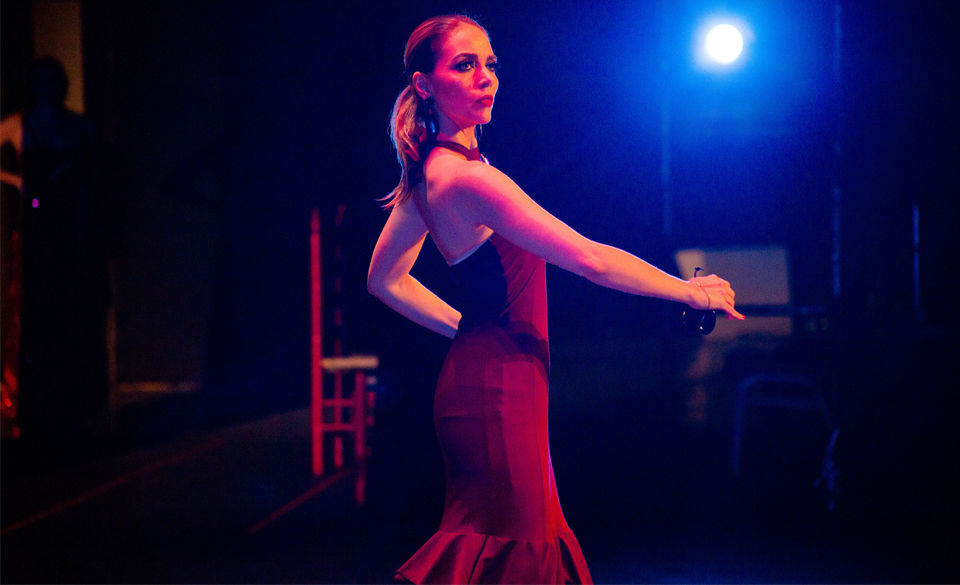 Now a professional flamenco dancer, Renteria also is a consultant in the oil and gas industry. She owns a production company called "Undebel Flamenco," as well as a business consultancy for oil and gas called Reca Petroleum Solutions. Both businesses are in Houston.
She started her college career as an international student from Mexico and delved into any opportunities at the university, including dance. She said the university gave her a strong base that she has been able to apply to her career.
The Career Center served as a haven for her, helping her find the right career route, guiding her professionally and offering opportunities.
She was able to get an internship through the center that, unbeknownst to her, would be the start of a career in the oil and gas industry.
"I was an international student, and the university was great in terms of giving you all the tools. For example, planning for interviews through mock interviews. And they were helping me become more confident when talking to potential employers," she said.
When it came to polishing her flamenco skills, being part of the Flamenco Dance Team under the direction of Fred Darsow, associate professor of dance, was an eye opener. Darsow even brought in professional dancers from Spain to teach them, and learning dance from the community where the dance style originated made absolute sense to Renteria.
 "Because with dance, it's not just steps," she said. "You need to immerse yourself in the culture."
The alumna now holds flamenco workshops for children, teens and adults, and wanted to help students understand the dance similarly to how Darsow helped her.
"One of the wonderful things he did to complement all of his great skills was bring in people from the outside," she said. "And that's what I do. I studied in Spain and I developed my career in Spain with great teachers, but I still bring the professionals to my students because they need to be immersed in the culture."
After graduation, Renteria continued her career in the oil and gas industry in Houston, but when the industry took a turn, she decided to seek ways to support the city and opened her flamenco production company.
Her business acumen helped, and she knew how valuable it would be to make the company successful.
One thing Renteria advises others is that familiarity with business practices is central, especially today.
"Back then, I just wanted a dance career. And I'm happy that I didn't do just a dance career, but I did my business career," she said. "In any field you're in, you're going to need a business background. In this society, if you want to sell something, you need to tell others you have an idea and you need to convince them about it."
Her love for dance remains very much at the forefront, and is a way of communication, she said. 
The feedback Renteria has received about her company's flamenco performances has been inspiring. One woman told her she didn't speak Spanish, but she felt the dance carried a powerful message.
"Because flamenco is an art form and a beautiful dance, you're really projecting emotions," Renteria said. "It's a really powerful moment when you're on stage. Nothing else matters but you and giving the best of yourself to others."
ABOUT UTRGV
The University of Texas Rio Grande Valley (UTRGV) was created by the Texas Legislature in 2013 as the first major public university of the 21st century in Texas. This transformative initiative provided the opportunity to expand educational opportunities in the Rio Grande Valley, including a new School of Medicine, and made it possible for residents of the region to benefit from the Permanent University Fund – a public endowment contributing support to the University of Texas System and other institutions.
UTRGV has campuses and off-campus research and teaching sites throughout the Rio Grande Valley including in Boca Chica Beach, Brownsville (formerly The University of Texas at Brownsville campus), Edinburg (formerly The University of Texas-Pan American campus), Harlingen, McAllen, Port Isabel, Rio Grande City, and South Padre Island. UTRGV, a comprehensive academic institution, enrolled its first class in the fall of 2015, and the School of Medicine welcomed its first class in the summer of 2016.