Wednesday, April 17, 2019
  Community, Around Campus
By News and Internal Communications
RIO GRANDE VALLEY, TEXAS – The UTRGV Center for Bilingual Studies (CBS) and RGV Parents United for Excellent Dual Education (RGV PUEDE) recently held their third annual parent conference, "Strengthening Parent-School Partnerships for Dual Language Education."
Half of the 135 participants were bilingual directors and principals from the seven Valley school districts/charters that offer Dual Language Education, a model that fosters true bilingualism, biculturalism and biliteracy, enhanced awareness of cultural diversity, and the highest levels of academic achievement in both English and Spanish.
The other half of the participants were parents from these same districts/charters. School districts represented included Donna ISD, Harlingen CISD, La Joya ISD, McAllen ISD, Mission ISD, Rio Grande City CISD, and Vanguard Academy. Parents from Edinburg ISD and Brownsville ISD also came to encourage their districts to begin offering Dual Language Education.
The conference more than doubled in size from the previous year, and on March 29, participants filled the ballroom on the UTRGV Edinburg Campus. 
The keynote address was by Dr. Gisela Saenz, interim superintendent of La Joya ISD, whose commitment to Dual Language Instruction spans more than 10 years. She shared La Joya's strategic plan for supporting all aspects of its Dual Language program, as well as the impressive academic results they have seen district-wide. She also provided participants from other districts with ideas for growth and improvements.
Other speakers included Dr. Joy Esquierdo, director of CBS, UTRGV professor in Bilingual and Literacy Studies, and current president of the Texas Association for Bilingual Education (TABE); Drs. Alex Stehn and Mariana Alessandri, UTRGV philosophy faculty and co-founders of RGV PUEDE; and Karina Chapa, director of Language Proficiency, Biliteracy and Cultural Diversity at Region One.
The 70 parents from across the RGV who participated were a critical component of the conference, since the overarching aim of the event was for parents to partner directly with their district leaders.
The one-day conference offered a space in which parents and campus administrators could jointly support one another in the growth and faithful implementation of Dual Language Education, which has been shown to have better results than traditional bilingual education programs like Transitional Early Exit.
Activities included having parents and district administrators brainstorm about what they needed, what they could contribute, and how they could help each other in jointly supporting one another in the growth and faithful implementation of Dual Language Education. They also collaborated to plan events that support Dual Language education, and to strengthen ongoing partnerships.
The UTRGV Center for Bilingual Studies is a research, interdisciplinary center that brings together faculty from colleges across the university to collaborate on research and other learning initiatives that explore bilingual families and communities across the region.
School districts and/or principals interested in knowing more about UTRGV's Center for Bilingual Studies should contact Yajaira Rivera (yajaira.rivera@utrgv.edu) or visit the website.
RGV PUEDE's mission is to organize parents to support, improve, and extend dual language programs from Pre-K to 12th grade across the Valley. Anyone interested in RGV PUEDE should contact Alex Stehn (alex.stehn@rgvpuede.org) or visit www.rgvpuede.org.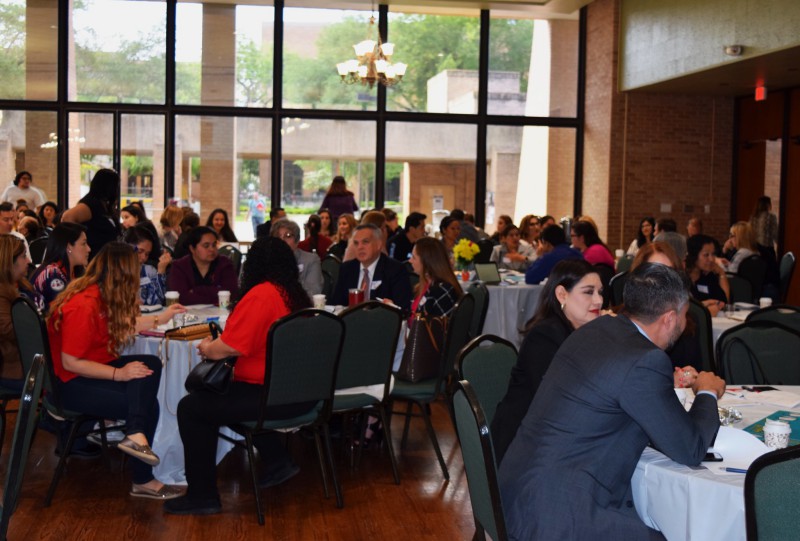 ABOUT UTRGV
The University of Texas Rio Grande Valley (UTRGV) was created by the Texas Legislature in 2013 as the first major public university of the 21st century in Texas. This transformative initiative provided the opportunity to expand educational opportunities in the Rio Grande Valley, including a new School of Medicine, and made it possible for residents of the region to benefit from the Permanent University Fund – a public endowment contributing support to the University of Texas System and other institutions.
UTRGV has campuses and off-campus research and teaching sites throughout the Rio Grande Valley including in Boca Chica Beach, Brownsville (formerly The University of Texas at Brownsville campus), Edinburg (formerly The University of Texas-Pan American campus), Harlingen, McAllen, Port Isabel, Rio Grande City, and South Padre Island. UTRGV, a comprehensive academic institution, enrolled its first class in the fall of 2015, and the School of Medicine welcomed its first class in the summer of 2016.