Tuesday, April 2, 2019
  Awards and Recognitions, Announcements
By News and Internal Communications
By Kelli Quin
RIO GRANDE VALLEY, TEXAS – UTRGV scholarship recipients had a chance to meet the donors who are investing in their education during the university's annual Donor Scholarship Luncheon March 19 on the Brownsville Campus and again March 21 on the Edinburg Campus.
This year, about 215 scholars and donors attended the luncheons, themed "Minds in Bloom." The theme emphasized the roles of creativity and critical thinking in the progression of intellectual ability, and as UTRGV works to provide a well-rounded educational experience for all its students, the goal is for each to blossom.
During opening remarks at the Brownsville luncheon, UTRGV President Guy Bailey said the students present are tomorrow's leaders.
"The engineers, the scientists, the musicians – these are the people who make the Valley a great place to live," he said.
STUDENTS FIND MOTIVATION, SUPPORT
Adrian David Barrera, a second-year UTRGV medical student from Rio Grande City, said the scholarship provided the push he needed.
"One thing that I found very important about my scholarship is that it showed someone is believing in me," he said, "someone is willing to invest in me. It kept me motivated."
Barrera received his undergraduate education in San Antonio, but decided to return to the Valley for a medical education when the UTRGV School of Medicine opened.
"When I realized I would be a part of something that was growing, something new, something that would change the Valley for the better, I decided, 'I have to go there. I have to be a part of that,'" he said.
Sophomore mechanical engineering major Fariha Ahmad spoke during the luncheon about UTRGV and the impact donors have had on her education.
"So far, my time at UTRGV has taught me that family can be found even at university," she said. "I see my UTRGV family everywhere: in the English professors that invite their one engineering student to poetry slams; in the female engineering professors who make every effort for a hijab-wearing girl like me to feel comfortable in materials lab; and in the smile of my dean when he walks amongst his students."
Ahmad said the donors are like family for her, too. She received scholarship funding to cover her tuition and fees for the first two years of school, which made everything possible. 
"The impact of these scholarships is so very great," she told the donors present. "I don't have to worry about the burden of tuition … I can completely dedicate myself to focusing on school. You, like my family, have my back. You've supported me and you've helped me on my journey to reach my goals."
Andrea Morrison, a first-year honors biology major, spoke to attendees during the luncheon in Edinburg. She wants to be a physician and, one day, serve her Valley community. Scholarships have been vital during her journey thus far. 
"The fact that I will complete my undergraduate career with no debt is one worry less that I will have in my lifetime of a thousand worries," she said, "and for that I am extremely grateful."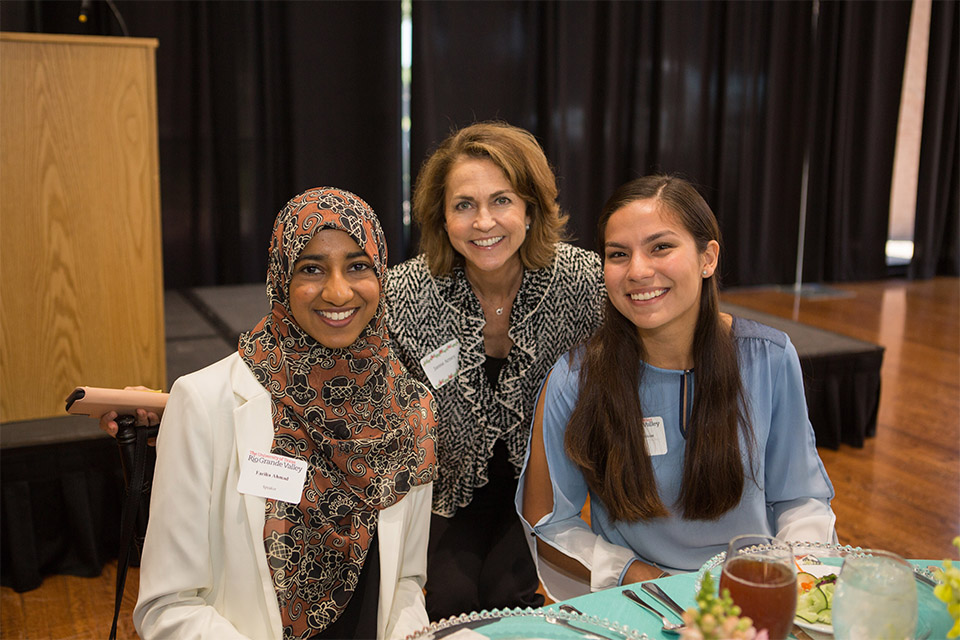 DONORS: 'IT'S EXTREMELY REWARDING'
Dr. Herlinda "Linda" Wilkinson, who attended the luncheon in Brownsville, was able to meet two students who are recipients of the William V. Wilkinson and Greater Texas Foundation Scholarship.
The scholarship is named in honor of her late husband, the first chair of the Criminal Justice Department at UTRGV legacy institution UTB-TSC.
The process of forming an endowment is long and complicated, she said, "but when you see where the money goes and how it helps students, it's extremely rewarding." 
Wilkinson spoke at length about the financial struggles she and her late husband experienced while seeking a higher education. It was during an evening walk to the library at Sam Houston State University – where she worked while her husband was pursuing his doctorate – that he had the idea for helping other students like them.
"Someday, when we are able to, we have to set up scholarships so other kids won't have a hard time like we are going through school," he told her. 
Making good on that promise, Linda Wilkinson in 2012 completed the endowment in her late husband's name. She also has gone on to form the Herlinda Aguilar Wilkinson Chancellor's Excellence Endowment, and became a founding donor for The UTRGV School of Medicine, to ensure that those seeking higher education receive the assistance and support they need.
UTRGV Deputy President Dr. Janna Arney spoke during the Edinburg luncheon. Addressing the students in the room, she said UTRGV will be there to celebrate their successes in school and beyond. 
"We will always know that we had at least a piece of your future successes," she said, "and there will be many to come."
To donors, she offered thanks for helping fulfill dreams.
"We all had help somewhere along the way," she said. "All of us were nudged in the right direction. And for all the great accomplishments in our lives, we don't do those alone. We have help. Making the dream of higher education a possibility is what you're here today doing."
She said the greatest thing about education is that it does not stop with the students.
"It impacts the students. It impacts their family, their community, the entire region," she told donors. "We all benefit from what you're giving back today."
ABOUT UTRGV
The University of Texas Rio Grande Valley (UTRGV) was created by the Texas Legislature in 2013 as the first major public university of the 21st century in Texas. This transformative initiative provided the opportunity to expand educational opportunities in the Rio Grande Valley, including a new School of Medicine, and made it possible for residents of the region to benefit from the Permanent University Fund – a public endowment contributing support to the University of Texas System and other institutions.
UTRGV has campuses and off-campus research and teaching sites throughout the Rio Grande Valley including in Boca Chica Beach, Brownsville (formerly The University of Texas at Brownsville campus), Edinburg (formerly The University of Texas-Pan American campus), Harlingen, McAllen, Port Isabel, Rio Grande City, and South Padre Island. UTRGV, a comprehensive academic institution, enrolled its first class in the fall of 2015, and the School of Medicine welcomed its first class in the summer of 2016.