Teacher's request for university T-shirts goes viral, helps inspire elementary students about college

  Monday, April 1, 2019
  Alumni, Announcements
By Amanda Alaniz
AUSTIN, TEXAS – MARCH 28, 2019 – All UTRGV legacy alumna and teacher Margaret Medina-Olivarez wanted was a picture of her elementary school students in university T-shirts.
She got more attention for her efforts than she bargained for – all good – when she sent out an email asking universities around the country if they could donate T-shirts for her students.
Raised in McAllen, Olivarez has been a third-grade bilingual teacher at Pflugerville Independent School District's Copperfield Elementary School for more than 10 years, after earning a bachelor's degree in Interdisciplinary Studies with a concentration in education from UT Pan American.
She always knew she wanted to help children, she said, and that eventually led her to teaching. However, when she started her college career, she was a communication major at UTPA with the goal of becoming a news reporter. She soon realized it wouldn't be for her.
"I loved my communications classes, they were great," she said. "I wanted to be a news reporter, but I didn't think I would find a job. So, I thought, what was something else I would love to do? Be a teacher."
Her first teaching job was with the La Joya Independent School District for about five years; then she moved to Austin and landed the job at Copperfield.
Olivarez became heavily involved in her school and helped jumpstart a ballet folklórico program five years ago in which students have placed at competitions.
She also gained national attention after asking universities around the country if they could donate T-shirts for her students.
The T-shirt effort started when one of her students asked why teachers were wearing college T-shirts. She explained it was for "College Wednesday," a program started by the school district in which students and faculty would wear T-shirts with college logos.
She asked her students if anyone had a T-shirt like that, and not one hand went up. Olivarez knew then and there she had to find a way to change that, knowing how valuable educational opportunities are.
"The effort started with a simple email to universities, as short as possible. I explained the situation in my classroom and I asked, 'Could you donate two or three T-shirts?'
"I started getting feedback – more than I expected," Olivarez said. "It was overwhelming, and they were asking, 'How many do you need?' My principal said to ask if they could donate to a class of 25 or for a grade level of 75. And that's how it all started." 
Olivarez reached out to her alma mater, UTRGV, and received a box of shirts. She shared them with her students and told them about her own connection with the university in the Rio Grande Valley.
"I talked about each university a little, as the shirts were coming in. I told them this was where their teacher graduated from, and everyone wanted the UTRGV T-shirt. They got really excited because they heard me talk about it with all this excitement.
"One of them asked, 'You think we can really get there?' And I said, 'Of course you can," she said.
One parent even told her the T-shirt opened up a conversation about college, something that had never been discussed before in their household.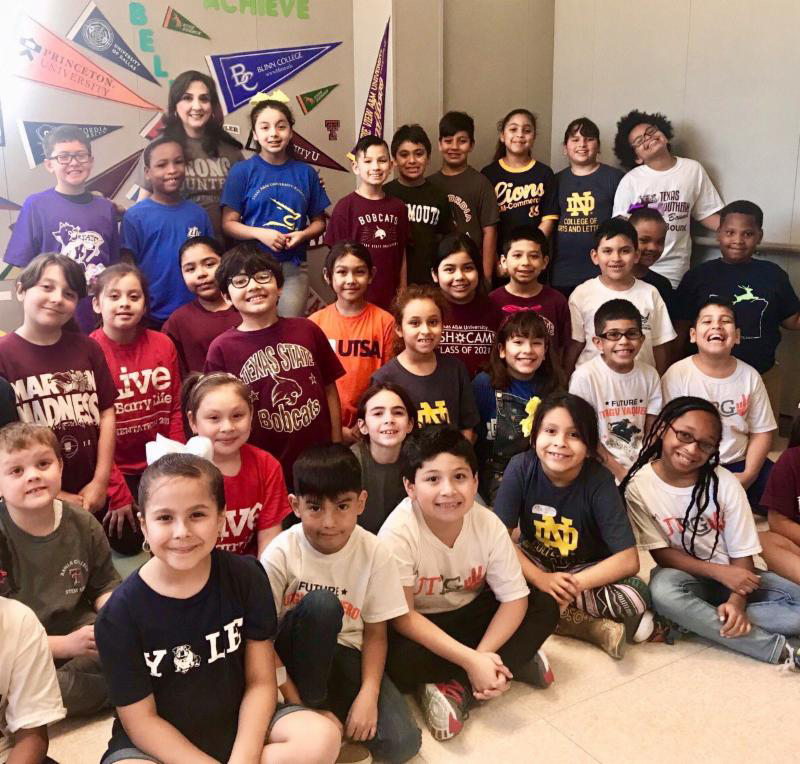 The alumna credits her own parents for instilling in her how important education is, and she carried those same values along to inspire her students.
"I don't consider myself a role model," she said. "I would say I'm a nurturer. Tell me that I can do it, and I can do it. We should inspire students to do better. My father always told us it didn't matter how, but we were all going to get to college. As teachers, we have to embed that little seed that says you can fulfill your dreams."
That one simple email she sent to get her students excited about college began to spark national attention, landing a segment on the ABC morning show Good Morning America.
After the GMA segment, the T-shirt initiative really took off and Olivarez started getting responses from other schools. Soon, her inbox was flooded with emails asking how she did it. She responded with how she started: a simple email.
"If I was able to put that little spark into people, and for them to get a T-shirt to inspire kids to dream big, I did a great job. And all I wanted was a picture with all our kids in college T-shirts," she said.
Olivarez said everything she does is for the students and she is grateful for the support she received from the community and colleagues.
Recently, she was voted Humanitarian of the Year at her school by teachers and staff.
Her advice to future educators is simple: "Have a heart for it."
"Education is not what it used to be when I started more than 20 years ago. It's not as easy as it seems," she said. "But if your heart is in it and you really want to make a difference in these kids' lives, then hang in there."
ABOUT UTRGV
The University of Texas Rio Grande Valley (UTRGV) was created by the Texas Legislature in 2013 as the first major public university of the 21st century in Texas. This transformative initiative provided the opportunity to expand educational opportunities in the Rio Grande Valley, including a new School of Medicine, and made it possible for residents of the region to benefit from the Permanent University Fund – a public endowment contributing support to the University of Texas System and other institutions.
UTRGV has campuses and off-campus research and teaching sites throughout the Rio Grande Valley including in Boca Chica Beach, Brownsville (formerly The University of Texas at Brownsville campus), Edinburg (formerly The University of Texas-Pan American campus), Harlingen, McAllen, Port Isabel, Rio Grande City, and South Padre Island. UTRGV, a comprehensive academic institution, enrolled its first class in the fall of 2015, and the School of Medicine welcomed its first class in the summer of 2016.