Friday, March 29, 2019
  Around Campus
By Victoria Brito
BROWNSVILLE, TEXAS – The University of Texas Rio Grande Valley's  International Admissions and Student Services department in the  Office of Global Engagement hosted its annual International Women's Day ceremony Thursday, March 28, at Salón Cassia on the Brownsville Campus.
The luncheon event honored one female international faculty member and two international female students. The students, one graduate level and one undergraduate, received scholarships totaling $1,000. 
Samantha Lopez, UTRGV director of international admissions and student services, said International Women's Day is a global celebration of women and their successes.
"This is a day for recognizing the economic, political and social achievements of women, past, present and future," she said. "International Women's Day is a national holiday in more than 45 countries, and more than 50 countries host events to honor this day."
Raheleh Filsoofi, UTRGV assistant professor of ceramics, was this year's faculty awardee. The multidisciplinary artist from Iran was unable to attend the ceremony because she was in Minneapolis opening an art exhibit at a ceramics conference. 
Filsoofi was selected by the  Women's Faculty Network to receive this award. The Women's Faculty Network's purpose at UTRGV is to empower female faculty members by advocating for opportunities to advance their professional development through research, teaching and service.
"I am truly honored," Filsoofi said. "As a Middle-Eastern woman, artist and citizen of the world; gender equality and the empowerment of women have been central to my practice as an artist and educator.  I am so honored to be able to work in such an amazing community that promotes women faculty and their research and contributions.  I am humbled, and I feel that this honor will encourage me to work harder and promote art at the university and at national and international levels."
The ceramics professor recently curated the  FOLD: Art, Metaphor and Practice art exhibition held last year on UTRGV's Brownsville and Edinburg campuses.
STUDENT AWARDS
Fatemeh Mostafavikhatam, a graduate student from Iran studying physics, received the award for Outstanding International Female Student. Dr. Volker Quetschke, associate professor of physics and astronomy, presented her with a plaque and flowers.
"This award is very motivating for me because after a lot of hard work I put into my research here in the United States … and I found that at the end, my results are recognized by the university and they have this type of meeting to encourage students that their effort is seen and rewarded by the university. So, it's important to me," Mostafavikhatam said.
The Outstanding Female Student award also went to undergraduate Ana Cecilia Sanchez Ramos, a senior computer science major from Reynosa, Tamps., Mexico. Dr. Megan Strait, assistant professor of computer science, presented Sanchez Ramos with her award.
"I feel very humble to have received this award and I think it is very important that the university recognizes the women," Sanchez Ramos said. "I think this will set a good example to my peers and it's also motivating for me to keep working and giving back to my community, especially the community of women who helped me get here."
International Women's Day was celebrated globally on March 8, but UTRGV changed its local celebration date to accommodate the student winners, who were at a conference at that time.
The International Women's Day theme this year was "Balance for Better."
"It's a call to action for driving gender balance across the world," Lopez said.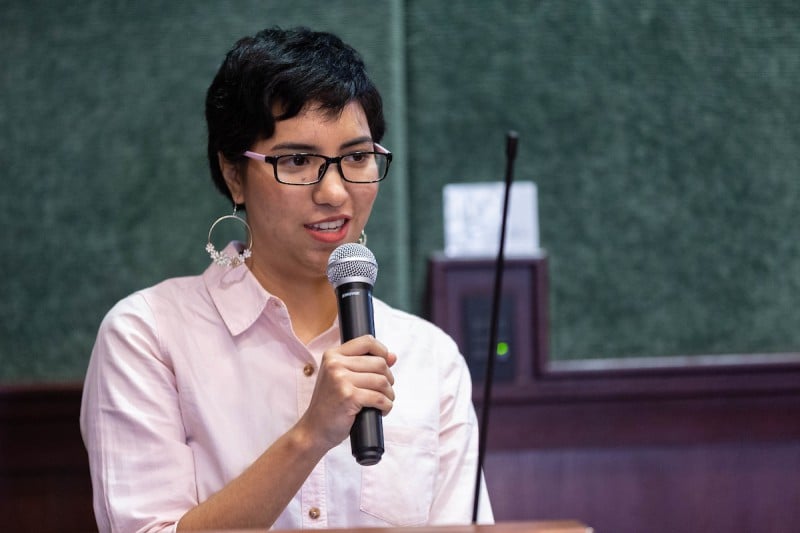 ABOUT UTRGV
The University of Texas Rio Grande Valley (UTRGV) was created by the Texas Legislature in 2013 as the first major public university of the 21st century in Texas. This transformative initiative provided the opportunity to expand educational opportunities in the Rio Grande Valley, including a new School of Medicine, and made it possible for residents of the region to benefit from the Permanent University Fund – a public endowment contributing support to the University of Texas System and other institutions.
UTRGV has campuses and off-campus research and teaching sites throughout the Rio Grande Valley including in Boca Chica Beach, Brownsville (formerly The University of Texas at Brownsville campus), Edinburg (formerly The University of Texas-Pan American campus), Harlingen, McAllen, Port Isabel, Rio Grande City, and South Padre Island. UTRGV, a comprehensive academic institution, enrolled its first class in the fall of 2015, and the School of Medicine welcomed its first class in the summer of 2016.