Thursday, February 21, 2019
  Alumni
By Amanda Alaniz
BROOKLYN, NEW YORK – FEB. 21, 2019 – Picture this: Lights. Models on a catwalk. Photographers. Designers. Music.
And a college professor, strutting in with a marketing strategy in hand and ready for a fashion show.
Dr. Ngoc Cindy Pham, an alumna of The University of Texas Rio Grande Valley and Houston native, would call all that hustle and bustle just another day in her busy schedule. 
Pham is a doctoral graduate of the UTRGV Robert C. Vackar College of Business and Entrepreneurship, where she earned a Ph.D. in marketing in 2018. She is now an assistant professor of marketing and international business at Brooklyn College in New York, and is currently working on tenure.
Her story is a little offbeat, and certainly swanky, as she has been able to blend her two passions – marketing and fashion – by becoming marketing director for FYID NYC's Xchange Fashion Festival – a show that is part of New York Fashion Week and Milan Fashion Week.
FYID NYC is a global creative agency that focuses on brand development and strategy, events and content creation. The Xchange Fashion Festival aims to showcase diversity and creativity from different avenues.
Pham landed her dream career with a UTRGV degree in her pocket and an eye for fashion.
"I love fashion. If you ask my advisor, Dr. Arturo Vasquez, who is a full professor at UTRGV, and the department chair, Dr. Michael Minor, at UTRGV, they know I love fashion," she said.
Minor, chair of the UTRGV Department of Marketing and marketing professor, said they have maintained contact, as he does with several other Ph.D. graduates.
"Cindy is inquisitive and energetic," he said, "and was a joy to have in class."
 While working on her Ph.D. at UTRGV, Pham was an instructor for a word-of-mouth popular elective course – fashion marketing – which grew from a class size of 18 to 45. The class is part of the marketing department's Entertainment Certificate Program, but is also offered as a general elective open to any major.
Minor said Pham's passion for the topic help garner enrollment in the course.
"As you can imagine, business school professors are seldom 'fashion plates.' It helped that Cindy was enthusiastic about the subject matter," he said.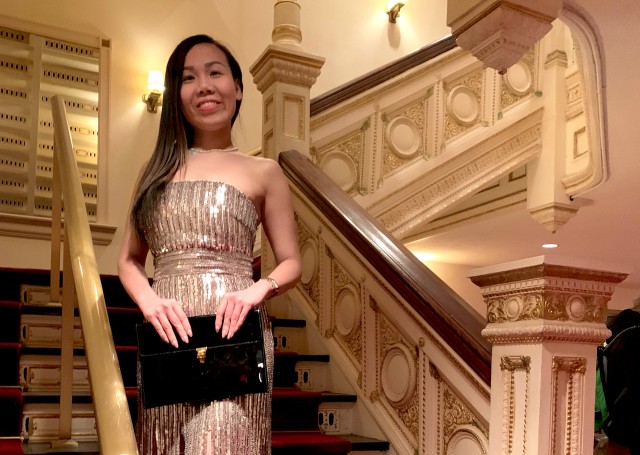 The courses she currently teaches at Brooklyn College are international business, consumer behavior, and a marketing internship course in which she connects students with local businesses.
"I'm very proud of the internship course because I've been helping students reach out to local businesses for paid and unpaid internships, and it helps the local businesses, too," Pham said.
She was always certain she wanted to teach, ready to equip students with applicable skillsets, and said she understands the value of that because her mother is a teacher.
"Education can not only change one person's life, but it also can change many people around them in society," she said. "I wanted to be the bridge between businesses, the real-world environment and the school. What we're teaching in the school to students can help businesses grow."
Teaching at Brooklyn College has given Pham the chance to recruit her students to help with the fashion shows, either by volunteering as an entertainment act or helping with marketing for the event.
"I love teaching fashion marketing because many people think fashion is just an art, but I disagree. Since I've worked in the fashion industry, I realize we need a very fine, specific marketing strategy behind every fashion show," she said. "It's a two-team effort between the designer and a marketing team to make a successful show."    
When it comes to her own fashion influences, she draws from celebrities – from Audrey Hepburn and Grace Kelly to Kate Middleton and Meghan Markle – and the lifestyle in New York. She takes a lot of inspiration from her family.
"My godmother, who has a taste of dressing sexy in a sophisticated way, taught me to embrace our heritage with Western fashion, and southern-girl style with contemporary fashion trends," she said. "I would also give credit to my brother and my father. They're the first fashion police, whenever I try a new look."
Pham's advice to people seeking ways to pursue their passion is to work hard, graduate from college and be open to challenges.
"I graduated from UTRGV, and I can say I'm a Texas girl," she said. "When I moved to New York, I noticed, 'Wow, fashion is so different.' I see designers sitting down and creating. And I tell students, 'Be ready to be adaptable. Be ready to be surprised.'"
ABOUT UTRGV
The University of Texas Rio Grande Valley (UTRGV) was created by the Texas Legislature in 2013 as the first major public university of the 21st century in Texas. This transformative initiative provided the opportunity to expand educational opportunities in the Rio Grande Valley, including a new School of Medicine, and made it possible for residents of the region to benefit from the Permanent University Fund – a public endowment contributing support to the University of Texas System and other institutions.
UTRGV has campuses and off-campus research and teaching sites throughout the Rio Grande Valley including in Boca Chica Beach, Brownsville (formerly The University of Texas at Brownsville campus), Edinburg (formerly The University of Texas-Pan American campus), Harlingen, McAllen, Port Isabel, Rio Grande City, and South Padre Island. UTRGV, a comprehensive academic institution, enrolled its first class in the fall of 2015, and the School of Medicine welcomed its first class in the summer of 2016.