Friday, February 8, 2019
  Awards and Recognitions, Announcements
By News and Internal Communications
RIO GRANDE VALLEY, TEXAS – Ten UTRGV graduate students have been selected to carry out their research in collaboration with the Office for Sustainability (OFS), as Sustainability Fellows.
This new program from the Office of the Executive Vice President for Research, Graduate Studies and New Program Development is intended to provide a one-year research experience for graduate students that advances sustainable development at UTRGV.
"In our office we define sustainability as a tool for success– it's a formula that can be applied for community and global success. We hope you will use this tool on a personal and professional level to sustain quality of life," said Marianella Franklin, Chief Sustainability Officer and head of the UTRGV Office for Sustainability.
Dr. Parwinder Grewal, executive vice president for Research, Graduate Studies and New Program Development, said the fellowship was created because of the passion people have for sustainability issues.
"We want to empower you. We're looking for leadership from you as you develop through the year," he said. "We are looking at you to save us. We have to think about future generations. That's what sustainability is about – using natural resources we depend on in a way that we can live, and future generations have enough to live on, as well.
A scholarship of $15,000 will be awarded in three separate installments to the selected graduate students from various research-based master's programs.
Sustainability Fellows will either continue their independent sustainability-focused research, or will engage with the OFS on an impactful sustainability and community resilience project within or outside the university.
Additionally, Sustainability Fellows will have the opportunity to utilize the campus as a living lab by contributing to the AASHE STARS campus-wide assessment carried out by OFS. The AASHE STARS assessment is conducted every three years by OFS and entails detailed data-gathering in the areas of academics, governance, engagement and operations. Sustainability Fellows working on STARS as their research project will utilize their knowledge of sustainable development to analyze UTRGV's performance, and then will report on their findings. 
"We are making great strides nationally in sustainability," Grewal said. "OFS has moved the university forward in several ways, including the sustainability master's and certificate programs.
"But we have to go beyond that. You are sustainability leaders," he told the group. "How do you influence your fellow friends, students, classmates and faculty? By asking tough questions. You can help build solutions."
The selected students, with their master's concentrations, are:
Jeffrey Aquino-Gomez, Biology.
Diego Lopez, Mechanical Engineering.
Mauricio A. Pena, Biology.
Shreya Udawant, Biology.
Perla Melendez, English,
Diana Lara, Translation and Interpreting.
Lazaro Lopez-Mendez, Interdisciplinary Studies.
Yessenia Rodriguez, Computer Science.
Yessica Rodriguez, Computer Science.
Jeanette Moritz, I.S, Anthropology.
OFFICE FOR SUSTAINABILITY 
The OFS is part of the UTRGV Office of the EVP for Research, Graduate Studies and New Program Development. Sustainability is included in the UTRGV Strategic Plan and Mission. In 2018, with the contribution of graduate student assistants, OFS submitted an assessment that resulted in a Gold rating for UTRGV from AASHE.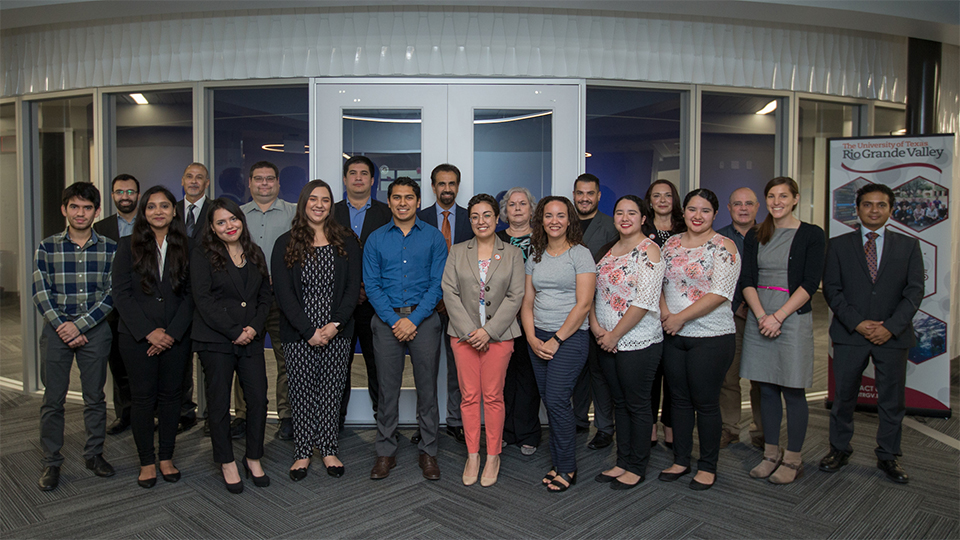 ABOUT UTRGV
The University of Texas Rio Grande Valley (UTRGV) was created by the Texas Legislature in 2013 as the first major public university of the 21st century in Texas. This transformative initiative provided the opportunity to expand educational opportunities in the Rio Grande Valley, including a new School of Medicine, and made it possible for residents of the region to benefit from the Permanent University Fund – a public endowment contributing support to the University of Texas System and other institutions.
UTRGV has campuses and off-campus research and teaching sites throughout the Rio Grande Valley including in Boca Chica Beach, Brownsville (formerly The University of Texas at Brownsville campus), Edinburg (formerly The University of Texas-Pan American campus), Harlingen, McAllen, Port Isabel, Rio Grande City, and South Padre Island. UTRGV, a comprehensive academic institution, enrolled its first class in the fall of 2015, and the School of Medicine welcomed its first class in the summer of 2016.