UTRGV's all-female Mariachi Azalea latest addition to mariachi program

  Friday, February 1, 2019
  Community, Announcements
By Amanda Taylor
Photo Gallery by Paul Chouy
Password: Azalea (case sensitive)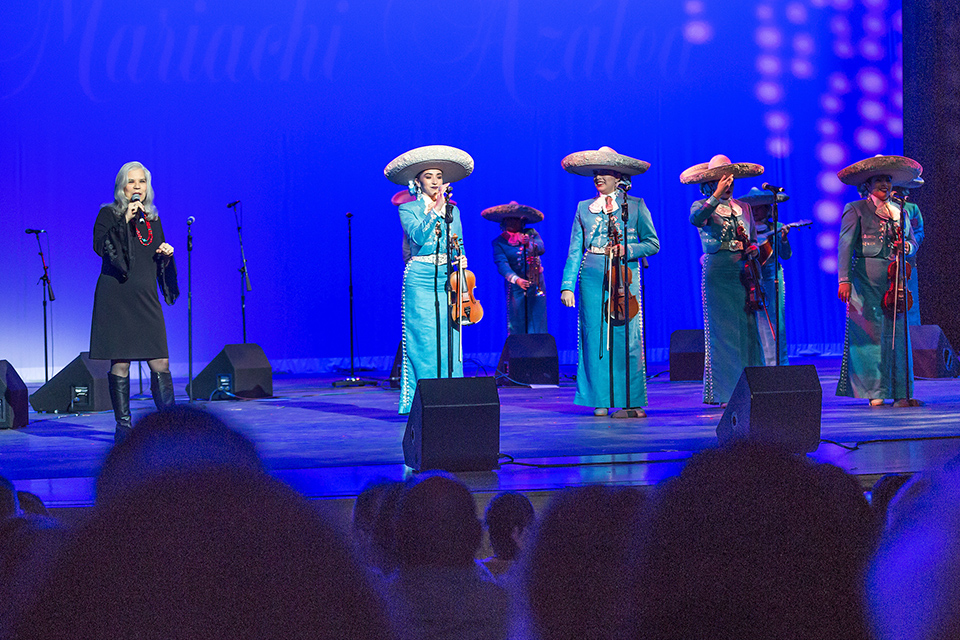 RIO GRANDE VALLEY, TEXAS – Alexa Posas smooths back her hair with the palm of her hand in a dressing room inside the UTRGV Performing Arts. Clad in a blue and silver chaquetilla (waist jacket) adorned with sparkling rivets and crystal accents dotting the sleeves, Posas is preparing for her group's performance in "A Mariachi Christmas."
Posas, a sophomore pursuing a biomedical science degree, is one of several young women who make up the newest UTRGV mariachi group, Mariachi Azalea.
"This is an all-female mariachi of extremely talented, vibrant, exciting young women," said Dr. Dahlia Guerra, assistant vice president for Public Art at UTRGV and a co-director of the group with Francisco Loera, a faculty member in the UTRGV School of Music.
"Traditionally, the mariachis were all male, it was a very male-dominated art form," Guerra said. "And little by little, you see other (mariachi) groups come about in the United States. It's been a while since we've had a completely female ensemble at the university."
The last all-female mariachi group disbanded about 10 years ago under legacy institution UTPA, she said. And while the mariachi program – within the School of Music in the College of Fine Arts – has always incorporated female and male students in its ensembles, this is the first group featuring an all-female assemblage for UTRGV.
Alexa Posas, from Roma, a violinist and vocalist for the group, said the experience has been "pretty great overall."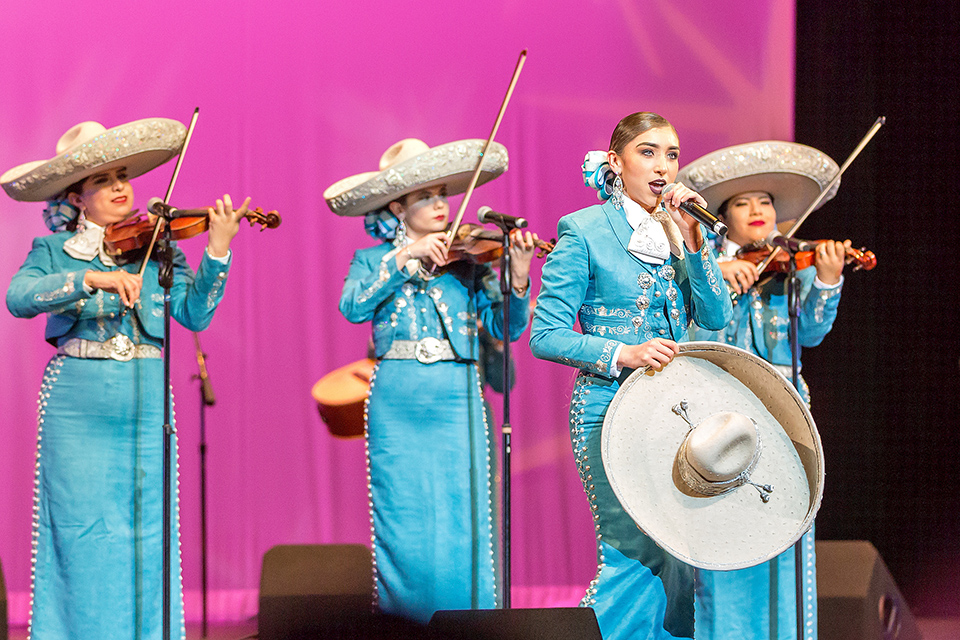 "As a group, we've been exposed to different venues, different sets of people, and it's just great to be able to bring all the talent from the Rio Grande Valley and have everybody perform together doing what they love," she said. "It's an all-female group, so it's been pretty cool to be with a bunch of girls."
In the dressing room just before a recent Mariachi Azalea performance with the Ballet Folklórico, Giselle Sanchez, an Edinburg native and a junior studying bilingual education, is fussing over the girls moños (ties) and making sure everyone has on lipstick. As the self-proclaimed "mother hen" of the group, she said, working with a group of women is an empowering experience she is proud to be a part of.
"So much hairspray, so much makeup," she said, laughing. "We take care of each other. If someone is missing lipstick, we go running to find lipstick. If someone's string pops, we will find them another string." 
Sanchez is a violinist with Mariachi Azalea, but also performed with Mariachi Aztlán in the mariachi program, which is close to hitting the 30th anniversary of its inception.
"It's an awesome experience to know that there are other females out there who feel empowered to show off our mariachi culture and Mexican culture," she said. "Just because we aren't males, doesn't mean that we can't express our musicality like them or express mariachi music like they do. It's awesome."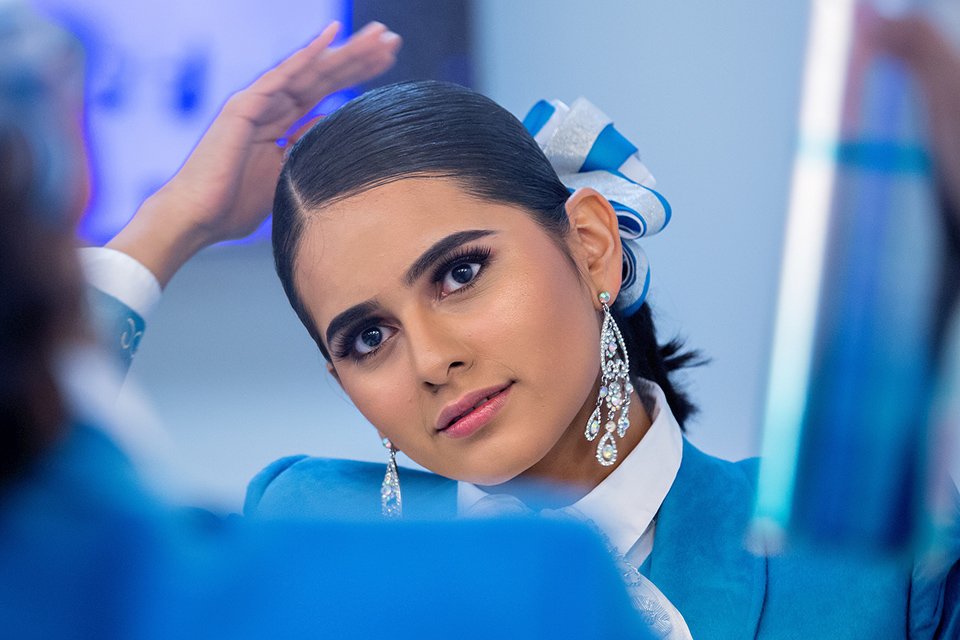 Mariachi Azalea is the third group under the UTRGV mariachi program, and tours across the country on a regular basis with UTRGV's award-winning Mariachi Aztlán and beginner group, Mariachi Juvenil Aztlán.
"It's exciting, because you have a different character with this mariachi," Guerra said. "Of course, the repertoire is different, the energy is different and it's just a chance to showcase our talented, young women." 
For more information on the UTRGV Mariachi Program and to get information on upcoming show dates, visit patron.utrgv.edu.
ABOUT UTRGV
The University of Texas Rio Grande Valley (UTRGV) was created by the Texas Legislature in 2013 as the first major public university of the 21st century in Texas. This transformative initiative provided the opportunity to expand educational opportunities in the Rio Grande Valley, including a new School of Medicine, and made it possible for residents of the region to benefit from the Permanent University Fund – a public endowment contributing support to the University of Texas System and other institutions.
UTRGV has campuses and off-campus research and teaching sites throughout the Rio Grande Valley including in Boca Chica Beach, Brownsville (formerly The University of Texas at Brownsville campus), Edinburg (formerly The University of Texas-Pan American campus), Harlingen, McAllen, Port Isabel, Rio Grande City, and South Padre Island. UTRGV, a comprehensive academic institution, enrolled its first class in the fall of 2015, and the School of Medicine welcomed its first class in the summer of 2016.