Thursday, January 24, 2019
  Community
By Marci Caltabiano-Ponce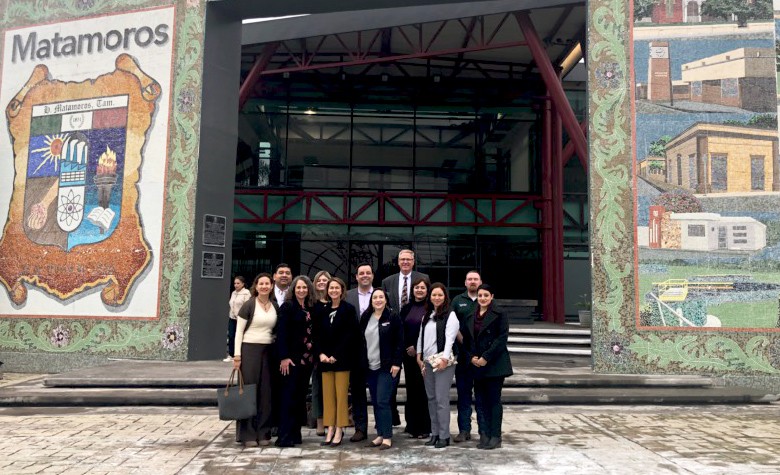 BROWNSVILLE, TEXAS / MATAMOROS, MEXICO – The University of Texas Rio Grande Valley and the City of Matamoros, Tamps., Mexico, have partnered to provide a student services center in that city.
The City of Matamoros will provide the 1,607-square-foot, rent-free office space in the IMACULTA (Instituto Matamorense para la Cultura y las Artes) building, along with utilities, at no cost to the university.
The center, at Avenida Constitución 57 just across from the Brownsville-Matamoros International Bridge and close to the new U.S. Consulate General in Matamoros, will be called U Central Matamoros and will replicate UTRGV's other U Central offices on the Brownsville and Edinburg campuses.
U Central Matamoros will be a space where UTRGV students from Mexico can access enrollment related services and where potential students can receive information about the university. The center is scheduled to open in late February.
Dara Newton, UTRGV's associate vice president for strategic enrollment, will oversee the center. She said the plan is to initially hire two combo recruiter/generalist positions capable of serving students throughout their entire career, from recruitment in area schools to graduation from UTRGV. The university currently has more than 100 enrolled undergraduate and graduate students from Matamoros.
"The main goal is to provide current and potential students from Matamoros and the surrounding area access to enrollment services in their hometown," Newton said. "Our staff members will also serve as liaisons for students and work with points of contact at Brownsville and Edinburg to help students with their particular situations."
UTRGV President Guy Bailey said this agreement is yet another way to provide a path to success for the university's students.
"UTRGV's top priority is student success, and this student services center helps us achieve that goal," Bailey said. "We thank the City of Matamoros and Mayor Mario Alberto López-Hernández for providing this beautiful office space. We also thank the U.S. Consulate General in Matamoros for their collaboration and guidance through this project."
López-Hernández said this Buena Voluntad (goodwill) agreement reinforces the ties of brotherhood and cooperation between Matamoros and UTRGV, and between Mexico and the United States. He said it also is a big step toward future agreements that will help improve the quality of life not just for matamorenses but also for people throughout Mexico.
"We are pleased to be able to help support our students from Matamoros, and we encourage them to make full use of this center to facilitate their college careers," Lopez-Hernandez said. "UTRGV is an excellent university that offers many opportunities, and we encourage our students to utilize this service center that can help facilitate their ultimate path to a career."
The initial rental agreement is for one year, with three one-year renewal options.
For more information contact the U Central offices at (956) 882-4026 or ucentral@utrgv.edu.
ABOUT UTRGV
The University of Texas Rio Grande Valley (UTRGV) was created by the Texas Legislature in 2013 as the first major public university of the 21st century in Texas. This transformative initiative provided the opportunity to expand educational opportunities in the Rio Grande Valley, including a new School of Medicine, and made it possible for residents of the region to benefit from the Permanent University Fund – a public endowment contributing support to the University of Texas System and other institutions.
UTRGV has campuses and off-campus research and teaching sites throughout the Rio Grande Valley including in Boca Chica Beach, Brownsville (formerly The University of Texas at Brownsville campus), Edinburg (formerly The University of Texas-Pan American campus), Harlingen, McAllen, Port Isabel, Rio Grande City, and South Padre Island. UTRGV, a comprehensive academic institution, enrolled its first class in the fall of 2015, and the School of Medicine welcomed its first class in the summer of 2016.