Monday, January 21, 2019
  Announcements, Around Campus
By Amanda Taylor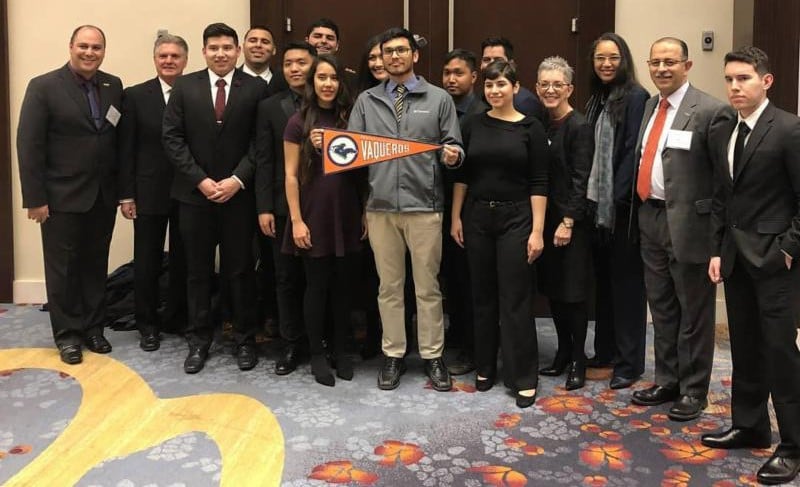 RIO GRANDE VALLEY, TEXAS – The Council of University Transportation Centers (CUTC) has awarded The University of Texas Rio Grande Valley the council's inaugural Workforce Development and Technology Transfer Leadership Award.
The award is given to institutions that demonstrate outstanding leadership in designing and delivering workforce development and technology transfer programs. This is the first year the award is bestowed, as it is a new category for CUTC. It can be awarded to up to two institutions.
The University Transportation Center for Railway Safety (UTCRS) at UTRGV was commended for promoting graduate study among dozens of undergraduate students throughout the Rio Grande Valley through the Research Experience for Undergraduates program.
The CUTC also acknowledged UTRGV's UTCRS for promoting STEM outreach activities at K-12 schools within area communities, and commended the center for its efforts in education, workforce development and technology transfer activities aimed at promoting science and education to low-income and under-represented student populations within the STEM fields.
"This is a significant achievement and recognition for UTRGV and the Rio Grande Valley," said Ala Qubbaj, dean of the College of Engineering and Computer Science. "This national recognition would not have been possible without the hard work and dedication of our faculty and students. They continue to make us all proud."
The CUTC, established in 1979 by the major transportation research centers and institutes in the United States, provides a forum for universities and centers to interact collectively with government and industry. The UTRGV UTCRS has been affiliated with CUTC for about five years and has been able to establish itself as a major player among the nation's UTCs focusing on rail research.
Constantine Tarawneh, director of UTCRS and professor of mechanical engineering at UTRGV, said the award was given because the UTRGV UTCRS is among the largest transportation summer programs in the nation and has engaged more than 5,500 students and 500 teachers in STEM summer camps held annually during June.
"These programs expose students and teachers to STEM curricula that is focused on transportation engineering with emphasis on railway safety," Tarawneh said.
The center also has run a successful Research Experience for Undergraduates (REU) program, in which 27 of 35 participants went on to pursue master's and doctoral studies in transportation-related fields.
He said UTRGV and its UTCRS program have become leaders, in terms of running the summer programs, and other UTCs are now looking at UTRGV to try to replicate some of the programs at their own institutions.
"UTRGV is being perceived as a major player in the transportation field," he said, "and we are getting recognition for the work that has been in motion since 2005, when we received our first grant to work on a railroad-related project."
The award was presented to UTCRS at the CUTC Annual Awards Banquet, Jan. 12 in Washington, D.C.
ABOUT UTCRS
The University Transportation Center for Railway Safety (UTCRS) was established in fall 2013 and operates as a consortium of three institutions: UTRGV – lead institution, with Texas A&M University (TAMU) and The University of Nebraska-Lincoln (UNL). The lead institution is recognized by the U.S. Department of Education as a Title V Hispanic-Serving Institution, with 90 percent Hispanic enrollment. It is second in the nation in the number of bachelor's degrees and third in the nation in the number of master's degrees awarded to Hispanics.
ABOUT UTRGV
The University of Texas Rio Grande Valley (UTRGV) was created by the Texas Legislature in 2013 as the first major public university of the 21st century in Texas. This transformative initiative provided the opportunity to expand educational opportunities in the Rio Grande Valley, including a new School of Medicine, and made it possible for residents of the region to benefit from the Permanent University Fund – a public endowment contributing support to the University of Texas System and other institutions.
UTRGV has campuses and off-campus research and teaching sites throughout the Rio Grande Valley including in Boca Chica Beach, Brownsville (formerly The University of Texas at Brownsville campus), Edinburg (formerly The University of Texas-Pan American campus), Harlingen, McAllen, Port Isabel, Rio Grande City, and South Padre Island. UTRGV, a comprehensive academic institution, enrolled its first class in the fall of 2015, and the School of Medicine welcomed its first class in the summer of 2016.