Friday, January 4, 2019
  Faculty Focus, Alumni
By Ester Navarro
BROWNSVILLE, TEXAS – Former students of late UTRGV Art Professor Carlos G. Gomez, including a current UTRGV art instructor, came together in November to participate in an art exhibit in his memory.
The exhibit, called "Different Skin," features the work of Brownsville natives Jesse Burciaga, Josie Del Castillo and Alejandro Macias. All three are painters who share a common love of portraiture, and each has a unique style of that explores concepts of identity, culture, body image and experiences living in the Rio Grande Valley.
Del Castillo, UTRGV graduate student, plans to become an educator herself, to inspire students as Gomez did for her.
"I want to become a person people look up to, in the same way Gomez did for me and the rest of his students," she said.
Macias, an art instructor at UTRGV's School of Art, shares a similar outlook with his fellow artists in wanting to honor Gomez.
"The purpose of the exhibition was to not only celebrate Carlos G. Gomez's legacy as an artist, but the influential impact he had as an instructor," Macias said.
Gomez was an internationally known artist whose work was exhibited in the United States, Australia, Nicaragua, Spain, South Korea, China, Canada and Taiwan.
Gomez, who died from brain cancer in 2016 at age 64, was born in Mexico City and raised in the Rio Grande Valley. He taught painting and drawing at UT-Brownsville / Texas Southmost College and UTRGV for a combined 30 years, and left a legacy through his work, and most importantly, through his students, who have started establishing legacies of their own.
Alejandro Macias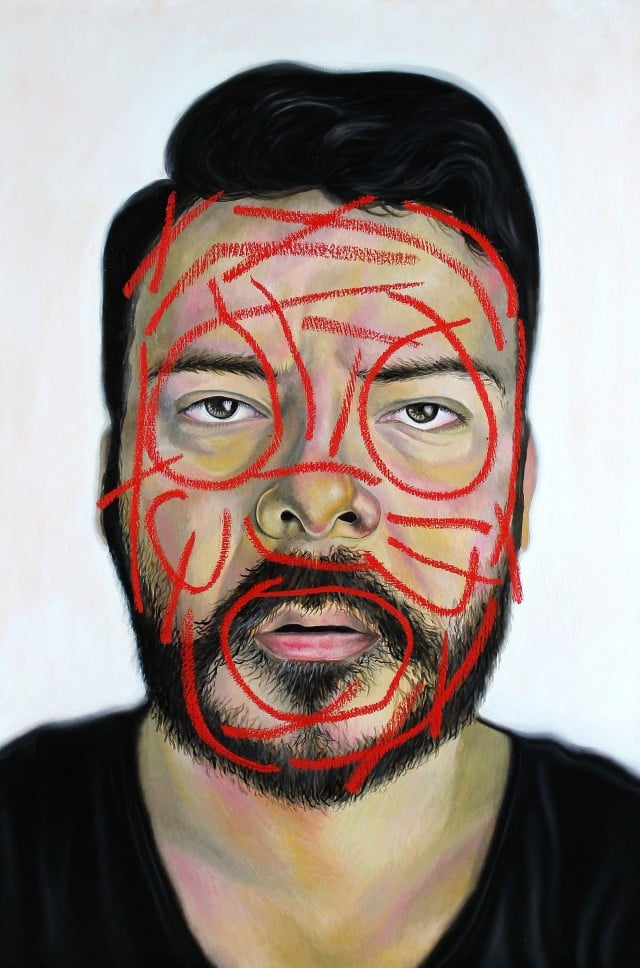 Macias knew soon after meeting Gomez that he wanted to become an instructor; he believes Gomez's teachings prompted him along that path.
"It was important to me that I keep visual art alive in any way that I could," Macias said. "I knew that I would soon be able to make a difference through collegiate teaching and surrounding myself with like-minded individuals who have a common love for visual art."
Driven by his identity as a Mexican-American artist, coupled with the current political climate, Macias addresses themes of immigration, diversity, ethnicity and heritage in his paintings.
"My art reflects the struggle of embodying a singular identity with works that reflect Mexican values, traditions and a conservative upbringing, in confluence with diversity and change seen as 'Americanization,'" Macias said. "An artist's voice has the ability to change people's perception of the world around them and makes us see things we otherwise wouldn't see."
Macias now feels he is responsible for carrying on Gomez's legacy.
"Gomez told me countless times that I had a strong sense of urgency because I took on every opportunity that was presented to me," Macias said. "I feel that he invested much of his time toward me and I am forever in debt to him for that."
Josie Del Castillo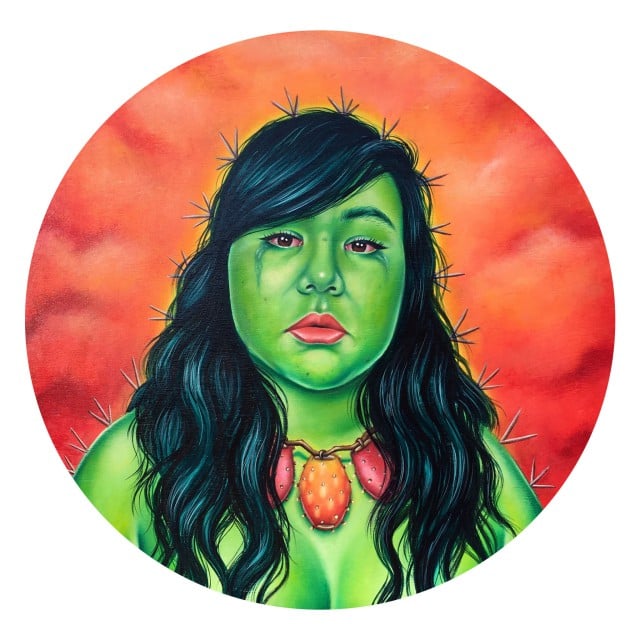 Del Castillo always struggled with expressing herself with words. Instead, she found an alternative route – visual arts.
"Since a young age I've always drawn; art was the only thing that came natural to me," she said. "Art has a misconception that 'you can't do anything with it,' so I was discouraged to pursue it as a dream. Still, I wanted to prove to myself that I could pursue my passion as a career."
Del Castillo focuses on the journey of self-acceptance and understanding the state of mental health. Some of her subjects, including herself, struggle with feelings of angst and doubt. Instead of emphasizing the dark connotations associated with mental health, she challenges and contrasts them with vibrant colors and gestures associated with confidence and positivity.
"As someone who has also struggled with issues of self-esteem and not feeling comfortable in my own skin, the concepts of self-worth and the appreciation of the female form are significant in my work," she said. "The admiration of my Mexican-American culture, such as plants, clothing and other iconography that are representational to my bi-cultural region, are used to celebrate the personal qualities of people raised along the Rio Grande Valley."
While Del Castillo doubted herself and her potential as an artist, Gomez inspired her as a student.
"Gomez believed in me more than I ever believed in myself," she said. "I was insecure and doubted my potential as an aspiring artist throughout the years, but he always motivated me. He always told me I should become an educator and continue to inspire creative individuals."
Jesse Burciaga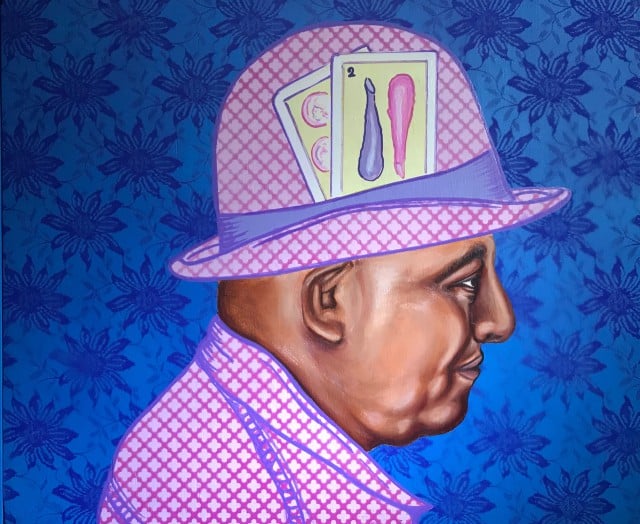 Burciaga uses printmaking, oil, acrylics and geometric shapes to create works that explore his cultural identity. In his latest series, he creates vibrant portraits of working-class heroes that reflect the heart and soul of his hometown on the Texas-Mexico border. By embellishing the features of each character and setting them against geometric colored backdrops, Burciaga hopes to immortalize each subject.
"Nowadays, art can be anything from a fingerprint on the wall to hyperrealist paintings, but art has to invoke emotion in the viewer," Burciaga said.
He invites the viewer to connect and familiarize themselves with the unsung blue-collar workers and day laborers who maintain and accept the work many average Americans will not. Burciaga hopes each of these real people receives the recognition they deserve.
"As a kid, it was hard for me to express my ideas and feelings through words, and art gave me the voice to be heard," he said.
Today, Burciaga's work has exhibited in solo and group exhibitions throughout Texas, Mexico and California. He is currently working on a Master of Fine Arts at the University of Texas at San Antonio.
"Gomez opened my eyes artistically and steered me toward Chicano Art," Burciaga said. "He wisely once said, 'Why look at your neighbors for ideas, when your backyard is full of tradition and culture?' These words have significantly influenced my art."
"Different Skin" was on exhibit in November at the Presa House Gallery in San Antonio.
ABOUT UTRGV
The University of Texas Rio Grande Valley (UTRGV) was created by the Texas Legislature in 2013 as the first major public university of the 21st century in Texas. This transformative initiative provided the opportunity to expand educational opportunities in the Rio Grande Valley, including a new School of Medicine, and made it possible for residents of the region to benefit from the Permanent University Fund – a public endowment contributing support to the University of Texas System and other institutions.
UTRGV has campuses and off-campus research and teaching sites throughout the Rio Grande Valley including in Boca Chica Beach, Brownsville (formerly The University of Texas at Brownsville campus), Edinburg (formerly The University of Texas-Pan American campus), Harlingen, McAllen, Port Isabel, Rio Grande City, and South Padre Island. UTRGV, a comprehensive academic institution, enrolled its first class in the fall of 2015, and the School of Medicine welcomed its first class in the summer of 2016.