Sunday, December 23, 2018
  Community
By Amanda Taylor
 PHOTO GALLERY by Paul Chouy
Password: tubas (case sensitive)
McALLEN, TEXAS – The soothing sounds of low brass filled the McAllen Convention Center on Dec. 2, as hundreds of guests gathered to enjoy a holiday tradition – the annual RGV Tuba Christmas.
The RGV tuba/euphonium ensemble is one of the biggest in the nation and has become a holiday staple in the Valley. This year, the group is submitting paperwork to see if they can beat the Guinness World Record for most tubas/euphoniums performing in one ensemble.
"The way the Guinness World Record works is they have a process of verification," said Scott Roeder, associate professor of tuba and euphonium in the UTRGV School of Music. "No one from Guinness is coming, but what they do is provide guidelines on how to submit data and different reports from people for verifications of how many people were there. You submit it and see if they accept it, basically."
Roeder is the co-organizer of the event, along with McAllen ISD Fine Arts Director Jim Egger. Roeder's tuba and ensemble UTRGV students volunteer each year by helping with setup and logistics, and perform at the event.
With more than 600 tubas and euphoniums ringing out in perfect harmony, the odds of beating the record this year look promising. The current record holder for most tubas in a performance clocks in at 502 tubists, for a Disneyland Tuba Christmas performance in 2007.
According to Roeder, the RGV Tuba Christmas ensemble has beat those numbers the past three years, but the proper procedures weren't met to officially qualify for Guinness.
"We broke (the record) last year, but we didn't know what the process was at the time so they (Guinness) wouldn't count it," Roeder said.
The group will find out later in 2019 if they've beat the record.
Tuba Christmas is a series of nationwide concerts that run each year, typically seeing more than 150 concerts within 46 states. The first Tuba Christmas was held in 1974 atop the ice rink in New York City's Rockefeller Center to honor the late William Bell, a performer and teacher.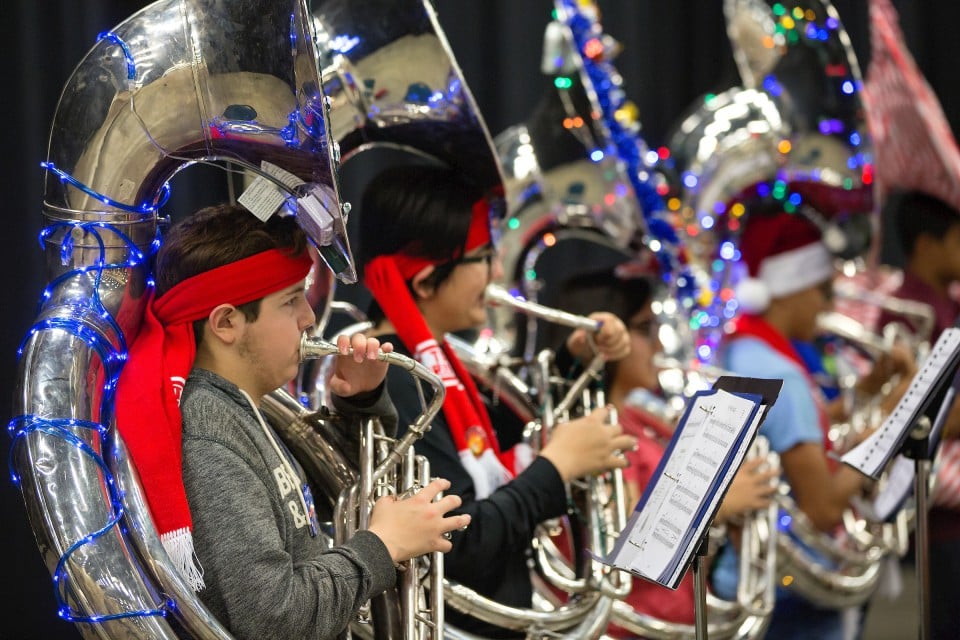 Harvey Phillips, a famous tubist, organized the event to honor Bell, his former teacher.  Bell was the world's greatest tubist, according to Arturo Toscanini, conductor of the NBC Symphony Orchestra. Each year, Bell's memory is kept alive by music, with performances kept close to Bell's birthday, Christmas Day.
Tuba Christmas also has been an effective way to get school children involved and passionate about music. Tuba Christmas has been ongoing in the Rio Grande Valley for about 30 years. Each year, school districts are invited to showcase their resident tubists, along with professional musicians and tuba enthusiasts. Some of the long-standing traditions for Tuba Christmas include performers decorating their instruments with holiday lights, bells and garland.
"It's a very unique performance – to see this mass ensemble and people decorate their instruments with lights and everyone is surprised to hear how good it sounds," Roeder said. "That's the really unique thing about the RGV Tuba Christmas – I'm not sure if there are any other Tuba Christmases that get that involved with the public-school band programs."
Many of the UTRGV students performing in Tuba Christmas remember sitting in the audience and listening to the impressive sound of hundreds of tubas and euphoniums in unison. Hearing classic holiday songs performed by tubists left a lasting impression on many.
"This is my last Tuba Christmas in the Valley, so it's bittersweet," said Edgar Ortiz, a Music Education major, as he's moving to Georgia after graduation. "It's just incredible, playing with over 500 tuba players – it's just this massive sound. It's a fun event to go to."
ABOUT UTRGV
The University of Texas Rio Grande Valley (UTRGV) was created by the Texas Legislature in 2013 as the first major public university of the 21st century in Texas. This transformative initiative provided the opportunity to expand educational opportunities in the Rio Grande Valley, including a new School of Medicine, and made it possible for residents of the region to benefit from the Permanent University Fund – a public endowment contributing support to the University of Texas System and other institutions.
UTRGV has campuses and off-campus research and teaching sites throughout the Rio Grande Valley including in Boca Chica Beach, Brownsville (formerly The University of Texas at Brownsville campus), Edinburg (formerly The University of Texas-Pan American campus), Harlingen, McAllen, Port Isabel, Rio Grande City, and South Padre Island. UTRGV, a comprehensive academic institution, enrolled its first class in the fall of 2015, and the School of Medicine welcomed its first class in the summer of 2016.