Friday, December 14, 2018
  Awards and Recognitions
By Ester Navarro
RIO GRANDE VALLEY, TEXAS – When Paola Alaniz, of Pharr, graduates Saturday, Dec. 15, from UTRGV with a Master of Accountancy (MACC), her dream job is already waiting for her at one of the world's largest accounting firms – Ernst & Young.
She didn't really know what she wanted as a career until she took her first accounting course as an undergraduate at the Robert C. Vackar College of Business and Entrepreneurship with Dr. Andres Bello, an accounting lecturer. That's when she discovered her passions – numbers and logic.
She pondered with the idea of becoming a corporate lawyer, and jumped from major to major, undecided, until that first day of Bello's class changed everything. 
"I vividly remember, Bello started the semester saying, 'I do not teach bookkeepers, I train the upcoming generation of C-Suite members.' My heart rushed in the moment and I knew I wanted to be part of that club someday," Alaniz said.  
When she graduated from UTRGV cum laude in December 2017 with a Bachelor of Business Administration in Accounting, Alaniz already had secured her future with Ernst & Young: They had offered her a full-time position after completing a summer internship with them her junior year.
A company partner told Alaniz during an evaluation concluding her internship, "It's your hard work, leadership skills and attitude that were highlighted throughout your internship." That is what prompted them to offer her the full-time position. 
So, in August 2017, Alaniz signed with Ernst & Young, a global giant that provides advisory, assurance and tax services. She starts work in August 2019, and will work out of the San Antonio office in the tax division. 
After completing the undergraduate internship, Alaniz said, she decided the best thing for her to grow professionally as an accountant was to pursue a Master of Accountancy at UTRGV and become a Certified Public Accountant. Alaniz is preparing to take the CPA exam this spring.
"I hope to be CPA-licensed before I start my offer with Ernst & Young in August 2019," she said.
She currently works as a graduate assistant in the Office of the Dean for the UTRGV College of Liberal Arts, where she reconciles and creates budget transfers and communicates the status of the college's financials.
During her undergraduate years, Alaniz was active in student organizations, serving as chair of the UTRGV chapter of the Association of Latino Professional for America (ALPFA), and assisting Bello in the founding of the Institute of Management Accountants student chapter, and the Association of Accountants and Financial Professionals at UTRGV.
Alaniz said she appreciates the many people who took time to mentor her and help her with résumés, interviews and elevator pitches that helped her land the Ernst & Young internship as an undergraduate.
Stepping into Ernst & Young as the only tax intern, Alaniz remembers feeling intimidated in a room with students from high-profile universities, such as The University of Texas at Austin, Texas A&M University, and University of Notre Dame. 
"I had two options: To either feel small or to feel empowered. I chose empowerment," Alaniz said.
During her internship, she worked with managers, senior managers and staff, helping with assignments she was qualified for, and even volunteered to help recruiters with student-oriented events.
"When EY sent me to training, I shared the room with thousands of students from across the United States who attended amazing universities. In moments like these, one tends to feel overwhelmed, but I knew UTRGV was just as amazing as the rest," she said. "So, I wanted to prove myself worthy of the opportunity. People from UTRGV know how to work hard."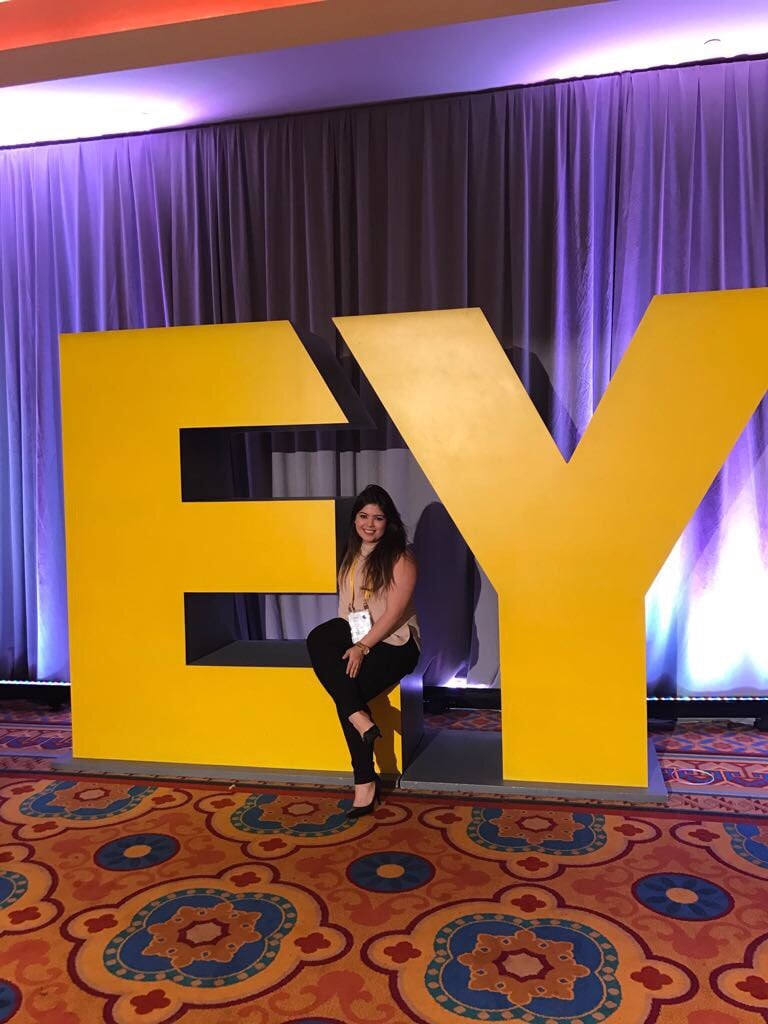 ABOUT UTRGV
The University of Texas Rio Grande Valley (UTRGV) was created by the Texas Legislature in 2013 as the first major public university of the 21st century in Texas. This transformative initiative provided the opportunity to expand educational opportunities in the Rio Grande Valley, including a new School of Medicine, and made it possible for residents of the region to benefit from the Permanent University Fund – a public endowment contributing support to the University of Texas System and other institutions.
UTRGV has campuses and off-campus research and teaching sites throughout the Rio Grande Valley including in Boca Chica Beach, Brownsville (formerly The University of Texas at Brownsville campus), Edinburg (formerly The University of Texas-Pan American campus), Harlingen, McAllen, Port Isabel, Rio Grande City, and South Padre Island. UTRGV, a comprehensive academic institution, enrolled its first class in the fall of 2015, and the School of Medicine welcomed its first class in the summer of 2016.