Thursday, December 13, 2018
  Announcements, Alumni
By Amanda Taylor
PHOTO GALLERY
Password: utrgvgrad
RIO GRANDE VALLEY, TEXAS – Francisco Rafael Torres Diaz is no stranger to facing challenges.
"He has surpassed all our expectations," said his mother, Maria del Carmen Diaz Barrios. "His character – he is very entrepreneurial, and everything he sets his mind to, he accomplishes. The ultimate challenge was himself, and he overcame it."
As the fall semester closes, he graduates Saturday, Dec. 15, with a master's degree in manufacturing engineering. He is part of a class of more than 2,000 UTRGV graduates.
As he reflects on the difficulties he has faced this year, he says, he is most grateful to have a supportive family.
Francisco already has landed a job at Cummins , a Fortune 500 corporation that designs engines and power generation products. But, he admits that balancing the full-time job at Cummins as he was finishing his master's thesis was difficult.
"I wanted to do the thesis route; I just felt like it was the best option," he said. "It's been a journey. Halfway through it, last October I got a job offer to work in Indiana with Cummins, so by December I was gone during finals week, which was my first week of work."
He had to take a vacation day from his new job to make it to defend his thesis during the last few weeks of school. And his family – hands down his biggest supporters – traveled from Mexico to be here for him and offer words of support.
"This past year, basically, I've been working on my thesis and finishing my master's from far away, so it's been quite a challenge, quite an adventure. And that's how we got here," he said.
As he spoke, he had one arm around his mother and one around his father. His father stole occasional glances at Francisco, smiling happily, while his mother's gaze was unrelentingly proud.
"It's difficult for him because college is hard," said Francisco Rafael Torres Violante, his father, "but I think he has the capacity to get all he can out of this."
Francisco's sister, Carmen Torres, had offered her home to her brother as a landing pad in between school and work. She would help him with editing his papers and offered any kind of advice she could. As a UTPA legacy student herself – she graduated in 2015 with a master's degree in clinical psychology with a concentration in behavioral analysis – she knew how difficult it could be, and she wanted to help.
"I'm so proud of him, of the man he's becoming through school and through everything," she said, struggling to speak past her tears. "I'm so proud of what he's achieved and where he's going."
After successfully defending his thesis, Francisco and his family took time to enjoy his accomplishments.
"I'm so proud of you and I love you," his dad said, embracing him.
His mother had the final word, though, and spoke directly to her son: "I want to say thank you, God, for giving me kids like you."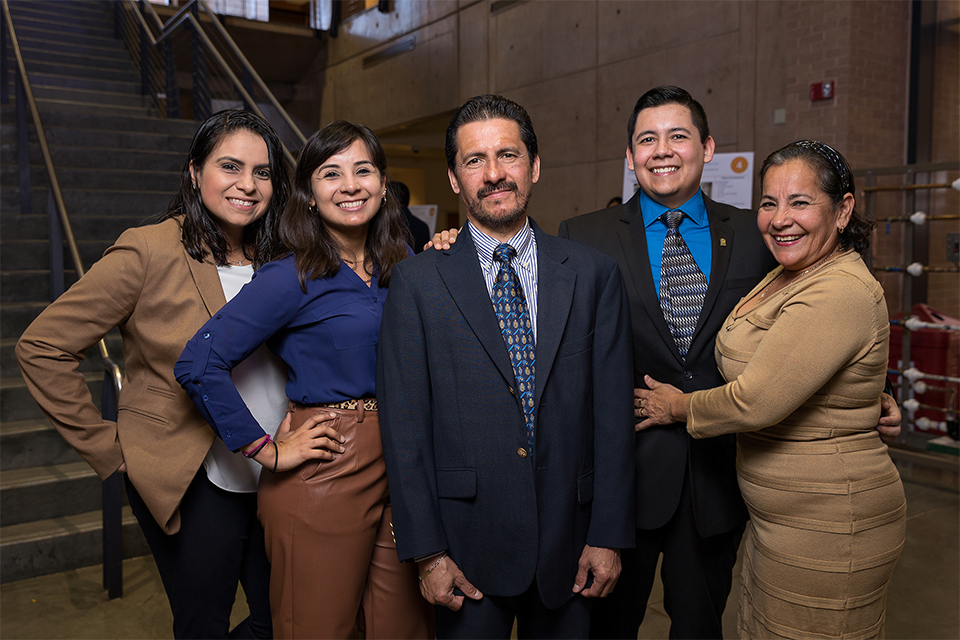 ABOUT UTRGV
The University of Texas Rio Grande Valley (UTRGV) was created by the Texas Legislature in 2013 as the first major public university of the 21st century in Texas. This transformative initiative provided the opportunity to expand educational opportunities in the Rio Grande Valley, including a new School of Medicine, and made it possible for residents of the region to benefit from the Permanent University Fund – a public endowment contributing support to the University of Texas System and other institutions.
UTRGV has campuses and off-campus research and teaching sites throughout the Rio Grande Valley including in Boca Chica Beach, Brownsville (formerly The University of Texas at Brownsville campus), Edinburg (formerly The University of Texas-Pan American campus), Harlingen, McAllen, Port Isabel, Rio Grande City, and South Padre Island. UTRGV, a comprehensive academic institution, enrolled its first class in the fall of 2015, and the School of Medicine welcomed its first class in the summer of 2016.