Wednesday, December 12, 2018
  Community, Around Campus, Awards and Recognitions
By Amanda Alaniz
 PHOTO GALLERY by Paul Chouy
Password: Ester (case sensitive)
RIO GRANDE VALLEY, TEXAS – Families almost universally dream of seeing their college student walk across the stage in a cap and gown, big, bright smiles in place. That's when they know – the ups and downs of getting there were all worthwhile.
Sylvia Navarro, the mother of University of Texas Rio Grande Valley senior Ester Navarro, couldn't hold back her emotions, knowing her daughter Ester will earn her diploma on Saturday, Dec. 15. Ester said her mother even teared up when she got her UTRGV class ring.
"I'm going to cry," the graduate's mother said again, trying to swallow back tears. "Proud of her. It's something she's been working on very hard. And we're very impressed, we're very proud."
Ester Navarro, of McAllen, will accept her bachelor's degree in mass communication with a concentration in public relations. But that wasn't always what she wanted to do. At first, she had wanted to follow in her mother's footsteps by going into the medical field; her mother is a registered nurse.
"I wanted her in the medical field in the beginning. And then after so many semesters, she tells me, 'Mom, I don't want to do that,'" Sylvia Navarro said. "I told her, do something you want because you're going to do it for the rest of your life."
Ester said she was grateful her mother, father and brother all helped her through the struggles she faced during her college career. They kept her level-headed, she said.
Her brother, Pablo Navarro Jr., remembers his sister's emotional roller coaster, but said he is proud to see her make it to the homestretch now.
"I'm excited to see her walk. When she started school, I was there, too. She walked into Pre-K, crying, and I was there watching her cry and wondering when she was going to stop every morning," he recalled, laughing.
Pablo Navarro Sr. wanted to thank his daughter for not giving up, despite the challenges she faced. He wanted her to be happy with her choice for the future – even if that meant changing her major.
"Never give up," he told her. "She's never done it. Just keep on moving forward and we're here. We're here and anything you need, we can help."
Ester said she is ready for commencement on Saturday, eager to have her diploma, to switch the tassel from one side to other on her mortarboard.
Mainly, she is eager to thank her family for never giving up on her.
"Even when I had my breakdowns, when I switched my major like three times. Thank you for never giving up on me," she said.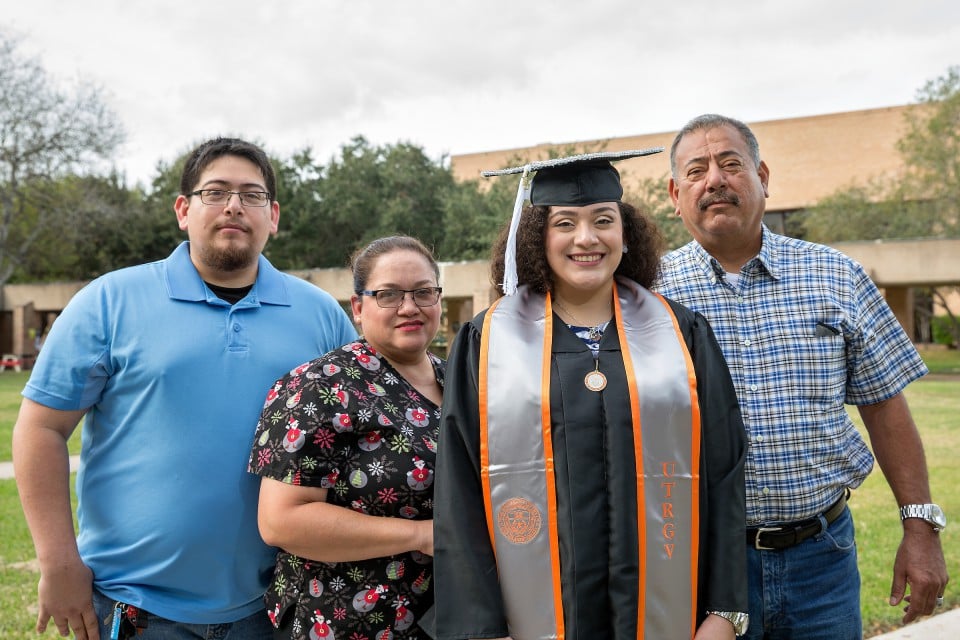 UTRGV CEREMONIES
Fall Commencement ceremonies will be held 4 p.m. Friday, Dec. 14, on the Student Union Lawn on the Brownsville Campus; and in three ceremonies on Saturday, Dec. 15 – 9 a.m., 1 p.m. and 5 p.m. – at the McAllen Convention Center.
ABOUT UTRGV
The University of Texas Rio Grande Valley (UTRGV) was created by the Texas Legislature in 2013 as the first major public university of the 21st century in Texas. This transformative initiative provided the opportunity to expand educational opportunities in the Rio Grande Valley, including a new School of Medicine, and made it possible for residents of the region to benefit from the Permanent University Fund – a public endowment contributing support to the University of Texas System and other institutions.
UTRGV has campuses and off-campus research and teaching sites throughout the Rio Grande Valley including in Boca Chica Beach, Brownsville (formerly The University of Texas at Brownsville campus), Edinburg (formerly The University of Texas-Pan American campus), Harlingen, McAllen, Port Isabel, Rio Grande City, and South Padre Island. UTRGV, a comprehensive academic institution, enrolled its first class in the fall of 2015, and the School of Medicine welcomed its first class in the summer of 2016.