Four-week program encourages body acceptance

  Thursday, December 6, 2018
  Student Life
By Maria Elena Hernandez
RIO GRANDE VALLEY, TEXAS – DEC. 06, 2018 – Do you like what you see in the mirror? For many college students, the answer is no.
One 20-year study showed 83 percent of women in college are dissatisfied with their weight and want to lose weight. A negative body image can lead to low self-esteem, depression and eating disorders.
To help students with body image concerns, The University of Texas Rio Grande Valley launched a new program this semester to encourage body acceptance and positivity. The Body Project is a four-week program coordinated by the UTRGV Counseling Center and led by students.
Kevin Rodriguez Valdez, a UTRGV freshman and one of The Body Project peer facilitators, said they want to help students "stop thinking that they're not enough."
The health science major from Brownsville and Matamoros added, "We want to spread the positive thinking, the thinking that you don't need to be perfect to be beautiful."
Men affected too
His interest in the program may surprise some. But women aren't alone in struggling with body image.
"Not many people talk about a man's body image, because they think men should be manly and not have these kinds of problems or ways of thinking or insecurities. But we do," he said.
Maria Alejandra Mazariegos, a clinical therapist at the UTRGV Counseling Center, said, "Initially the project was going to be only for females and only for female peer facilitators; however, we did have a surprising number of males apply to be peer facilitators. … We thought they could be a great, great asset to the team."
Students supporting each other
The peer facilitators, who were trained starting in September, range from freshmen to graduate students.
"The Body Project consists of four one-hour group setting sessions that will be led by our peers, so this is not a clinical approach," said Mazariegos. "It's not counseling. It's not group counseling. It's peer-to-peer support."
Hearing a body positive message from fellow students is leaving an impression.
Alyssa Hanshaw, a UTRGV senior from McAllen majoring in rehabilitation services, is one of The Body Project participants
"What the girls are saying here in the project, we've heard it before," she said. "But it kind of makes it more real, since we're trying to do something to help ourselves."
Project exercises include writing a letter to someone who's struggling with a negative body image and looking in a mirror and writing 10 things participants like about themselves.
Power in positivity
"Having a negative image is not healthy for yourself or for other people," said peer facilitator Laura Elena Olivares Cavazos, a UTRGV sophomore from Matamoros, majoring in psychology. "If you have a positive image of yourself and of others, it benefits your self-consciousness and your own validation of yourself."
Henshaw said, "I feel like no matter where you go, there's always going to be somebody making you or wanting to make you feel less than what you really are. If you have a good standing of yourself and who you are and how you feel, then nothing can really stop you."
The Body Project just wrapped up its first four sessions. UTRGV students interested in participating will have another opportunity in the spring semester.
You can learn more about The Body Project and other services the UTRGV Counseling Center offers at
utrgv.edu/counseling
.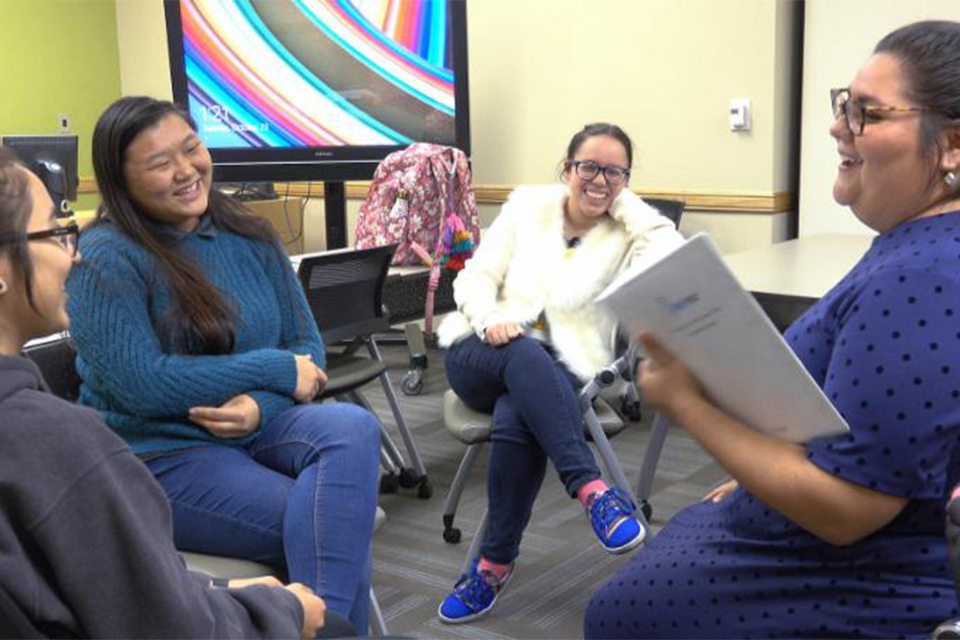 ABOUT UTRGV
The University of Texas Rio Grande Valley (UTRGV) was created by the Texas Legislature in 2013 as the first major public university of the 21st century in Texas. This transformative initiative provided the opportunity to expand educational opportunities in the Rio Grande Valley, including a new School of Medicine, and made it possible for residents of the region to benefit from the Permanent University Fund – a public endowment contributing support to the University of Texas System and other institutions.
UTRGV has campuses and off-campus research and teaching sites throughout the Rio Grande Valley including in Boca Chica Beach, Brownsville (formerly The University of Texas at Brownsville campus), Edinburg (formerly The University of Texas-Pan American campus), Harlingen, McAllen, Port Isabel, Rio Grande City, and South Padre Island. UTRGV, a comprehensive academic institution, enrolled its first class in the fall of 2015, and the School of Medicine welcomed its first class in the summer of 2016.