Wednesday, November 28, 2018
  Athletics
By Priscilla Ramirez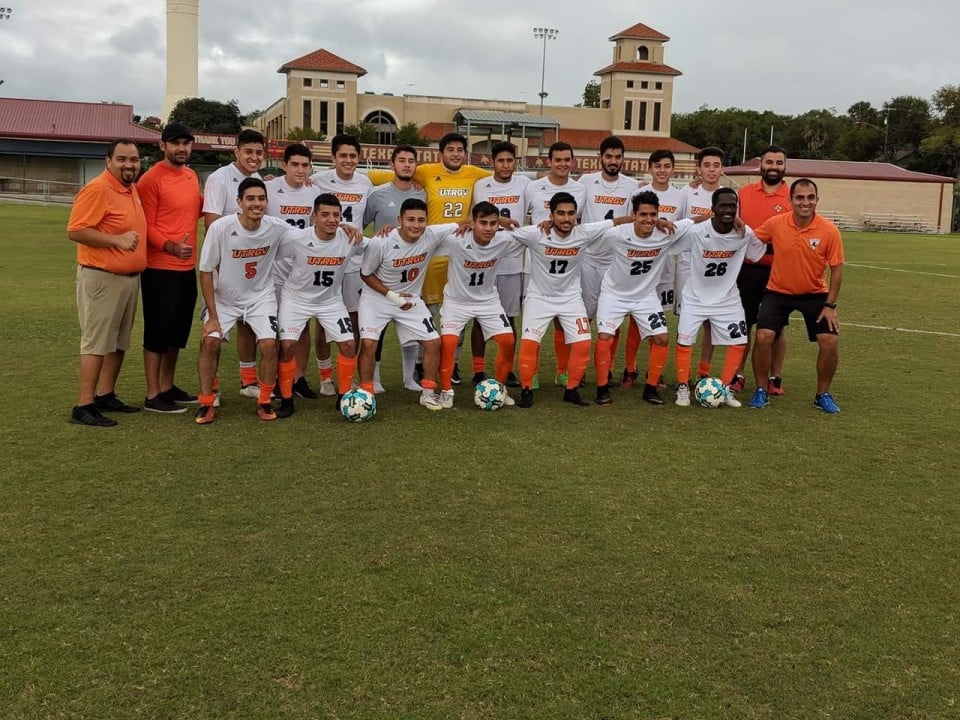 RIO GRANDE VALLEY, TEXAS – The Vaqueros Men's Soccer Club at The University of Texas Rio Grande Valley will compete at the NIRSA National Soccer Championships Nov. 29 to Dec. 1, in a bid to make history and bring home a national title.
The squad earned the golden ticket to the national tournament in Foley, Ala., along with the NIRSA Region IV bid champions title after defeating Tulane University 2-1 at the NIRSA Region IV Super Regional Soccer Championships finals in Tulsa, Okla. in early November.
Vaqueros Men's Soccer Club President Alejandro Garcia said if they had lost at regionals, it would have been a long and sad trip back home.
"We all knew that, by that point, it was either winning or winning," he said. "And losing that first match (against Tulane) made us realize this was real."
The win earned the team a trip to the championship series along with Texas Tech University and The University of Texas at Austin.
UTRGV is set to play Nov. 29 against University of California-Davis at 9:45 a.m. and against Michigan State at 3 p.m.
The national tournament brings together 96 colleges to compete at the Foley Sports Tourism Complex.
Garcia said having the opportunity to represent UTRGV at a national level is impressive, given the size of the club, and the fact that this is the team's competitive debut year.
"There are some big universities competing, and some of them have been around for more than10 years," he said. "So for us to be of that same caliber – it's something we never even thought about until it actually happened."
The Vaqueros Men's Soccer Club meets three times a week to practice, two hours per session. There, they strategize and compete with each other to hone their skills and to work on teamwork and leadership skills.
One of the organization's goals is to serve as an academy for members – bringing up students athletically and mentally.
"Our main purpose is to have students aware that we're here for those people who love soccer," Garcia said.
The club members traveling to the national tournament include:
Christian Villescas - Katy, Texas.
Andres Lomeli - Monterrey, N.L, Mexico.
Hector Rendon - Edinburg, TX.
Solomon Koomson - Cape Coast, Ghana.
Jonathan Gallardo - Donna, TX.
Alejandro R. Garcia - Laredo, TX.
Bryan Estrella - Brownsville, TX.
Abraham Aviles - Palmview, TX.
Alexis Ovalle - Palmview, TX.
Alfredo Robles - San Juan, TX.
Miguel Mateos - Elba, New York.
Carlos Avila - Pachuca, Hidalgo, Mexico.
Kevin Damken - Reynosa, Tamaulipas, Mexico.
Francisco Menchaca - Queretaro, Mexico.
Alberto Araguz - Weslaco, TX.
Jesus Sanchez - Edinburg, TX.
Nestor Arenas - Donna, TX.
Miguel Lopez - McAllen, TX.
Robert Vasquez - McAllen, TX.
Luis Reyna - Edcouch, TX.
Missael Salinas - San Juan, TX. 
Coaches
Hugo Zuñiga - Head Coach.
Gabriel Camarena  - Assistant Coach. 
Eduardo Arámbula - Psychology Coach. 
Óscar Reyna - Physical Coach.
For more information about the Vaqueros Men's Soccer Club, visit the clubs web page or email alejandro.r.garcia01@utrgv.edu.
ABOUT UTRGV
The University of Texas Rio Grande Valley (UTRGV) was created by the Texas Legislature in 2013 as the first major public university of the 21st century in Texas. This transformative initiative provided the opportunity to expand educational opportunities in the Rio Grande Valley, including a new School of Medicine, and made it possible for residents of the region to benefit from the Permanent University Fund – a public endowment contributing support to the University of Texas System and other institutions.
UTRGV has campuses and off-campus research and teaching sites throughout the Rio Grande Valley including in Boca Chica Beach, Brownsville (formerly The University of Texas at Brownsville campus), Edinburg (formerly The University of Texas-Pan American campus), Harlingen, McAllen, Port Isabel, Rio Grande City, and South Padre Island. UTRGV, a comprehensive academic institution, enrolled its first class in the fall of 2015, and the School of Medicine welcomed its first class in the summer of 2016.