UTRGV community welcomes international students for special holiday meals and traditions

  Thursday, November 22, 2018
  Community
By Amanda Taylor
PHOTO GALLERY
Password: turkey
RIO GRANDE VALLEY, TEXAS – Thanksgiving Day means eating lots of food and spending time with friends and family in most American households. For students studying abroad, however, the holiday may bring a sense of loneliness or displacement. 
To make sure UTRGV's international students experience a traditional American holiday meal with their university family, the UTRGV International Admissions and Student Services department hosts a Thanksgiving luncheon each year on its Edinburg and Brownsville campuses.
This year, students from across the globe were able to feast on turkey, ham and all the fixings on Nov. 19-20 on their respective campuses. Samantha Lopez, director of International Admissions and Student Services, said the luncheon is meant to bring some holiday cheer and familiarize international students with this American custom.
"We have international students from 63 different countries," Lopez said. "This semester we have almost 760 international students. We want for them to experience this national holiday, maybe they don't celebrate it in their country, but it's something that we do here in the states."
For many international students, this wasn't their first time attending an event hosted by the International Admissions and Student Services department. Sudipto Sarkar, a Ph.D. student in business administration with a marketing concentration, said it is events like these that help international students come together.
"We do not have Thanksgiving in India, but we do have Diwali, which is a festival of lights," Sarkar said. "It happens like two weeks before Thanksgiving. It's very similar, but it's like a big celebration –  just like Christmas and Thanksgiving. Diwali is very big in India."
Although Thanksgiving or a similar holiday isn't celebrated in the neighboring country Mexico, cities along the border have adopted the customs and traditions celebrated in America.
"The only thing we have in Mexico for sure are posadas," said Oscar Ramos, a master's in business administration student. "So, posadas are gatherings with families and we typically eat Mexican cuisine, not necessarily turkey or chicken or dishes like that, but it's more about Mexican traditional cuisine and being with your family." 
For other international students, the concept of Thanksgiving is a reminder of all the aspects of their lives they should be thankful for.
"When we celebrated our first Thanksgiving we realized that it was a special day," said Hector Escalante Mateos, a student from Veracruz, Mexico who is studying civil engineering. "It's when you are thankful for everything you have, so yeah, it's a good tradition."
For more information on the holiday celebrations at the International Admissions and Student Services department, call 956-665-2922.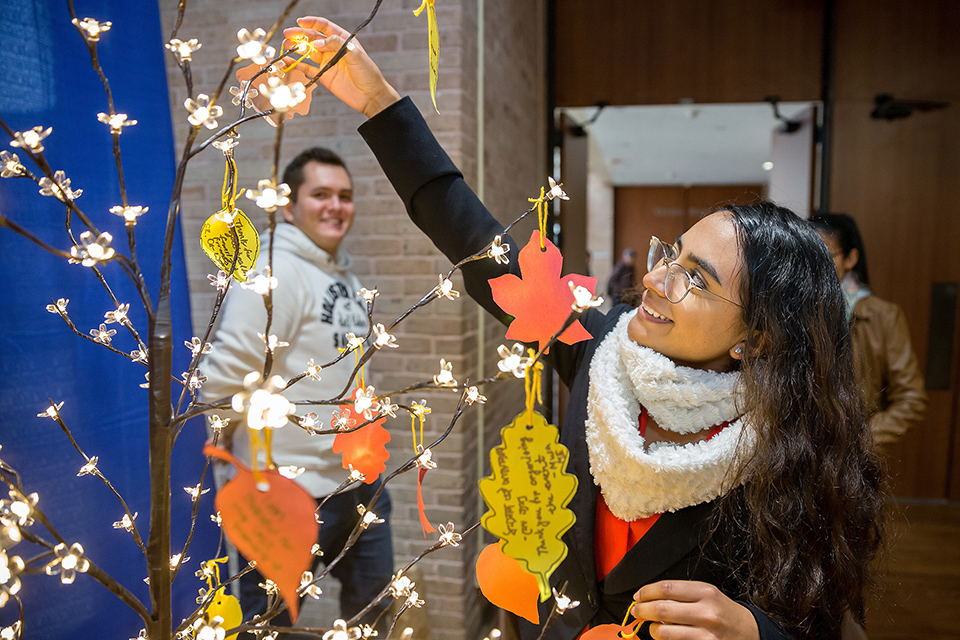 ABOUT UTRGV
The University of Texas Rio Grande Valley (UTRGV) was created by the Texas Legislature in 2013 as the first major public university of the 21st century in Texas. This transformative initiative provided the opportunity to expand educational opportunities in the Rio Grande Valley, including a new School of Medicine, and made it possible for residents of the region to benefit from the Permanent University Fund – a public endowment contributing support to the University of Texas System and other institutions.
UTRGV has campuses and off-campus research and teaching sites throughout the Rio Grande Valley including in Boca Chica Beach, Brownsville (formerly The University of Texas at Brownsville campus), Edinburg (formerly The University of Texas-Pan American campus), Harlingen, McAllen, Port Isabel, Rio Grande City, and South Padre Island. UTRGV, a comprehensive academic institution, enrolled its first class in the fall of 2015, and the School of Medicine welcomed its first class in the summer of 2016.