UTRGV history professor explains how Thanksgiving has evolved over the years

  Wednesday, November 21, 2018
  Community
By Amanda Alaniz
RIO GRANDE VALLEY, TEXAS – NOV. 21, 2018 – Every fourth Thursday in November, families and friends gather to reflect on what makes them grateful. And sometimes, they eat way too much and fall asleep on the sofa.
It's Thanksgiving Day, of course. And while overindulgence has become a hallmark of what has been a national holiday since 1863, when President Abraham Lincoln made it official, Thanksgiving-like meals actually have been common throughout history.
Dr. Christopher Miller, professor of history at The University of Texas Rio Grande Valley, said sharing bounty was a popular tradition well before the history-book Plymouth Thanksgiving most of us have been taught.
"These 'thanksgivings' were very common, especially in Protestant countries," Miller said. "For example, there had been multiple 'thanksgivings' in Virginia prior to what happened in Massachusetts. It was just something people did."
Today, though, the notion of thankfulness and all its trappings – heartfelt and commercial alike – automatically are associated with the holiday. And the connection between being thankful and good food is far more traditional than turkey, gravy and an abundance of sinfully sweet treats.
"Protestant countries back in the 16th, 17th centuries didn't have mechanisms for public celebration of religious ideas – unlike Catholic countries," he said. "And so you get these declarations of thanksgiving and atonement. The two are very often tied together.
"In places like Virginia and other American colonies, it was not uncommon after surviving a disaster or a peculiar success for the colonial government to declare a day of thanksgiving and for everyone to come out and celebrate that," he said.
Over time, the holiday evolved more formally into what we think of now as Thanksgiving Day – carving the turkey, saying prayers of thanks, oohing over the Macy's parade, watching football on TV – and scarfing down pumpkin pie, of course.
So, as families and friends come together this holiday – setting the table, eating, toasting and wishing each other a "Happy Thanksgiving" – it is comforting to know that it remains a time to be grateful for what we have, and to openly express thanks.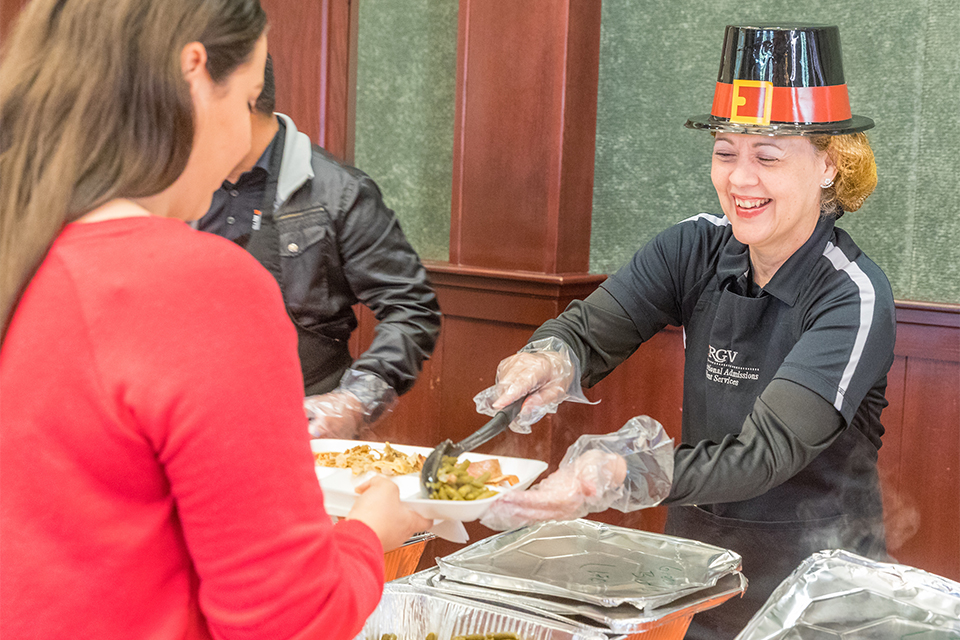 ABOUT UTRGV
The University of Texas Rio Grande Valley (UTRGV) was created by the Texas Legislature in 2013 as the first major public university of the 21st century in Texas. This transformative initiative provided the opportunity to expand educational opportunities in the Rio Grande Valley, including a new School of Medicine, and made it possible for residents of the region to benefit from the Permanent University Fund – a public endowment contributing support to the University of Texas System and other institutions.
UTRGV has campuses and off-campus research and teaching sites throughout the Rio Grande Valley including in Boca Chica Beach, Brownsville (formerly The University of Texas at Brownsville campus), Edinburg (formerly The University of Texas-Pan American campus), Harlingen, McAllen, Port Isabel, Rio Grande City, and South Padre Island. UTRGV, a comprehensive academic institution, enrolled its first class in the fall of 2015, and the School of Medicine welcomed its first class in the summer of 2016.