UTRGV student food pantries embrace year-round season of giving

  Monday, November 19, 2018
  Student Life
By News and Internal Communications
ARCHIVE PHOTO GALLERY
Password: pantry (case sensitive)
RIO GRANDE VALLEY, TEXAS – Season's greetings encompass more than just cooler weather and grand meals: The UTRGV Student Food Pantry works diligently all year to provide students with enough food to celebrate the season of giving.
The Brownsville and Edinburg campuses both have a Student Food Pantry, and since fall 2016, the pantries have served more than 4,100 students who needed assistance with food.
Brownsville Campus
Cortez Hall RM 239
(956) 882-7126
Edinburg Campus
University Center RM 114
(956) 665-3663
"You need to have a servant's heart in order to help people," UTRGV student and Food Pantry worker Jonathan Morin said.
He and four other students manage and distribute 30-40 pounds of food weekly to UTRGV students who stop by seeking assistance with their food needs.
Any student enrolled in classes at UTRGV, full-time or part-time, is eligible to apply for services. Once a week, they are allotted a selection of canned, dried and other foods including anything from applesauce to jerky.
A full list of in-demand foods and collection sites can be found on online fliers provided by the UTRGV Academic Affairs Staff.
Items that are protein-rich are especially scarce and highly requested. Tuna, canned chicken and Spam are valued donations to the pantry.
Student Food Pantry Coordinator Clarissa De La Fuente works every day to make sure the pantry is in order and that students are getting the assistance they need to meet their nutritional needs, despite financial limitations.
"When we're running low on supplies, giving students the basic necessities can be a challenge," she said. "Making sure every student that is registered with us gets a fair share of food can be tough when there are times that we are running low on protein, for example."
 Fuente says that while the pantry does have inventory, donations and drives help the most with keeping them stocked.
November is the office's busiest month, reporting increased traffic and donations. Events like the Sort-a-thon, starting Nov. 17, and the upcoming Stuff the Bus, which starts Dec. 1, create ways UTRGV departments can collaborate with the pantry to help this season.
In addition, donations are accepted year-round through the pantry's office, and food drives are announced via fliers and UTRGV Messenger.
UTRGV students who are looking for ways to help the community can apply on the pantry's website. As a volunteer, students are responsible for assisting with food drives, stocking shelves, pre-packaging food items and any other help the pantry might need.
For more information, email foodpantry@utrgv.edu.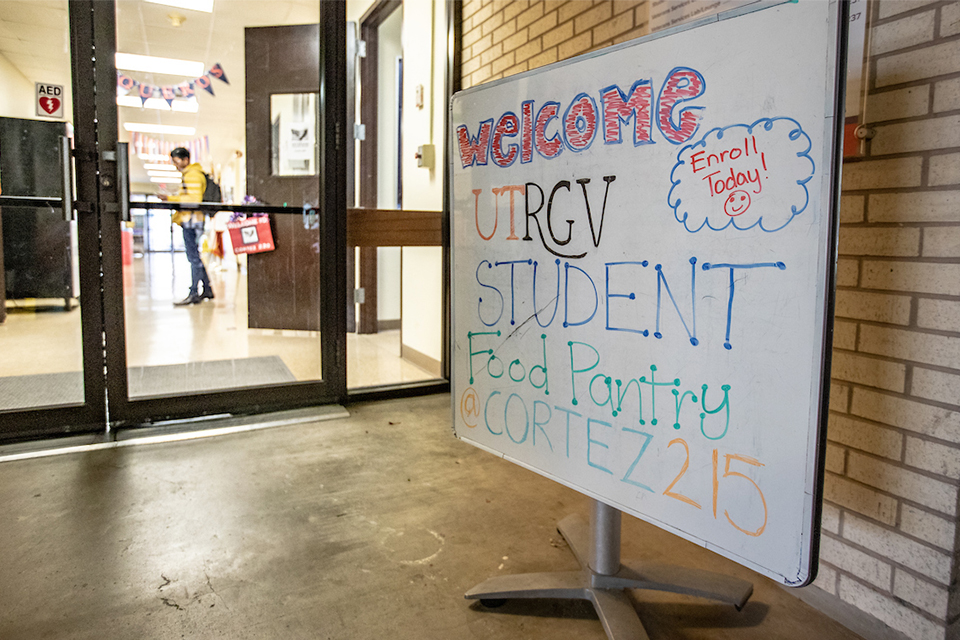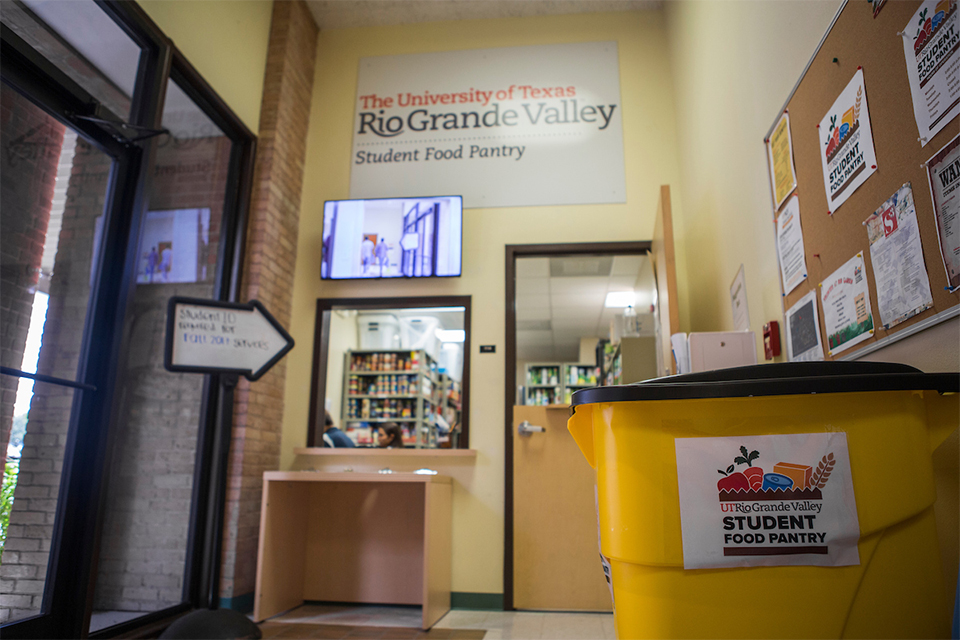 ABOUT THE UTRGV STUDENT FOOD PANTRY
The UTRGV Student Food Pantry was started in 2014 by Marie Fuentes in what began as a closet on the University of Texas Pan-American campus. The food pantry since has grown and expanded into a partnership with the RGV Food Bank and 35 other businesses and organizations. In March 2016, the Student Food Pantry began working with the UTRGV Community Garden in Edinburg, along with the Wellness Coalition in Brownsville, to plant and harvest fresh vegetables for students. From fall 2016 to fall 2017, the food pantry has helped more than 4,100 UTRGV students who needed food assistance.
ABOUT UTRGV
The University of Texas Rio Grande Valley (UTRGV) was created by the Texas Legislature in 2013 as the first major public university of the 21st century in Texas. This transformative initiative provided the opportunity to expand educational opportunities in the Rio Grande Valley, including a new School of Medicine, and made it possible for residents of the region to benefit from the Permanent University Fund – a public endowment contributing support to the University of Texas System and other institutions.
UTRGV has campuses and off-campus research and teaching sites throughout the Rio Grande Valley including in Boca Chica Beach, Brownsville (formerly The University of Texas at Brownsville campus), Edinburg (formerly The University of Texas-Pan American campus), Harlingen, McAllen, Port Isabel, Rio Grande City, and South Padre Island. UTRGV, a comprehensive academic institution, enrolled its first class in the fall of 2015, and the School of Medicine welcomed its first class in the summer of 2016.