Thursday, November 1, 2018
  Student Life
By Melissa Vasquez
RIO GRANDE VALLEY, TEXAS – Imagine a summer adventure that includes hiking the Great Wall of China, observing giant pandas at the Shanghai Zoo, and interning at global advertising agencies.
And, you get college credit on top of that.
The University of Texas Rio Grande Valley for the third year has provided students with a chance to study abroad in China.
"They enriched their academic studies while experiencing the unique rural and metropolitan beauty of the country," Ping Xu, assistant professor in graphic design at UTRGV, who led the UTRGV group on the study abroad trip.
At the beginning of the trip, students visited China's top art school, Central Academy of Fine Arts, and a couple of United Nation's World Heritage sites – the Great Wall in Hebei Province and the Forbidden City in Beijing.
Under Xu's guidance, students took a course in Digital Photography, while Robert Gilbert, UTRGV associate professor of art, taught a special topics course in Visual Travel Journaling, which allowed students to study photography and graphic design.
The couple of UTRGV photography courses were taught at Hengyang Normal University (HYNU) using the College of Fine Arts' computer lab and lighting studio.
While at HYNU, students participated in a full calendar of events with HYNU students, including Chinese painting and calligraphy workshops and Chinese martial arts demonstrations. 
"From the ancient towns in Beijing to the modern city of Shanghai, all of the places we got to visit were breathtaking," said Lorelei Lopez, of Edinburg, a UTRGV graphic design and marketing major. "We went on multiple hikes, one of which was to the Great Wall of China at Simatai. I had grown up seeing it in the history books, not knowing that one day I would have the chance to experience it firsthand. The whole trip was incredible."
LEARNING ON A GLOBAL SCALE
After five days in Hengyang, the group traveled to Shanghai where they lived in the international student dorm of UTRGV's partner school, Shanghai University (SHU). Eleven students studied Mandarin with an intensive beginning Chinese course every morning at SHU's College of International Education. 
Lopez, who enjoyed the photography course, also took the language class at Shanghai University.
"I had the amazing opportunity to intern with the company of Leo Burnett in Shanghai. As a graphic design and marketing major, I knew that this experience abroad would benefit me greatly by giving me professional experience in the graphic design field," she said.
Lopez, a junior, and five other graphic design students were able to participate in an internship course for four weeks, June 23-July 22, as interns at the Shanghai branches of Leo Burnett Worldwide or McCann Worldgroup. There, UTRGV students worked in a professional environment and participated in the creative development of several high-profile brands – McDonald's and Cadillac.
Ashley Garcia, a freshman graphic design major from Brownsville, who interned with the McCann Worldgroup, said she loved immersing herself in the company by participating in meetings with clients about their latest advertising projects. 
"Although it was for a short amount of time, this internship was a way to 'get my feet wet' in the giant pool of the graphic design industry. Taking this internship allowed me to learn and gain some advice from actual graphic designers. I even had the opportunity to experience one of their meetings with a current customer for their newest commercial, which was a very interesting experience," Garcia said. 
Jorge Villarreal, a graphic design senior from Mission, said interning at McCann Worldgroup was a highlight of the China experience, as he got to work at "one of the best marketing companies in the world," he said. 
"I and two others were able to pitch ideas, make suggestions and research for campaigns that the company was working on," Villarreal said. "Being able to see how such a professional and top-rated company in my field does its work is such a great honor and benefit. I'm sure it will be able to help me find jobs in the future."
Arael Meza, a graphic design senior from Mexico City, who interned at Leo Burnett, said he was thrilled for the opportunity to work closely with the creative minds responsible for McDonald's advertising in China. He said the chance to work with the global company stimulated his approach to visual communications, graphic design, art direction and marketing, and served as a practical introduction to the design industry and the contemporary business world. 
"Collaborating with two other UTRGV graphic design students, we developed several projects during the internship, like sketching ideas for McDonald's gift cards, re-designing the Halloween campaign, and exploring the art direction of seasonal soft drinks," Meza said.
Xu said this was the first time UTRGV students had the opportunity to intern with these global advertising agencies, where they were directed by creative and art directors.
"In both advertising agencies, our students were able to engage themselves in a real working environment and deal with real cases," said Xu, who coordinated the internship program. "They incorporated themselves in a portion of what they should expect their future careers to be like.
"Taking this internship allowed students to learn and gain some professional advice from successful graphic designers in the field who have different cultural backgrounds."
MAGIC OF CHINA THROUGH PHOTO
The beauty of China took center stage as UTRGV students documented their trip and China's culture through the photography lens, taking the opportunity to master their photography skills and explore everything China had to offer – from the people to its cityscape to its food.
"I immortalized these moments and culture with photography. We took a picture from every corner of China," said Jorge Sanchez, a freshman kinesiology major from Reynosa, Tamps., Mexico. "I highly recommend to anybody to participate in the program, it does not only help you with photographs, but it also helps you understand the Chinese culture and its people."
Bernadette Breidenbach, a senior graphic design major from Brownsville, said the trip will be etched permanently in her memory, and in the many photos she took of the beauty and drama, from mountain ranges to animated nightlife.
"My internship was something I could only have dreamt of. China was poetry. The views China had to offer were breathtaking, and the people were unforgettably kind," she said. 
Students who participated in China summer study abroad included:
Ann Jacobo, senior, Government and Mass Communication (Brownsville)
Ashley Garcia, freshman, Graphic Design (Brownsville)
Bernadette Breidenbach, junior, Graphic Design (Brownsville)
Cal Ramos, senior, Criminal Justice (Brownsville)
Arael Meza, senior, Graphic Design (Mexico City, Mexico)
Ariadny Balderas, senior, Graphic Design (McAllen)
Lorelei Lopez, junior, Graphic Design (Edinburg)
Jorge Sanchez, freshman, Kinesiology (Reynosa, Tamaulipas, Mexico)
Jorge Villarreal, senior, Graphic Design (Mission)
Sarah Torres, junior, Graphic Design (Weslaco)
Stephanie Torres, junior, Rehabilitation (Weslaco)
For more information about study abroad and to learn more about 2019 travel opportunities, contact International Programs and Partnerships in the Office of Global Engagement at 956-665-3572 or ipp@utrgv.edu.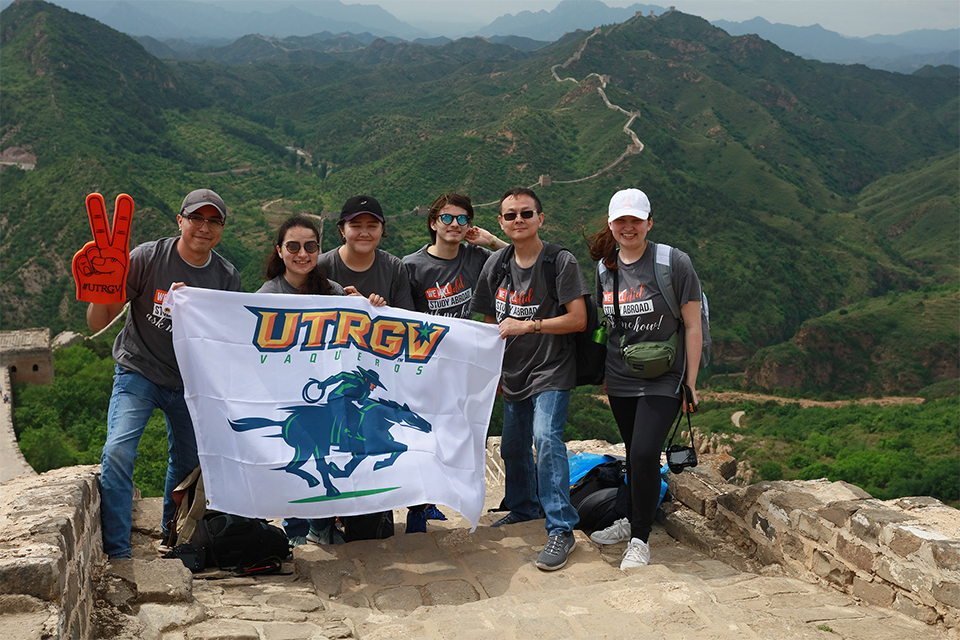 ABOUT UTRGV
The University of Texas Rio Grande Valley (UTRGV) was created by the Texas Legislature in 2013 as the first major public university of the 21st century in Texas. This transformative initiative provided the opportunity to expand educational opportunities in the Rio Grande Valley, including a new School of Medicine, and made it possible for residents of the region to benefit from the Permanent University Fund – a public endowment contributing support to the University of Texas System and other institutions.
UTRGV has campuses and off-campus research and teaching sites throughout the Rio Grande Valley including in Boca Chica Beach, Brownsville (formerly The University of Texas at Brownsville campus), Edinburg (formerly The University of Texas-Pan American campus), Harlingen, McAllen, Port Isabel, Rio Grande City, and South Padre Island. UTRGV, a comprehensive academic institution, enrolled its first class in the fall of 2015, and the School of Medicine welcomed its first class in the summer of 2016.