Friday, October 12, 2018
  Student Life, Announcements
By Priscilla Ramirez
EDINBURG, TEXAS – OCT. 12, 2018 – UTRGV junior and Animal Therapy Club President Tyra McCullough speaks with a passion about the importance of proper training for service dogs.
She shares a personal connection with the topic through her aunt, who has a history of seizures and had an encounter with a falsified service dog while at a nail salon with her own service dog.
"When that dog saw my aunt's service dog, it attacked my aunt's dog, and that caused my aunt's blood pressure to go up, and she ended up having a seizure because of that," McCullough said. "When people falsify their dogs as service or therapy dogs, it taints the waters for those that are true."
The mission of The Animal Therapy Club at UTRGV is to teach the public about the importance of evaluating animal companions to ensure that they are suitable for service work. 
The club also strives to inform people about the ways a fluffy companion can help people who need physical and/or emotional support. 
They help teach people about the differences between service animals, which are trained to perform tasks for disabled individuals, and therapy animals, which provide comfort to people who are hospitalized or in retirement homes, or to students who need to de-stress from the challenges of school and everyday life.
"I want people to know the difference. It's sad that there are people out there who really need these animals with them at all times," McCullough said. 
The club also provides a safe haven and an outlet for UTRGV students who need an emotional animal companion to deal with the stress and anxieties of college life, so come mid-terms and finals, the student organization hosts de-stress events for the UTRGV community.
McCullough listed benefits people can have from the therapy dogs:
Lowering blood pressure.
Improving cardiovascular health.
Releasing calming endorphins (oxytocin).
Lowering overall physical pain.
Lowering feelings of isolation and alienation.
Encouraging communication.
Providing comfort.
Reducing anxiety.
Currently, their furry companions include Donny, a senior dog that loves his job too much to retire; Pixie, a white English Boxer; and Darla, a Pomeranian. Pixie and Darla have both just completed evaluation with Pet Partners, a national non-profit organization that registers therapy pets and helps promote the health benefits of the human-animal bond.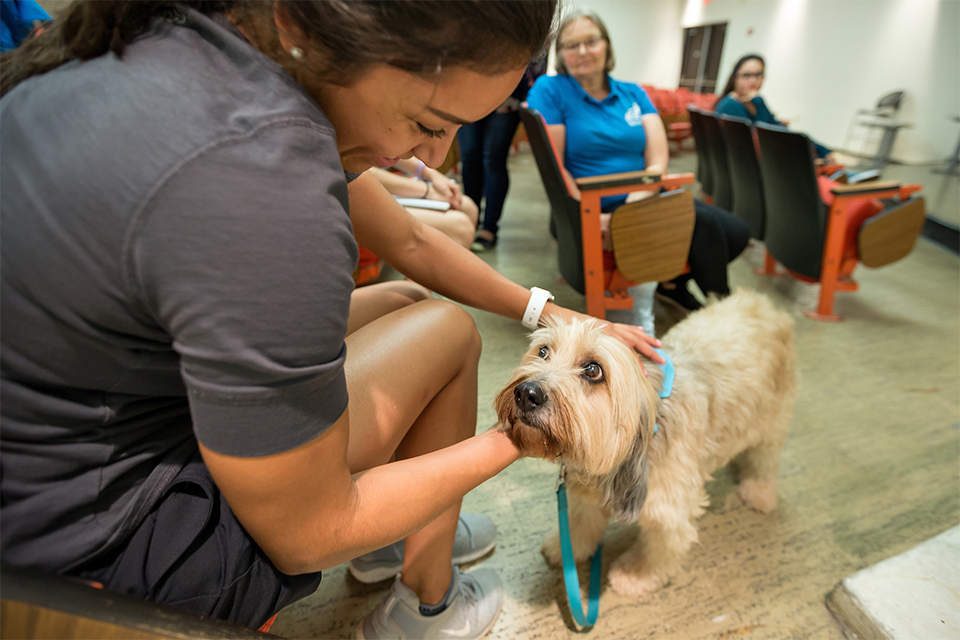 The Animal Therapy Club at UTRGV encourages people to volunteer with them, and to promote the organization and contribute to the community, the group participates in several events around campus in conjunction with other departments, like the UTRGV Military and Veteran Success Center. 
Denise D. Silcox, a clinical assistant professor in the UTRGV School of Rehabilitation Services and Counseling, has been the advisor for the student organization since its inception. 
Although service animals can be household or purebred dogs, she said, all of the club's therapy animals are rescued.
"I think they're the best, actually, because they know they've got a second chance," Silcox said.
The Animal Therapy Club at UTRGV meets every other Wednesday, 12:15 – 1:15 p.m. at the Health Affairs Building East, Room 1.124, on the Edinburg Campus.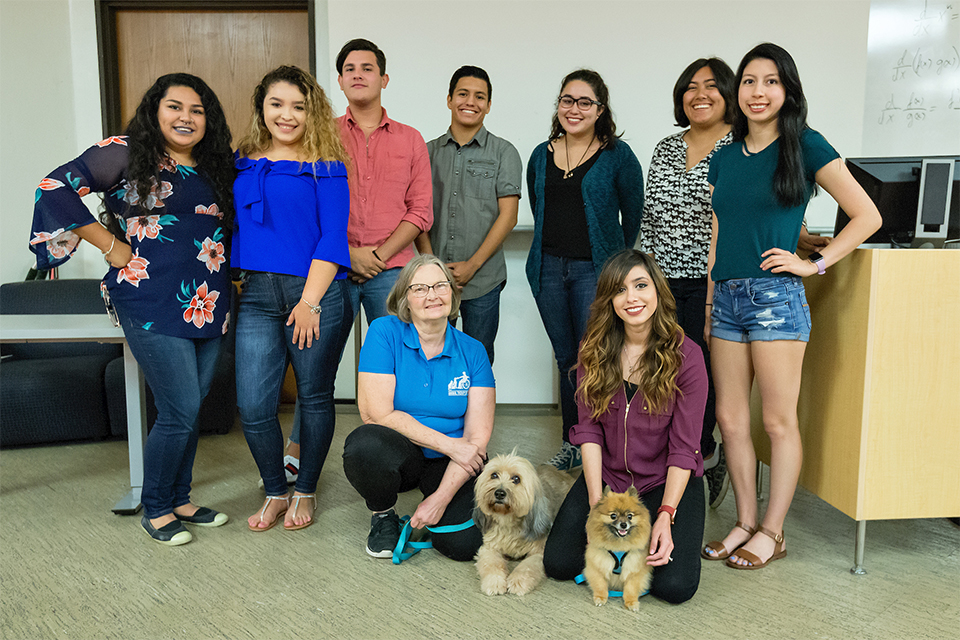 To learn more about the club, contact denise.silcox@utrgv.edu or call 956-665-8077.
  PHOTO GALLERY by Paul Chouy
Password: atclub (case sensitive)
ABOUT UTRGV
The University of Texas Rio Grande Valley (UTRGV) was created by the Texas Legislature in 2013 as the first major public university of the 21st century in Texas. This transformative initiative provided the opportunity to expand educational opportunities in the Rio Grande Valley, including a new School of Medicine, and made it possible for residents of the region to benefit from the Permanent University Fund – a public endowment contributing support to the University of Texas System and other institutions.
UTRGV has campuses and off-campus research and teaching sites throughout the Rio Grande Valley including in Boca Chica Beach, Brownsville (formerly The University of Texas at Brownsville campus), Edinburg (formerly The University of Texas-Pan American campus), Harlingen, McAllen, Port Isabel, Rio Grande City, and South Padre Island. UTRGV, a comprehensive academic institution, enrolled its first class in the fall of 2015, and the School of Medicine welcomed its first class in the summer of 2016.