Wednesday, October 3, 2018
  Around Campus, Community
By Jennifer Berghom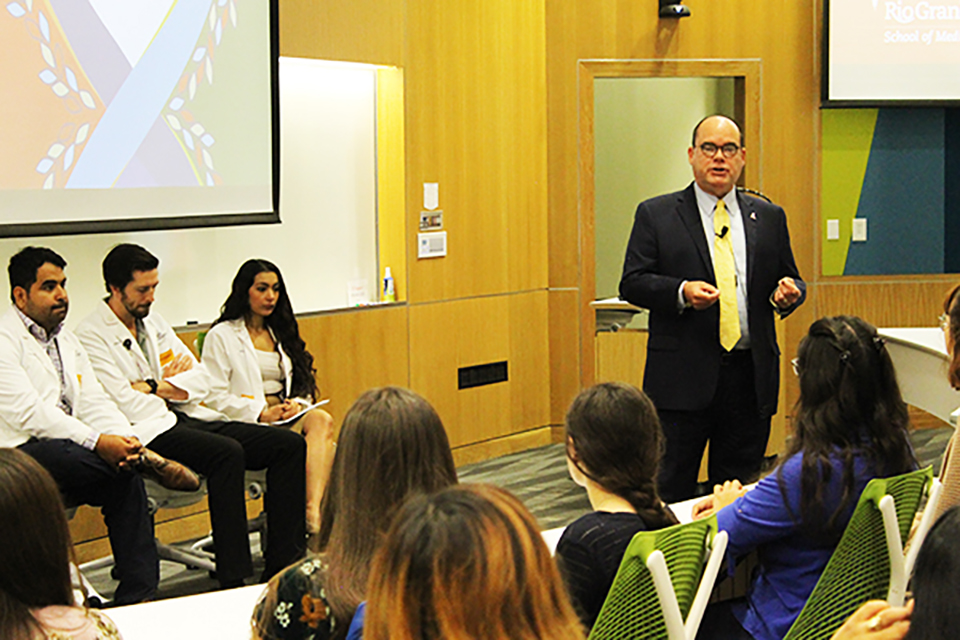 EDINBURG, TEXAS – The University of Texas Rio Grande Valley School of Medicine and Division of Health Affairs welcomed more than 1,000 middle and high school students during UTRGV HESTEC Week 2018. 
Students visited tables staffed with faculty, students and staff, who provided information on the various health professions programs UTRGV has to offer. The students also heard from Dr. John H. Krouse, vice president for Health Affairs and dean of the School of Medicine, and current medical students about what to expect when entering medical school and what they should do to prepare for a career in the health professions.
"We are happy to have the support and collaboration from the School of Medicine to support and expand on the opportunities HESTEC affords students and teachers," said Velinda Reyes, assistant vice president for Community Programs and Operations.
Leo Rivas, a 17-year-old junior from Sharyland High School, said he didn't realize how big UTRGV is and how much it has to offer students.
"It's a cool place to come to school. It's a good option," said Rivas, who is considering a career as a sports physician or a psychologist.
He said he understands that it takes lots of hard work and commitment to pursue a career in the health professions, and he appreciated hearing from Krouse and the medical students about that.
"I think it's rewarding to be a part of the medical field," he said. "I love the human body and how it works and helping people. It makes you feel good."
Shyla Quintero, a 17-year-old junior from Weslaco High School, said she liked how honest the medical students were about what it is like to be in medical school.
"They show you that you have to go through hard work to make it to where you want to be," said Quintero, who is considering a career either in nursing or physical therapy.
ABOUT UTRGV
The University of Texas Rio Grande Valley (UTRGV) was created by the Texas Legislature in 2013 as the first major public university of the 21st century in Texas. This transformative initiative provided the opportunity to expand educational opportunities in the Rio Grande Valley, including a new School of Medicine, and made it possible for residents of the region to benefit from the Permanent University Fund – a public endowment contributing support to the University of Texas System and other institutions.
UTRGV has campuses and off-campus research and teaching sites throughout the Rio Grande Valley including in Boca Chica Beach, Brownsville (formerly The University of Texas at Brownsville campus), Edinburg (formerly The University of Texas-Pan American campus), Harlingen, McAllen, Port Isabel, Rio Grande City, and South Padre Island. UTRGV, a comprehensive academic institution, enrolled its first class in the fall of 2015, and the School of Medicine welcomed its first class in the summer of 2016.