Monday, October 1, 2018
  Science & Technology, Community
By Amanda Alaniz
PHARR, TEXAS – More than 40 energy-filled middle and high school robotics teams from across the Rio Grande Valley competed in a quadrathon challenge at the Pharr Events Center to start off UTRGV's annual Hispanic, Engineering, Science and Technology (HESTEC) Week.
The Oct. 1 competition started at 9 a.m., as students from as far as Laredo pitted their robots against competing teams.
Each of the 44 teams was in charge of building its own robot out of Lego® parts and programming it to compete in a number of competitions, including a maze, going up and down a ramp, and a search and rescue.
There was a station available for the teams to test out their robots and make any necessary changes.
'BUILT, NOT BOUGHT'
Seventh-grade science teacher Danny Gonzalez, of Veterans Middle School in Donna, said the field of robotics is important to his students because they can see what they built, learn from their mistakes and make it better.
"There's a lot of building. They see how important the design is before, and then how is affects execution at the end. And it usually never turns out the way they think it's going to turn out. So you have to go back, redesign, modify. Sometimes, it works out even better than anticipated. They're constantly learning," he said.
The Warrior Bots, the team Gonzalez coaches, has its own accomplishments outside of HESTEC: They turned an electric wheelchair into a T-shirt launcher used for pep rallies at school.
The team's president is eighth-grader Melanie Salazar.
"Being part of the robotics team is fun," she said. "It's rewarding and helps show what we can do."
Milton Hernandez, program coordinator with UTRGV's Division of Governmental and Community Relations, was in charge of putting together Robotics Day. Along with his team, they are in charge of creating the competitions.
He stressed the importance of HESTEC for the university, the community and area schools.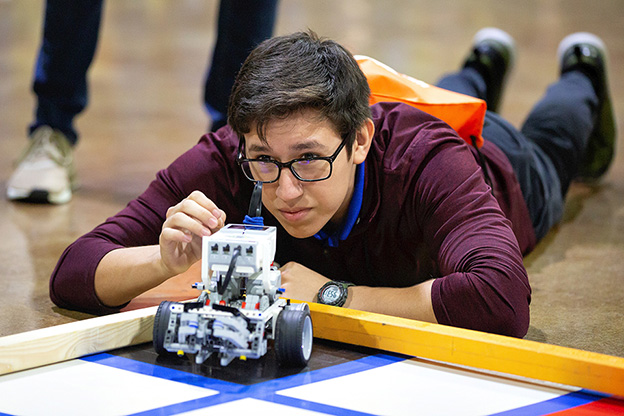 "I'll be walking around during competitions and I'll see a school struggling, and I'll see a different school from another city helping them out. I think it's important, because it brings that family concept, but it also shows you the importance of STEM," he said.
Fernando Perales, an eighth-grader from Memorial Middle School in Edinburg, said his father inspired him to get involved with the robotics team.
"My dad took me to his job and told me to take apart a motor. I tried it, and I was able to do it. I put it back together. I broke some parts, but I tried to fix it," he said.
"I think robotics is not only about competition. It's about having fun – winning or losing, medal or no medal, trophy or no trophy."
HESTEC continues throughout the week, ending with Community Day on Oct. 6. For a full schedule of events visit www.utrgv.edu/HESTEC.
ABOUT UTRGV
The University of Texas Rio Grande Valley (UTRGV) was created by the Texas Legislature in 2013 as the first major public university of the 21st century in Texas. This transformative initiative provided the opportunity to expand educational opportunities in the Rio Grande Valley, including a new School of Medicine, and made it possible for residents of the region to benefit from the Permanent University Fund – a public endowment contributing support to the University of Texas System and other institutions.
UTRGV has campuses and off-campus research and teaching sites throughout the Rio Grande Valley including in Boca Chica Beach, Brownsville (formerly The University of Texas at Brownsville campus), Edinburg (formerly The University of Texas-Pan American campus), Harlingen, McAllen, Port Isabel, Rio Grande City, and South Padre Island. UTRGV, a comprehensive academic institution, enrolled its first class in the fall of 2015, and the School of Medicine welcomed its first class in the summer of 2016.