Thursday, September 13, 2018
  Student Life
By Victoria Brito
RIO GRANDE VALLEY, TEXAS – Nine students from The University of Texas Rio Grande Valley spent a week in Mérida, on the Yucatán peninsula in México, as part of a study abroad trip focused on global change.
The bilingual course – led by Dr. Teresa Patricia Feria-Arroyo, associate professor of biology in the UTRGV Department of Biology, College of Sciences – was in Mexico from July 1-8, visiting locations that highlighted the area's natural assets, with an emphasis on how tourism has helped preserve the environment.
The group met before its departure to go over the topics they would be covering and to learn about the Mayan Yucatán.
"The main topic of this class is global change, so we studied how human and oceanic activities have changed," Feria-Arroyo said. "I wanted them to have an idea of how our ecosystems are not exactly similar but equivalent with what we have in the Valley, and of our expectations of a high-volume tourist area.
"Tourists want to have clean water," she said, "and if not for the efforts of locals to maintain the water, it would already be polluted."
When picking a location for the study abroad course, Feria-Arroyo said, she looked for a safe location with a similar ecosystem to the Valley's, but also one culturally relevant. The concept was to compare what the indigenous Maya do today to preserve the area, versus what is done in the United States.
"The students were able to see in a practical way how the Maya do not use straws, unlike in the U.S., where we use a lot of plastic straws," she said. "I was looking for them to see how we can actually contribute ourselves."
Feria-Arroyo said the experience of being able to observe first hand resonated with the students.
"We need to realize that we can be the change," she said. "But, in order to do that, we need to see what is happening, what other people are doing or not doing."
Another reason for choosing Merida was the prevalence of indigenous Maya there, which Feria-Arroyo saw as a way for her Hispanic students to find pride in their Mexican roots.
"I wanted them to have hands-on, experiential learning so they can wake up those skills for the enrichment of their own culture," she said.
She said the students did, in fact, appreciate their roots more after visiting Merida, and the week abroad ended with a sense of closeness that had not been there at the beginning.
"At the end, we were like a family. We bonded with each other, with our translator, and everybody was kind and polite. So, I think that the class material helped, but it was also the cultural experience, the hands-on, experiential learning for our students."
Feria said the students want to continue their bond by spreading the word about conservation at UTRGV and creating a student organization dedicated to conserve rare plants in the Valley.
CONSERVATION
Feria-Arroyo hoped that her students would appreciate their legacy more after the trip. She recalls that while visiting a beach, the group was advised not to use chemicals, like sunblock, while going into the water because the water is the main source of drinking water.
Gisel Garza, senior biology major, said this course opened her eyes to the ways humans have affected the environment.
 "A large amount of pork is produced there and it is effecting their water. But tourism helps, because tourists go to see the natural environment, so locals feel pressured to keep the water clean. So, in a way, tourism limits the amount of pollution pork can create over there," she said.
Feria Arroyo had told the class that she wanted them to gain a sense of pride in their Mexican lineage, and Garza said that did happen.
"We became very close, and that was nice because we didn't really know each other before. Having a week in Mérida brought us all together, like a family," she said.
Nora Sustait, a senior pre-medical biology major, first heard of the class while taking biochemistry in the spring. She recalls her time in Merida fondly.
"Everybody there was just so nice, smiling, really open and friendly. They welcomed us, and it was wonderful," she said.
Before this course, she did not know that the Yucatán peninsula used to be home to agave plants, which a main source of the economy until the area was deforested.
'I have shifted my view on things," Sustait said. "I don't use straws anymore. I try to keep up with my recycling. And I want to be part of a program to help educate others about what we're actually doing to our climate.'
CENOTES
Christopher Muñoz, of McAllen, a graduate student in the Ocean, Coastal and Earth Sciences program in the UTRGV Graduate College, has a great interest in plant biogeography and took this course to learn about the distinct characteristics of plant species that differ from those in South Texas.
"We got to see several cenotes when we were there," he said.
A cenote is an underwater cave that serves as a main water source, believed to be spiritual or mystical places for the ancient Maya civilization.
"It is basically a giant sinkhole for the water that is relatively high and the entire peninsula is composed mostly of calcium carbonate limestone. So, it is especially susceptible to the dissolution of the limestone and forms these kind of Swiss cheese-looking holes that range from being either very small or as large as a sinkhole that could fit 30 people swimming in it."
Inside the cenotes, he said, is a plant called a strangler fig, which has a unique "adventitious" root system.
"If there is a shallow enough water table, the water table is proximal to go up to the surface and the plants have a way of detecting that," he said. "That was really interesting for me to see."
Muñoz said the course had a decidedly positive impact on his academic career.
"Anytime I get to see biogeographical phenomena, face to face – which is the nature of my thesis and a large component of my thesis research – it is very helpful," he said. "It puts things into perspective and helps me further my understanding of that discipline."
UTRGV STUDENTS - STUDY ABROAD: MERIDA
Christopher Muñoz, Ocean, Coastal and Earth Sciences, McAllen.
Felicia Vazquez, Biology, Mission.
Adriana Peña, Biology, Mission.
Gisel Garza, Biology, La Joya,
Laiba Asif, Biology, Mission,
Madelyn Flores, Environmental Science, Mission,
Minal Cheema, Biology, Houston.
Nora Sustait, Pre-Medical Biology, Alamo.
Ruth Galán, Biology, Monclova, Coahuila, Mexico.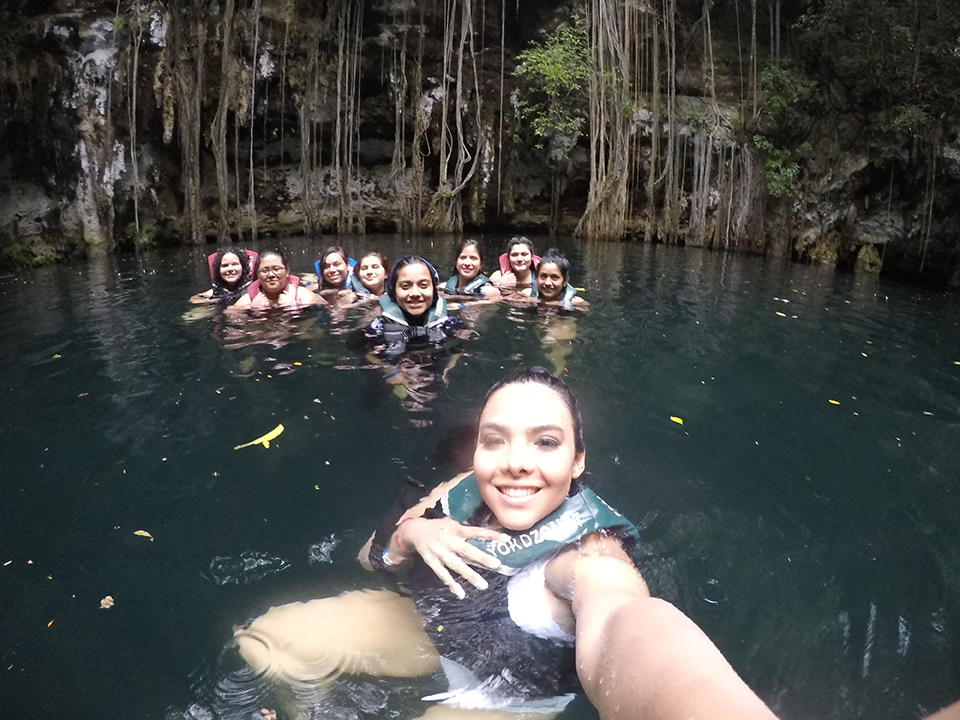 ABOUT UTRGV
The University of Texas Rio Grande Valley (UTRGV) was created by the Texas Legislature in 2013 as the first major public university of the 21st century in Texas. This transformative initiative provided the opportunity to expand educational opportunities in the Rio Grande Valley, including a new School of Medicine, and made it possible for residents of the region to benefit from the Permanent University Fund – a public endowment contributing support to the University of Texas System and other institutions.
UTRGV has campuses and off-campus research and teaching sites throughout the Rio Grande Valley including in Boca Chica Beach, Brownsville (formerly The University of Texas at Brownsville campus), Edinburg (formerly The University of Texas-Pan American campus), Harlingen, McAllen, Port Isabel, Rio Grande City, and South Padre Island. UTRGV, a comprehensive academic institution, enrolled its first class in the fall of 2015, and the School of Medicine welcomed its first class in the summer of 2016.