Sunday, August 26, 2018
  Community
By Amanda Taylor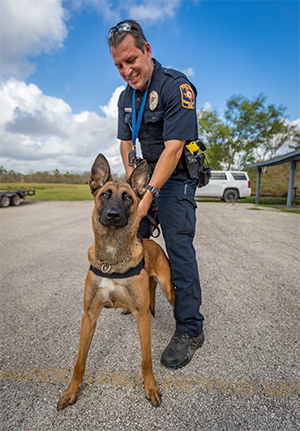 RIO GRANDE VALLEY, TEXAS – Dog lovers know that no matter the circumstance, a dog will love you with his or her whole heart and not ask for much in return, maybe just a snack or a belly rub every once in a while. Whether it's a 120-pound Great Dane or a three-pound Chihuahua, dogs are simply a human's best friend.
Aside from the loyal companionship, though, some dogs wake up each morning with an important job to do. UTRGV K-9 Officers Odin and Suzy work alongside officers in the UTRGV Police Department to help protect students, faculty and staff across campuses.
Odin is an 8-year-old Belgium Malinois who has been assisting the UTRGV Police Department for seven and a half years, helping sniff out narcotics and weapons using his powerful nose. Odin will alert his handler, Sgt. Molly Ralph, when he gets a whiff of anything suspicious.
"Odin rides around with me every day and we respond to calls as we're needed," Ralph said. "He goes home with me at the end of the day and he'll live with me once he retires. I went to work a few times without Odin and it felt really weird."
Ralph and Odin have been partners since 2011, working side-by-side each day and even into the night. Odin's job on campus is to sniff out narcotics and to assist Ralph in her day-to-day duties, such as traffic stops or campus surveillance. Odin is also a popular companion during presentations at school districts and on-campus events.
"Odin is a really friendly dog and loves other people," Ralph said. "But when it's time to work, he works."
Suzy is the newest addition to the UTRGV K-9 unit. Only 18 months old, Suzy is being trained to become UTRGV's first bomb-sniffing dog.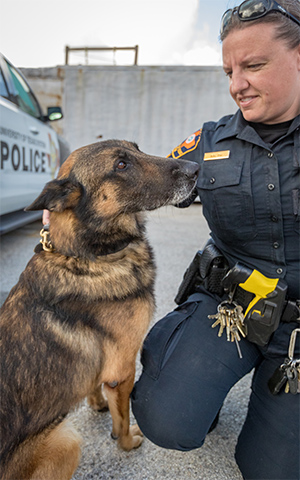 Her handler, Officer Jorge Flores, works closely with Suzy each day to ensure she is getting the best training possible. Both Suzy and Flores have been training with the Brownsville Police Department K-9 unit, and Suzy should be ready to start her duties in 10 to 13 weeks. She will get nationally certified in Laredo after a three-day testing course.
"She's in the process of being exposed to odors that could lead to explosive device detection," Flores said. "Whenever she smells something along those lines, she's being trained to sit."
Unlike Odin, who alerts Ralph by barking whenever he is near narcotics, Suzy needs to remain as calm as possible, considering she's detecting a potentially explosive device.
"Suzy is great because she's very docile and calm," Ralph said. "You don't want a dog that is going to jump all over things and start barking, as an explosives detection dog could potentially trigger a device."
 
Odin, being a seasoned K-9 officer, has worked with several federal agencies and local police departments. He even won first place for Narcotic Article Search at the South Texas K-9 Competition in Pharr in 2015, going against 40 other K-9 teams, including teams from local, county, state and federal agencies. 
"He even went up against Border Patrol K-9s and won, so that was extra special for the both of us," Ralph said.
Both Odin and Suzy provide areas of expertise their handlers wouldn't be able to successfully execute without their K-9 partners. Consider the more than 300 million olfactory receptors in their noses.
"They can do what we definitely can't do," Ralph said. "A dog's smelling abilities are way beyond a human's."
"We're really blessed to have these dogs at UTRGV," Flores said.
ABOUT UTRGV
The University of Texas Rio Grande Valley (UTRGV) was created by the Texas Legislature in 2013 as the first major public university of the 21st century in Texas. This transformative initiative provided the opportunity to expand educational opportunities in the Rio Grande Valley, including a new School of Medicine, and made it possible for residents of the region to benefit from the Permanent University Fund – a public endowment contributing support to the University of Texas System and other institutions.
UTRGV has campuses and off-campus research and teaching sites throughout the Rio Grande Valley including in Boca Chica Beach, Brownsville (formerly The University of Texas at Brownsville campus), Edinburg (formerly The University of Texas-Pan American campus), Harlingen, McAllen, Port Isabel, Rio Grande City, and South Padre Island. UTRGV, a comprehensive academic institution, enrolled its first class in the fall of 2015, and the School of Medicine welcomed its first class in the summer of 2016.