Wednesday, July 25, 2018
  Around Campus
By Amanda Alaniz
Rio Grande Valley, Texas – Three University of Texas Rio Grande Valley music ensembles wowed fellow musicians overseas this summer.
The UTRGV clarinet, tuba/euphonium and saxophone ensembles traveled to Europe in July to perform at international festivals and conferences in different countries.
The UTRGV Clarinet Ensemble performed at ClarinetFest 2018 in Oostende, Belgium, in early July. Sixteen students comprise the ensemble, and two conductors.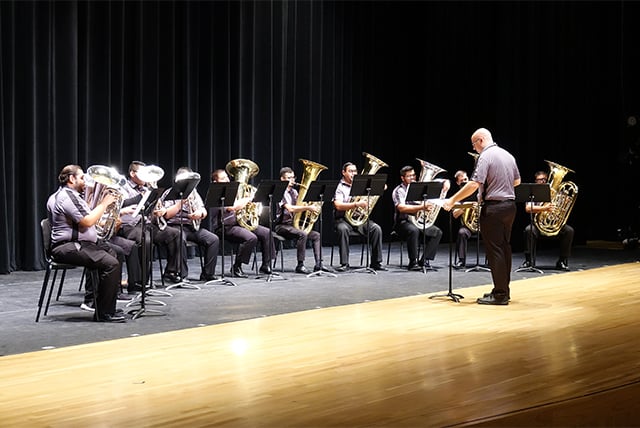 Dr. Lorne (William) O'Neil, professor of clarinet in the School of Music, UTRGV College of Fine Arts, helped create the ensemble more than a decade ago and directs the ensemble in Edinburg. Dr. Jonathan Guist, associate professor of music in the School of Music, directs the UTRGV Clarinet Ensemble in Brownsville.
O'Neil said the ensembles were ecstatic when they found out they were chosen to perform at the ClarinetFest, and he wants the students to take away inspiration from these experiences.
"You hear magnificent clarinet players, you start realizing, 'Hey, this is possible on the clarinet.' Sometimes you might be inspired to actually start composing for the instrument. It certainly expands your knowledge," he said.
O'Neil credits UTRGV Tuba/Euphonium Ensemble conductor, Dr. Scott Roeder, for his inspiration and drive to make these large-scale trips possible for student musicians.
"It was Scott's vision that made it seem realistic for the rest of us to aspire to perform and participate in such major events," said O'Neil.
Each year, UTRGV ensembles travel to various music symposiums, but for some of the students, this was the first trip abroad.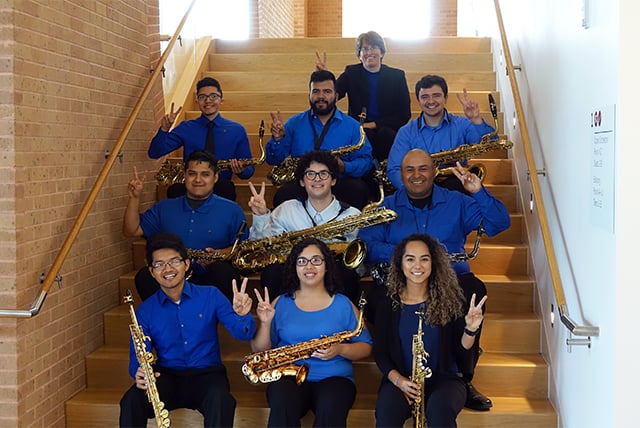 "We've gone to Lubbock for the (North American Saxophone Alliance) National Biennial Conference and we've gone to Oklahoma, as well as Fort Worth and a few other Texas-based conferences," Dr. Cindy Cripps, associate professor of saxophone at the School of Music department, said. "This one is really huge because it's the first international conference that we will be attending."
Cripps conducts the UTRGV Saxophone Ensemble, made up of nine students. The ensemble performed at the 18th World Saxophone Congress in Croatia on July 13.
She joined her students for a few pieces, saying any chance to "pick up an instrument and play along is kind of nice."
On July 20, the UTRGV Tuba/Euphonium Ensemble performed at the Festival AEYTB in Madrid, Spain, under the direction of Dr. Scott Roeder, associate professor of tuba and euphonium at the UTRGV School of Music.
Roeder said the students were excited to learn they would be performing at the festival, and partook in the music selection they would be performing.
His hope is that his students grow creatively from trips like these.
"I want them to see that there's a whole world that's possible," Roeder said.
UTRGV senior Ediel Ovalle, of McAllen, said being part of the Tuba/Euphonium Ensemble has given him valuable opportunities to travel and embrace music.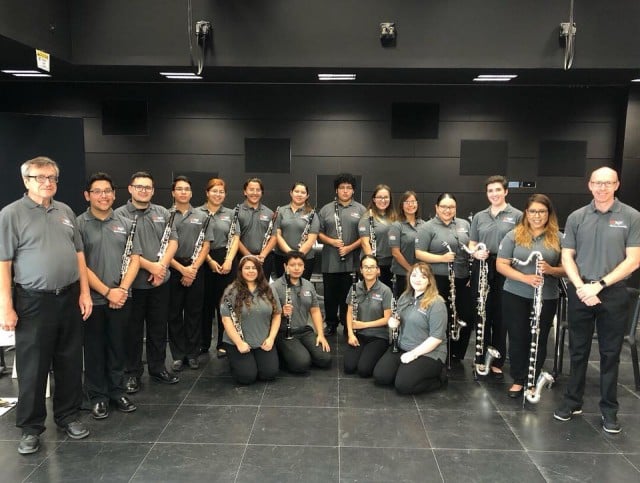 "It's so cool to be part of something that you don't get to be part of somewhere else," he said. "Most other universities, the bigger schools, they usually don't travel that often. We're one of the ensembles who are usually persistent and always consistently going to the conferences."
Conductors of all three UTRGV ensembles shared similar aspirations for their students, especially the hope that they gain musical inspiration.
"I think a lot of times, people don't think big enough," Roeder said. "So we try to get them out to see there's a lot out there, help them see, you can go be a part of this, you have opportunities.".
To learn more about any of the ensembles contact the School of Music at music@utrgv.edu or call (956) 665-3471.
ABOUT UTRGV
The University of Texas Rio Grande Valley (UTRGV) was created by the Texas Legislature in 2013 as the first major public university of the 21st century in Texas. This transformative initiative provided the opportunity to expand educational opportunities in the Rio Grande Valley, including a new School of Medicine, and made it possible for residents of the region to benefit from the Permanent University Fund – a public endowment contributing support to the University of Texas System and other institutions.
UTRGV has campuses and off-campus research and teaching sites throughout the Rio Grande Valley including in Boca Chica Beach, Brownsville (formerly The University of Texas at Brownsville campus), Edinburg (formerly The University of Texas-Pan American campus), Harlingen, McAllen, Port Isabel, Rio Grande City, and South Padre Island. UTRGV, a comprehensive academic institution, enrolled its first class in the fall of 2015, and the School of Medicine welcomed its first class in the summer of 2016.