Tuesday, July 17, 2018
  Alumni, Announcements
By Maria Elena Hernandez
Rio Grande Valley, Texas – Victoria Garza, a UTRGV mechanical engineering major from Pharr, said summer camps set her future career path.
"I chose engineering because of the camps that I was in while I was younger," she said. "Without the camps, I wouldn't have known what all of this was."
Garza was participating in the TexPREP camp when she was introduced into the UTRGV Railway Safety Camp – now the largest transportation-related camp in the nation. Now, as a UTRGV engineering senior, Garza is back at the camp to lead a class of her own.
"I've seen some of my students change their perspective, because they realize it's not all hard and it can be fun," she said.
She also has noticed a change from her time as a camp participant.
"When I was in the camp, there was a large majority of boys," she said.
But her class this year is a stark contrast to that. "I have one boy and the rest are girls, so I'm really happy. I'm shaping my new generation of engineers," she said, smiling with pride.
INCREASING UNDER-REPRESENTED POPULATIONS
Dr. Constantine Tarawneh, director of the UTRGV Transportation Center for Railway Safety and associate dean for research and graduate programs in the College of Engineering and Computer Science, said under-represented individuals in the transportation field include females and Hispanics.
"Female Hispanics are really under-represented in the transportation career field, and that's one of the things we're trying to address in this camp," he said.
"When we started in 2014, the ratio, for example, of females to males was one to four at the high school level," Tarawneh said.
But this year, there was an equal number of females and males in the high school classes.
"We're accomplishing a lot of the things we wanted to do," he said.
THOUSANDS OF STUDENTS REACHED
The program already has expanded to include middle school and elementary students.
"We have so far reached 5,500 students around the Valley. And we've also trained almost 500 teachers on the use of this curriculum that is available on our website," Tarawneh said.
This year, more than 1,200 students from more than 26 local school districts participated in the Railway Safety Camp.
Edoardo Garcia, a junior at Santa Maria High School, attended the camp along with his siblings and cousins.
"My counselor recommended I go to the program, because I was in the automotive program. So, basically, this will help me out for my career, too," he said.
While Railway Safety Camp might not seem a match for an automotive program, the camp covers a wide range of fields, Tarawneh said.
"In reality, transportation engineering is a very multidisciplinary field. For example, in railway, you'll have electrical engineers, mechanical, computer scientists, civil engineers – all types of engineers working on different aspects.
"Yes, it is math and science, but we gave it a transportation and railway safety spin."
NEW LOVE OF ENGINEERING
Students at the camps worked with LEGO MINDSTORM EV3 robots and Arduino-based mBots.
"It's very fun and I was so excited to come," said Izabella Ceron, a student at PSJA's Long Elementary. "We learned that if you use a nail and connect it with a wire to a battery, then you can turn it into a magnet. It's exciting to learn all the other things that they're showing us."
Tarawneh said the students really do love the camp.
"One of our classrooms is actually all 30 kids repeating. Last year, they were here, and all 30 kids are back. They want to perfect their robots and compete and do better."
The Railway Safety Center director said many students write letters at the end of the camp, and he got a letter recently from a student who started as an unwilling participant.
"Her mom forced her to come to the camp. And she didn't want to do it. But now that she has gone through it, she really loved it," he said. "And, she wants to study engineering."
FULL CIRCLE
Garza, who is well on her way to becoming an engineer, enjoys watching her students experience the camp like she did.
"You don't want to be here, because it's the summer. But then when you leave, you don't want to leave because you're having so much fun," she said.
For more information about UTRGV summer camps, visit UTRGV.edu/camps.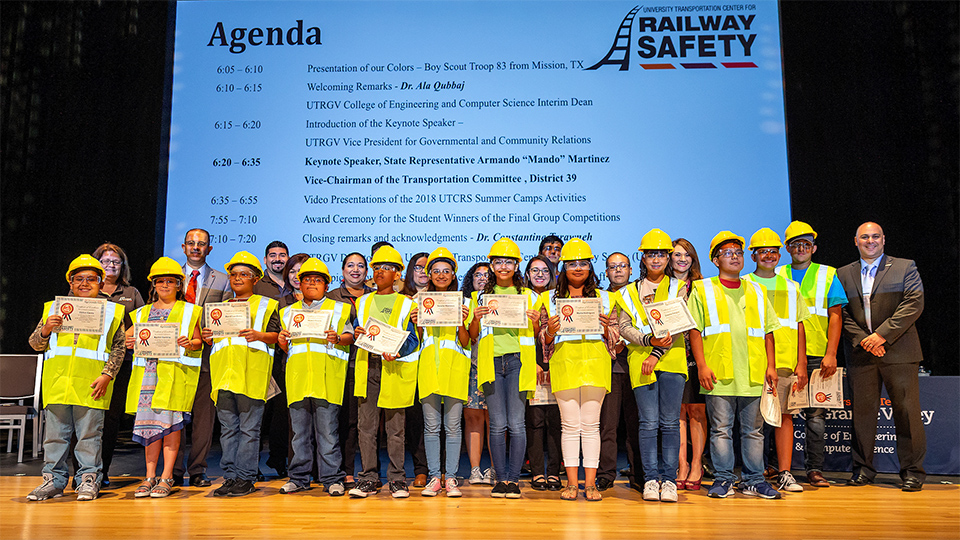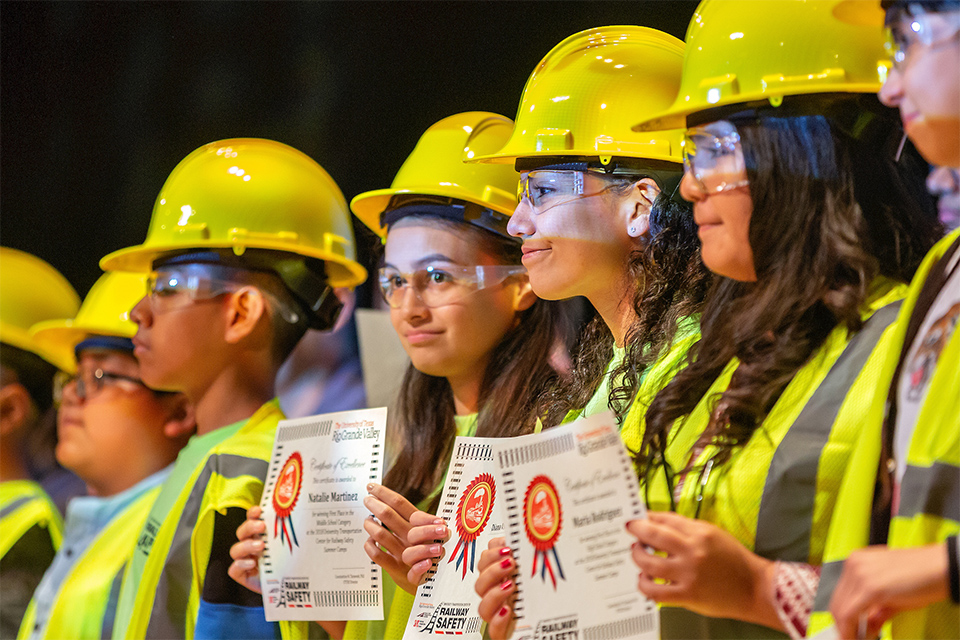 ABOUT UTRGV
The University of Texas Rio Grande Valley (UTRGV) was created by the Texas Legislature in 2013 as the first major public university of the 21st century in Texas. This transformative initiative provided the opportunity to expand educational opportunities in the Rio Grande Valley, including a new School of Medicine, and made it possible for residents of the region to benefit from the Permanent University Fund – a public endowment contributing support to the University of Texas System and other institutions.
UTRGV has campuses and off-campus research and teaching sites throughout the Rio Grande Valley including in Boca Chica Beach, Brownsville (formerly The University of Texas at Brownsville campus), Edinburg (formerly The University of Texas-Pan American campus), Harlingen, McAllen, Port Isabel, Rio Grande City, and South Padre Island. UTRGV, a comprehensive academic institution, enrolled its first class in the fall of 2015, and the School of Medicine welcomed its first class in the summer of 2016.