Tuesday, July 3, 2018
  Student Life, Announcements
By Melissa Vasquez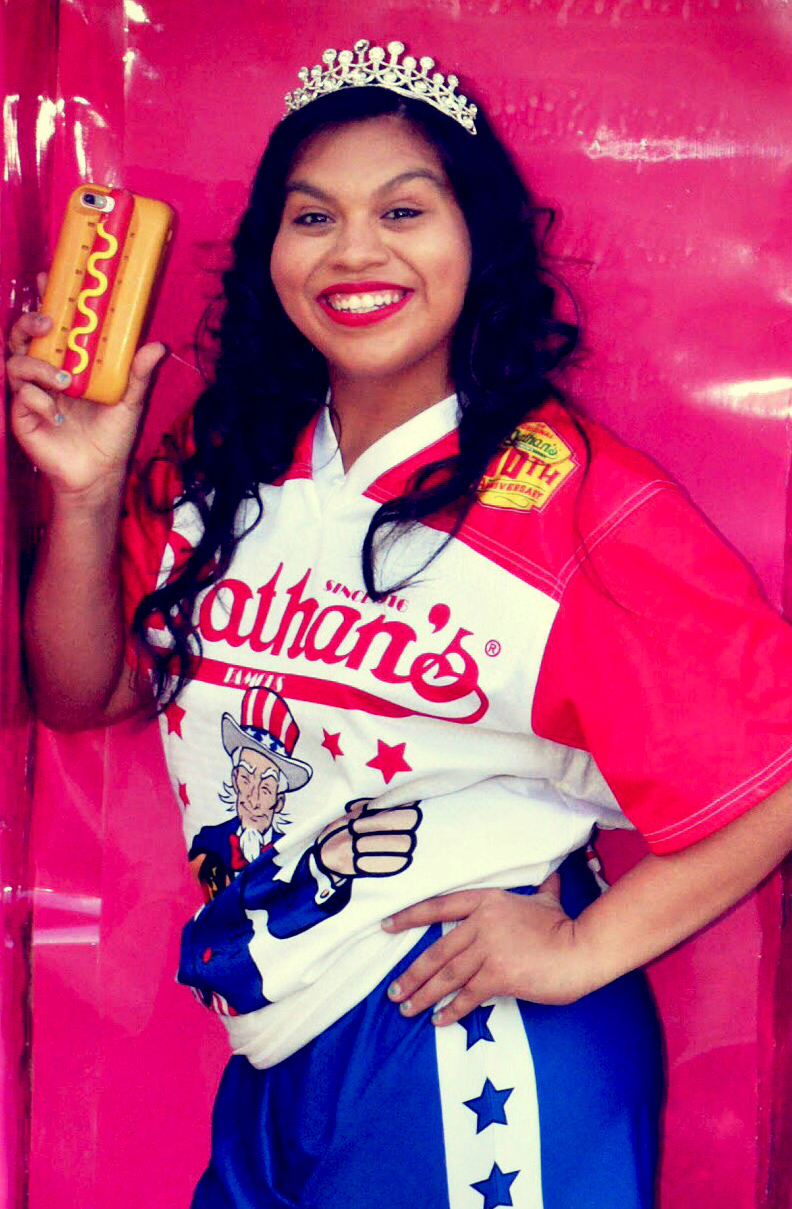 Rio Grande Valley, Texas – UTRGV junior Kassie Zapata is just fine with the fact that it's a dog eat dog world.
Which is all good, since she's about to make her third appearance in Nathan's Famous International Hot Dog Eating Contest, Wednesday, July 4 at Coney Island, New York.
The kinesiology major from Donna – ranked at No. 43 in the world by Major League Eating –will be competing for a third time in what has become one of the most unique annual sporting competitions in the world, as she once again faces off with the world's top competitive eaters.
Her family – and, of course, a love of hot dogs – motivated her to once again attempt to gobble up the coveted Mustard Belt.
"My family think it's awesome and fully support it," Zapata said. "Sometimes, they do challenge me in the most awkward situations to scarf down a hot dog or two." 
Currently a teacher assistant at Donna ISD's M.A.P. Muñoz Elementary School, Zapata was crowned a 2018 regional winner after eating 10 hot dogs in a Nathan's regional qualifying contest in San Antonio. 
Zapata and a dozen other female competitors will be trying to take a bite out of four-time champion Miki Sudo, who scarfed down 41 hot dogs in 10 minutes in 2017 to claim the international title.
In her first competitive eating experience in Coney Island in 2016, Zapata ate 13.5 hot dogs. In 2017, she consumed 13.
Her strategy this year is simple: "Just show up and eat," she said.
To watch Zapata take on her hungry competitors, you can tune into ESPN Networks for live coverage. The women's competition, can be seen on ESPN3/ESPN APP at 10:50 a.m. EDT/9:50 a.m. CDT.  
ABOUT UTRGV
The University of Texas Rio Grande Valley (UTRGV) was created by the Texas Legislature in 2013 as the first major public university of the 21st century in Texas. This transformative initiative provided the opportunity to expand educational opportunities in the Rio Grande Valley, including a new School of Medicine, and made it possible for residents of the region to benefit from the Permanent University Fund – a public endowment contributing support to the University of Texas System and other institutions.
UTRGV has campuses and off-campus research and teaching sites throughout the Rio Grande Valley including in Boca Chica Beach, Brownsville (formerly The University of Texas at Brownsville campus), Edinburg (formerly The University of Texas-Pan American campus), Harlingen, McAllen, Port Isabel, Rio Grande City, and South Padre Island. UTRGV, a comprehensive academic institution, enrolled its first class in the fall of 2015, and the School of Medicine welcomed its first class in the summer of 2016.