Friday, June 8, 2018
  Announcements, Alumni
By Victoria Brito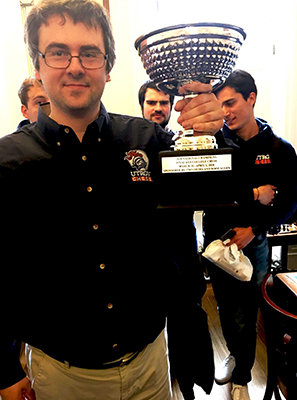 RIO GRANDE VALLEY, TEXAS – The University at Texas Rio Grande Valley Chess Team is continuing its 2018 year of victories, this time being recognized by the U.S. Chess Federation as the Chess College of the Year.                
"What an incredible honor it is to be named Chess College of the Year by the U.S. Chess Federation," said Douglas Stoves, UTRGV associate dean for Student Rights and Responsibilities. 
"We feel that this recognition is truly emblematic of the incredible support that chess and the chess team receive from the UTRGV campus and the communities we serve," he said. "We are proud that the university and the region can be honored in this way."
The U.S. Federation of Chess will recognize the award recipients at its annual Awards Luncheon, Saturday, Aug. 4, in Madison, Wisconsin.
2018 has been a standout year for UTRGV Chess as the team rides the crest of its first national collegiate championship. On April 1, UTRGV won the 2018 President's Cup, the highest national honor in collegiate chess competition – crushing the five-year winning streak of reigning national champs Webster University, 7.5 to 7.0, in what the FIDE arbiter called "the strongest Final Four in the history of this tournament."
The UTRGV Chess Team is coached by Grandmaster Bartek Macieja. Team members are GM Vladimir Belous, GM Kamil Dragun, GM Andrey Stukopin, GM Carlos Antonio Hevia Alejano, and GM Hovhannes Gabuzyan.
ABOUT UTRGV
The University of Texas Rio Grande Valley (UTRGV) was created by the Texas Legislature in 2013 as the first major public university of the 21st century in Texas. This transformative initiative provided the opportunity to expand educational opportunities in the Rio Grande Valley, including a new School of Medicine, and made it possible for residents of the region to benefit from the Permanent University Fund – a public endowment contributing support to the University of Texas System and other institutions.
UTRGV has campuses and off-campus research and teaching sites throughout the Rio Grande Valley including in Boca Chica Beach, Brownsville (formerly The University of Texas at Brownsville campus), Edinburg (formerly The University of Texas-Pan American campus), Harlingen, McAllen, Port Isabel, Rio Grande City, and South Padre Island. UTRGV, a comprehensive academic institution, enrolled its first class in the fall of 2015, and the School of Medicine welcomed its first class in the summer of 2016.