UTRGV-produced radio show helps readers discover new books

  Friday, June 1, 2018
  Alumni, Announcements
By Maria Elena Hernandez
RIO GRANDE VALLEY, TEXAS – If you ask the host of "Good Books Radio" for a summer reading list, it would be a very long list. 
"I can't think of a book that I wouldn't recommend," says Dr. John Cook, the show's host, associate professor and chair of The University of Texas Rio Grande Valley communications department.
"Start with LBJ's '1968.' That would be a good place to start."
It also would be the subject of the program he had just recorded.
"Good Books Radio" has been airing on 88FM, the Rio Grande Valley's Public Radio Station, for several years. Cook partnered with UTRGV communications professor Dr. W. F. Strong to produce the program, which is produced by the UTRGV video production team in the University Marketing and Communications department.
"If I couldn't depend on them, I couldn't do this show. They are really great," he said. "They make you sound good. I'm very much appreciative of them."
When he and Strong started "Good Books Radio," they focused on interviews with non-fiction writers.
"And we provided a show a week, which is now aired two times on Thursday and twice on Sunday," he said.
"I focus a lot on wellness, spirituality and history. Those are the primary topics I get interested in the most. Politics, sometimes."
Cook said that while he wants the books to be interesting to his audience, they also have to interest him, since he reads the books. It's something he learned that surprises some of the authors he interviews.
"Apparently, some people do not read them, but I can't imagine doing a 30-minute interview on a book without having read it. So I always read them," he said.
It really is critical for Cook to be well-informed, as there are plenty of people listening.
"Somebody will hear my voice and say, 'Are you John Cook? I listen to your program,'" he said. "It's flattering, just flattering. But the thing I like best about it is that it's good for everyone to know what books are out there."
The communications associate professor said he's concerned that people aren't reading books as much anymore.
"The other day, I was on Facebook and one of my graduates was asking for books to read. He said, 'I've read two books since I graduated, which was more than I read in the previous five years.' That concerns me, because I really believe that in order to have critical thinking skills, you have to read," Cook said.
That isn't a problem for Cook, though. With a stack of books in his office and an inbox full of requests for interviews, there is a wealth of material for "Good Books Radio" to explore.
"I really enjoy it," Cook said with a smile. "I hope to continue this as long as I live."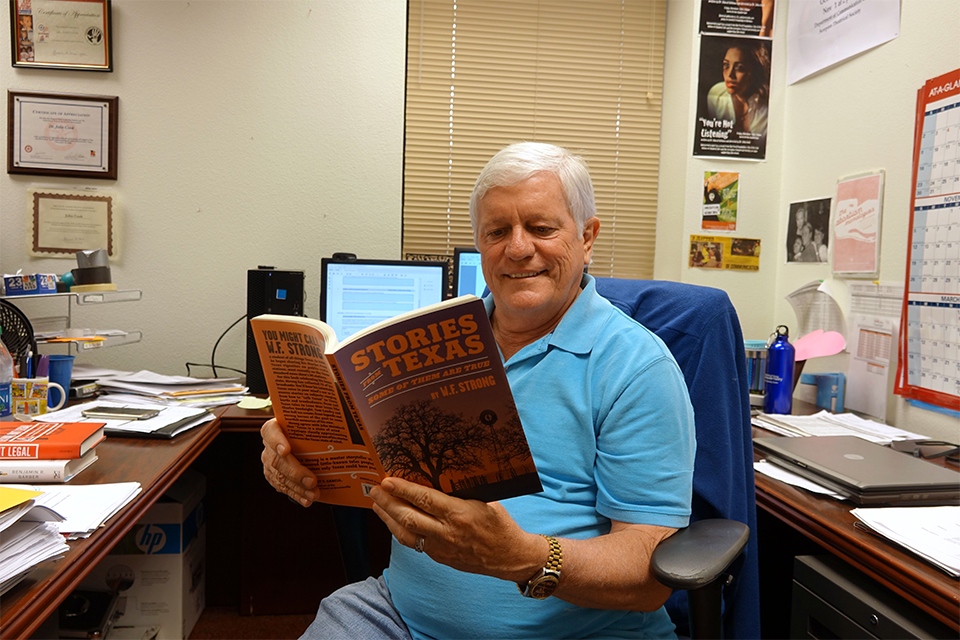 RSS FEED
ABOUT UTRGV
The University of Texas Rio Grande Valley (UTRGV) was created by the Texas Legislature in 2013 as the first major public university of the 21st century in Texas. This transformative initiative provided the opportunity to expand educational opportunities in the Rio Grande Valley, including a new School of Medicine, and made it possible for residents of the region to benefit from the Permanent University Fund – a public endowment contributing support to the University of Texas System and other institutions.
UTRGV has campuses and off-campus research and teaching sites throughout the Rio Grande Valley including in Boca Chica Beach, Brownsville (formerly The University of Texas at Brownsville campus), Edinburg (formerly The University of Texas-Pan American campus), Harlingen, McAllen, Port Isabel, Rio Grande City, and South Padre Island. UTRGV, a comprehensive academic institution, enrolled its first class in the fall of 2015, and the School of Medicine welcomed its first class in the summer of 2016.