Friday, May 11, 2018
  Announcements, Alumni
By Amanda Taylor
RIO GRANDE VALLEY, TEXAS – UTRGV campuses support what the Department of State Health Services calls a Mother-Friendly Worksite by providing nursing mother suites, which allow working staff, faculty or student moms designated rooms to breastfeed or pump breast milk.
 "The nursing mother suites are a part of UTRGV's commitment to support working or student moms and one of their needs is for them to be able to take care of their kids," said Carla Lopez, wellness coordinator in the university's Human Resources department.
To have access to a designated room, mothers can register with HR, who will then issue them an electronic "Mommy Card" for access.
The form for registration can be found on the university website, along with more information on the suites and health policies.
Scattered throughout the Brownsville, Harlingen and Edinburg campuses, the nursing mother suites provide all the essentials a nursing mother might need, such as a sink to clean the pump or bottle parts, a changing table, and a quiet, discreet place.
"Having a designated place for mothers to either nurse or breastfeed their babies is important. You don't find that in many places," said Lizette Leal, International Programs specialist within the UTRGV International Programs and Partnerships department. "It really emphasizes the support that is available to all students, staff and faculty."
Leal said being able to pump onsite at the Edinburg Campus eases her stress and helps her bonding process with her 5-month-old daughter, Mia. It also has benefits for the baby.
"She is really healthy, as you can see," Leal said, laughing. "Weight wise, she's on-par and it's not just the health benefits, but our bonding that's important. I wasn't able to breastfeed directly, but being able to pump and feed her that way is beneficial to both of us."
For Katherine Christofferson, assistant professor of Applied Linguistics, starting a new job as a breastfeeding mother was a bit stressful until she discovered how supportive the university was.
"I started my fall semester when Fitz was about 2 months old, so it was really helpful for me to be able to reach my goals with nursing him," she said. "The fact that you can pump here, and also have a space where you can clean and sanitize, was really important for both of us."
For more information on nursing mother suites, visit www.utrgv.edu/hr/wellness.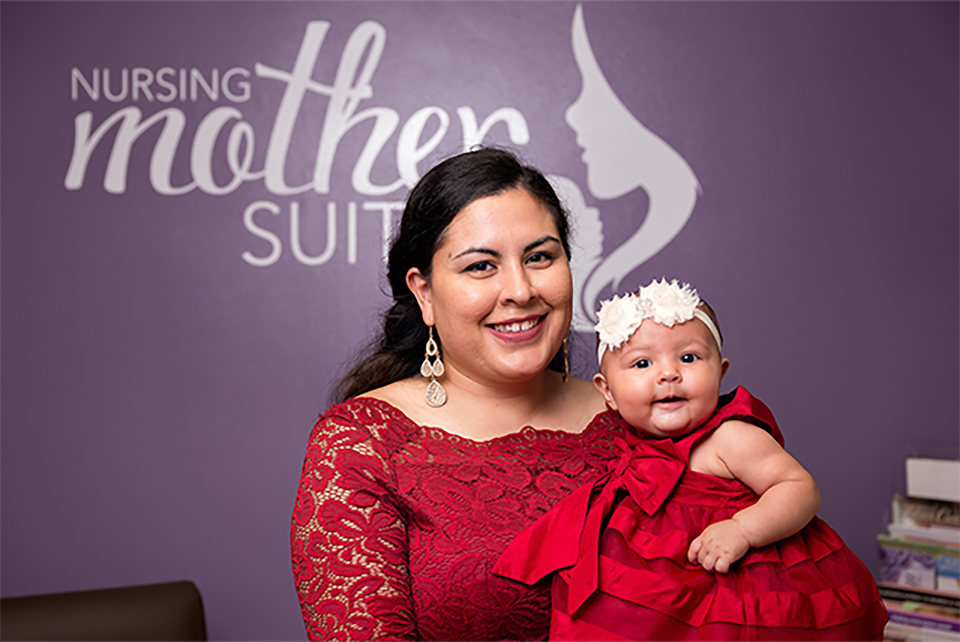 ABOUT UTRGV
The University of Texas Rio Grande Valley (UTRGV) was created by the Texas Legislature in 2013 as the first major public university of the 21st century in Texas. This transformative initiative provided the opportunity to expand educational opportunities in the Rio Grande Valley, including a new School of Medicine, and made it possible for residents of the region to benefit from the Permanent University Fund – a public endowment contributing support to the University of Texas System and other institutions.
UTRGV has campuses and off-campus research and teaching sites throughout the Rio Grande Valley including in Boca Chica Beach, Brownsville (formerly The University of Texas at Brownsville campus), Edinburg (formerly The University of Texas-Pan American campus), Harlingen, McAllen, Port Isabel, Rio Grande City, and South Padre Island. UTRGV, a comprehensive academic institution, enrolled its first class in the fall of 2015, and the School of Medicine welcomed its first class in the summer of 2016.