Friday, May 11, 2018
  Alumni, Announcements
By Maria Elena Hernandez
 PHOTO GALLERY by David Pike
Password: harlingen (case sensitive)
RIO GRANDE VALLEY, TEXAS – More than 150 Harlingen CISD students visited The University of Texas Rio Grande Valley Brownsville Campus to start orientation for fall 2018 classes, as part of the school district's new relationship with UTRGV.
Michael Aldape, UTRGV's director of special programs, oversees dual enrollment.
"The students will no longer be taking classes that only count as high school credit," he said. "They'll be taking college courses that count for both."
UTRGV professors will be traveling to Harlingen to teach classes at the University Center at Texas State Technical College.
"This partnership is coming at absolutely no cost to the district, to the students or their parents," Aldape said. "UTRGV is committed to expanding educational opportunities throughout the Valley and this is just another way that we as an institution feel we can invest in our communities."
Jennifer Vigil, a junior at the Harlingen Early College High School, said taking classes at UTRGV is an important step.
"I'll be the first in my family to be pursuing a four-year bachelor's degree," she said "And it's going to be a lot of help financially because it cuts down a lot of credits," the high school junior said.
During Wednesday's student orientation at PlainsCapital Bank El Gran Salón on the Brownsville Campus, representatives from different UTRGV departments and programs spoke with the Harlingen students.
"We've been learning about the importance of college readiness," Vigil said. "We've also been learning about the resources that are on campus and the benefits that will bring to us."
She said the orientation was very helpful, including meeting students who already have taken dual enrollment classes.
"It gives us a feel of what our experience will be once we step onto campus," she said.
This the second school district with which UTRGV is primary partner for an early college high school. The other is the Brownsville Early College High School.
"We're excited about this new relationship with Harlingen CISD," Aldape said. "There's a lot of energy, and people are really committed to making sure that this program works. We're looking forward to working with our students."
FOR MORE INFORMATION
The core purpose of the UTRGV University College is to help Valley students make a successful transition from high school and two-year institutions to UTRGV, and to make strong progress through the end of their bachelor's degrees and beyond. The UTRGV University College is located on the Brownsville Campus in Cortez 140, (956) 882-7483, and on the Edinburg Campus in STAC 2.101 (956) 665-7919. You can also send email to univ@utrgv.edu.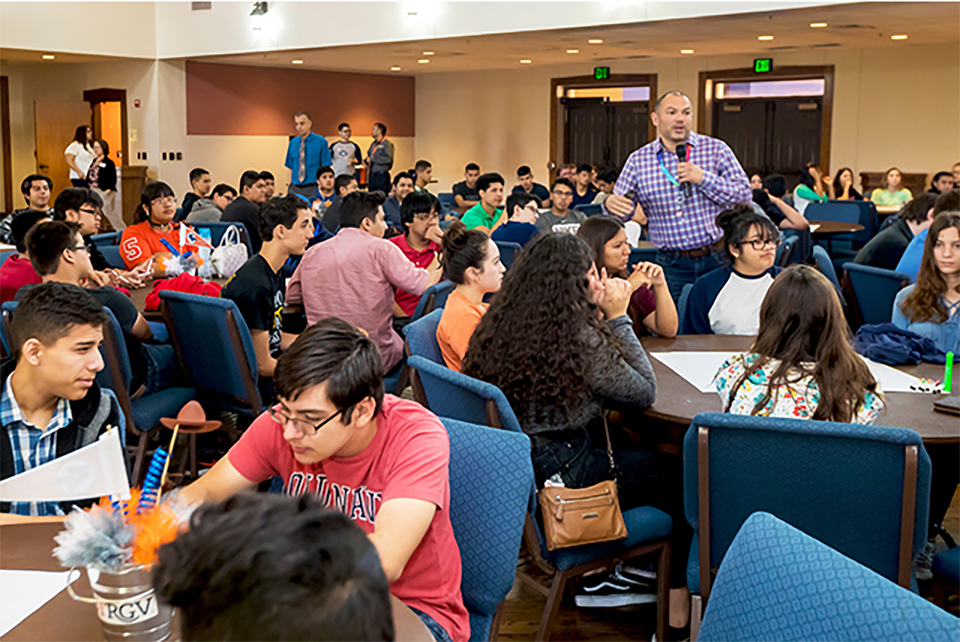 ABOUT UTRGV
The University of Texas Rio Grande Valley (UTRGV) was created by the Texas Legislature in 2013 as the first major public university of the 21st century in Texas. This transformative initiative provided the opportunity to expand educational opportunities in the Rio Grande Valley, including a new School of Medicine, and made it possible for residents of the region to benefit from the Permanent University Fund – a public endowment contributing support to the University of Texas System and other institutions.
UTRGV has campuses and off-campus research and teaching sites throughout the Rio Grande Valley including in Boca Chica Beach, Brownsville (formerly The University of Texas at Brownsville campus), Edinburg (formerly The University of Texas-Pan American campus), Harlingen, McAllen, Port Isabel, Rio Grande City, and South Padre Island. UTRGV, a comprehensive academic institution, enrolled its first class in the fall of 2015, and the School of Medicine welcomed its first class in the summer of 2016.