MAY 2018 COMMENCEMENT

  Wednesday, May 9, 2018
  Alumni, Announcements
By Maria Elena Hernandez
RIO GRANDE VALLEY, TEXAS – When families crowd into UTRGV commencement ceremonies, they usually look for the best seat to see their graduate.
But one mom will get to sit up front on May 12 with the graduates to watch her daughter walk –because mom is graduating, too.
Maria Edith "E.T." Treviño, of Weslaco, will be right there when daughter Alexia Treviño gets her Bachelor of Science in nursing from UTRGV on Saturday.
In turn, Alexia, also of Weslaco, gets an up-close vantage point when her mother walks across the stage to accept her Doctorate of Education (EdD) in Curriculum and Instruction with specialization in bilingual studies.
"It's extra special," Alexia said of the coming commencement ceremony. "I think I'm just looking forward most to when they call out my mom's name."
"When I found out our dates were going to correlate, I was really excited, because it's such a special moment, where she has sacrificed, and I have sacrificed. We've all sacrificed," E.T. said. "It's kind of our journey together."
E.T. said the upcoming graduation symbolizes coming full circle in her life. When she and her husband decided to have children, they realized their child would be a reason to strive to better themselves.
"We'd have something to aspire to be for this child," she said, "and it's so symbolic that we had her for that reason … And then she's graduating with me."
The large crowds at the UTRGV commencement ceremony will be a far cry from E.T.'s high school graduation.
"I failed high school, and nobody went to my (summer) graduation," she said. "Nobody. Just my teachers and my classmates that were there graduating with me.
"I was an immigrant student, so things were not always easy for me. And being able to walk and obtain the highest level of degree, a doctoral degree, next to my daughter and in front of all these young students – I think that's going to be surreal."
E.T. said her daughter's dedication to her studies motivated her. When she would call Alexia to invite her to grab a bite to eat or go out, Alexia often would be studying at the library.
"That would instill in me to keep going and to not quit," she said.
Alexia agrees that they motivated each other.
"Nursing school definitely has had its setbacks. You know. It's hard times to overcome," she said. "But I thought, if my mom could do it – get her doctorate, with five kids, all of them in school, ages 5 to 22 – then I should be able to do this."
E.T. lights up as she talks about her daughter's accomplishments. When Alexia graduated from Harlingen High School South, she said, she also earned her certified nursing assistant license.
"Something that makes me feel really proud is that where she is right now, at 22, she has reached and done more than I could have ever done at 22 years old," E.T. said. "Our own children achieving more than we could ever achieve – I think that's the biggest goal."
Both mother and daughter thanked their UTRGV professors for their support.
"The professors are always so encouraging, so motivating," Alexia said. "They really get to know about you on a personal level. I even have professors who I told about my mom months ago, and they still ask me, 'How's your mom doing in school?'"
E.T. said her professors and advisor would call to see if she needed help or support with anything, if they hadn't heard from her in a while.
"The professors are at another level," she said. "They always have high expectations for you, even higher expectations than I had for myself. So every time I would met their goals, it was just even more exciting that I could reach that potential."
And speaking of potential … Alexia knows there are more educational opportunities awaiting her.
"Definitely," she said. "My mom, she's about to get her doctorate. And my dad has his master's. So I have those expectations to fill. And then as the oldest of five, I want to be a good role model to my siblings, as well."
E.T., while proud of her own family's accomplishments, is an education advocate passionate about empowering others and she hopes the upcoming joint graduation will inspire others.
"More than anything, it's not about me or my daughter. It's about other women out there, the young girls and the moms, single moms, married moms," she said. "Having the ganas (will) to keep going. It's not going to be easy, but just the outcome is so worth it."
UTRGV CEREMONIES
Spring Commencement ceremonies will be held 6 p.m. Friday, May 11, on the Student Union Lawn on the Brownsville Campus; and in three ceremonies on Saturday, May 12 – 9 a.m., 1 p.m. and 5 p.m. – at the McAllen Convention Center.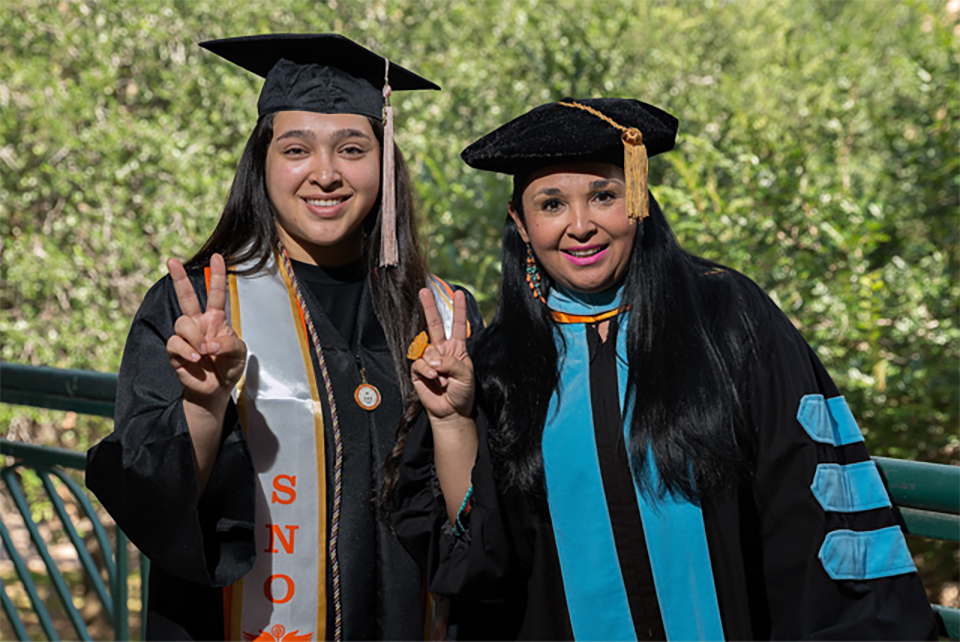 ABOUT UTRGV
The University of Texas Rio Grande Valley (UTRGV) was created by the Texas Legislature in 2013 as the first major public university of the 21st century in Texas. This transformative initiative provided the opportunity to expand educational opportunities in the Rio Grande Valley, including a new School of Medicine, and made it possible for residents of the region to benefit from the Permanent University Fund – a public endowment contributing support to the University of Texas System and other institutions.
UTRGV has campuses and off-campus research and teaching sites throughout the Rio Grande Valley including in Boca Chica Beach, Brownsville (formerly The University of Texas at Brownsville campus), Edinburg (formerly The University of Texas-Pan American campus), Harlingen, McAllen, Port Isabel, Rio Grande City, and South Padre Island. UTRGV, a comprehensive academic institution, enrolled its first class in the fall of 2015, and the School of Medicine welcomed its first class in the summer of 2016.