Wednesday, April 25, 2018
  Awards and Recognitions
By Victoria Brito
Dr. Myoung-Hwan Kim, UTRGV assistant professor of physics, was named the 2018 Outstanding Young Researcher by the Association of Korean Physicists in America (AKPA), during the annual meeting of the American Physical Society in March in Los Angeles.
Kim, who has been with UTRGV for two years, was recognized for his work on infrared light, which came as a surprise because that isn't his main focus, but rather just part of the fundamentals of the work he currently does.
"The reason I was surprised is because the award has been given since 1994, and every year they recognize a young Korean physicist in the United States. But there are many past winners from Ivy Leagues or Tier-1 Research Universities," he said.
He said the recognition is especially important to him because attaining it can be so difficult.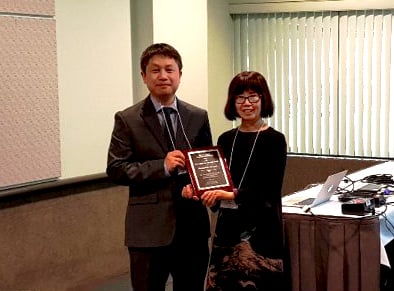 "I was nominated this year and I thought I wouldn't get it because we are not yet an emerging research university, not as established. Then they said it was because of my studies on modern materials with infrared lasers – which is weird, because my major accomplishment is not this one."
For the past 12 years, Kim has been working on novel material research using recently developed polarimetric spectroscopy technique.
"This is a pioneer study," he said. "My expertise is polarimetric spectroscopy – which is a method of studying materials using polarized light. It is a spectroscopy – the study of the absorption and emission of light by matter – in a special condition of light."
Kim said his research is in the fundamental stages.
"These are the initial stages to build these measurement systems," he said. "It is an emerging, new kind of technique to provide deep understanding of physics in time-reversal symmetry broken material system."
For those who do not speak physics, time-reversal symmetry means physics does not change when time flows backward.
Kim's research laboratory on the Brownsville Campus is equipped with state-of-the-art infrared and terahertz spectroscopy systems, supported by UTRGV and the UT System with $463,119 from the UT System Valley STAR award in Spring 2016, and a UTRGV College of Science SEED grant award.
His group of graduate students under the UTRGV UT Arlington cooperative Ph.D program have developed new optical nanostructures for nano-photonics research, and he plans to equip a new polarimetric spectroscopy system for novel material research at UTRGV.
"This will be powerful research," he said. "I believe that is AKPA sees this as important.
They see potential in this kind of study, and ultimately, this is why I was given the award."
ABOUT UTRGV
The University of Texas Rio Grande Valley (UTRGV) was created by the Texas Legislature in 2013 as the first major public university of the 21st century in Texas. This transformative initiative provided the opportunity to expand educational opportunities in the Rio Grande Valley, including a new School of Medicine, and made it possible for residents of the region to benefit from the Permanent University Fund – a public endowment contributing support to the University of Texas System and other institutions.
UTRGV has campuses and off-campus research and teaching sites throughout the Rio Grande Valley including in Boca Chica Beach, Brownsville (formerly The University of Texas at Brownsville campus), Edinburg (formerly The University of Texas-Pan American campus), Harlingen, McAllen, Port Isabel, Rio Grande City, and South Padre Island. UTRGV, a comprehensive academic institution, enrolled its first class in the fall of 2015, and the School of Medicine welcomed its first class in the summer of 2016.