But do you know what it is?

  Friday, April 20, 2018
  Around Campus
By Maria Elena Hernandez
While Earth Day brings attention to many environmental issues, meeting environmental and other sustainability goals is a constant focus at The University of Texas Rio Grande Valley.
Sustainable development is part of the university's mission statement and is included in its strategic plan. Sixty percent of UTRGV courses are related to sustainability, and the UTRGV Office of Sustainability recently earned gold status for excellence.
Still, in spite of the strength of the university's focus on and commitment to sustainability, many people aren't quite sure what sustainability is.
UTRGV Chief Sustainability Officer Marianella Franklin said sustainability involves the ability to sustain quality of life by "making sure that whatever we're designing or creating … actually benefits the economy and society and the environment – all at the same time."
Sustainability can involve people, buildings, processes and more, so the UTRGV Office of Sustainability works with people across the university community to further awareness.
REACHING THE ENTIRE UNIVERSITY
Franklin said getting the message out is a collaborative effort, and her office works with all the deans and department chairs.
"We work also with research," she said. "Sustainability is all divisions."
Veronica Solis, a UTRGV graduate who works part time at the Office of Sustainability, said sustainability is a critical topic, one everyone should be aware of.
"We try to show different departments and different offices at UTRGV how they can incorporate – or actually are already incorporating – sustainability in their everyday practices."
Solis was part of the team that conducted the assessment that earned the university's recent gold rating from the Association for the Advancement of Sustainability in Higher Education's Sustainability Tracking, Assessment & Rating System.
"The university, mostly every department, every office, was already doing these things. It was just a matter of documenting it," Solis said. "They were really surprised at how it related to sustainability."
CONNECTING TO SUSTAINABILITY GOALS
Some programs at UTRGV are easily recognized as part of the university's sustainable goals – like the Tree Campus USA designation, and the recycling of computers. But some areas still struggle to see their role in sustainable development.
 
"Because sustainability is so broad, it's sometimes hard for our faculty to understand how their discipline actually contributes to sustainable development," Franklin said.
To help, she refers them to the United Nations' 17 sustainable development goals. These goals include affordable and clean energy, as well as gender equality, and good health and well-being.
"Once they see and are exposed to the 17 goals of sustainable development, it's very clear for them to see, "Oh, well, what I teach has a contribution for this goal and that goal,'" Franklin said.
AIMING FOR PLATINUM STATUS
With two full-time staff members at the Office of Sustainability, help from the entire UTRGV community is critical to meet the university's sustainability goals. This is especially true as the university aims for a platinum sustainability rating.
"We have the opportunity to reach platinum, I think, in a short amount of time," Franklin said.
Students and staff can find sustainability development guides on the UTRGV Office of Sustainability website. The guides include small changes people can make to help the university in its commitment to sustainability.
"I think it's great that sustainability is a core component of the university and its mission," said Karen Villarreal, a UTRGV graduate student assistant who works at the UTRGV Office of Sustainability. "Really every college should be preparing students to go out and make a positive impact in the world."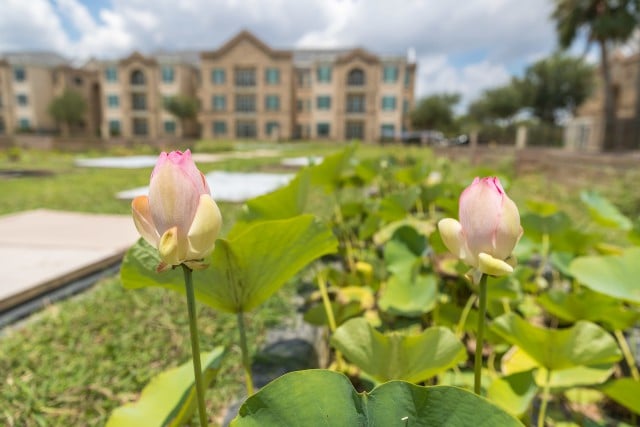 ABOUT UTRGV
The University of Texas Rio Grande Valley (UTRGV) was created by the Texas Legislature in 2013 as the first major public university of the 21st century in Texas. This transformative initiative provided the opportunity to expand educational opportunities in the Rio Grande Valley, including a new School of Medicine, and made it possible for residents of the region to benefit from the Permanent University Fund – a public endowment contributing support to the University of Texas System and other institutions.
UTRGV has campuses and off-campus research and teaching sites throughout the Rio Grande Valley including in Boca Chica Beach, Brownsville (formerly The University of Texas at Brownsville campus), Edinburg (formerly The University of Texas-Pan American campus), Harlingen, McAllen, Port Isabel, Rio Grande City, and South Padre Island. UTRGV, a comprehensive academic institution, enrolled its first class in the fall of 2015, and the School of Medicine welcomed its first class in the summer of 2016.