Wednesday, April 18, 2018
  Around Campus
By Maria Elena Hernandez
When students at The University of Texas Rio Grande Valley visit Adam Steele, he admits teasing them a bit.
"Welcome to the Thunderdome," he'll say, as they enter the Hauser Communication Research Lab, in the UTRGV Department of Communication, College of Liberal Arts.
The lab is set up to help students and others at the university improve their speech communication skills and enhance presentations they have to deliver to a class or publically.
"As soon as they walk in, you can see … they're a little nervous," said Steele, one of the speech coaches at the lab.
He said he sometimes tries to encourage students by asking, "Are you nervous to get a better grade than you would originally?"
And that's not just small talk.
"We actually have some pretty hard data that students who come in for their presentations do overwhelmingly better than students who don't," Steele said.
Students are invited to practice their presentations with a speech coach, who will give feedback and constructive criticism. Steele suggests that students visit about a week or week and a half before their presentation, as well as stopping by for more than one session.
"Honestly, I really think most people should do two. The really, really good ones do about three. Those are the ones where you see the biggest improvement," he said.
It is recommended that students have at least an outline of their presentation, which they have practiced before signing up for a session with a speech coach. And while some students have signed up for a session the same day their presentation is due, it is not encouraged.
"It's hard for me to think that there's really a big difference from when you came in to when you presented, because you didn't actually have time to practice our feedback," he said.
In addition to meeting one-on-one with students, the Hauser Communications Research Lab staff also works closely with faculty.
"You (students) are coming in to talk to people who have talked to your professors and know exactly what they're looking for," he said.
The service isn't just available to students. Faculty and staff are welcome, too. Steele recalled a professor who went for help with a presentation.
"She was really nervous. You could tell she was," he said. "We just helped her get through that. She came in probably once a week for about a month and a half. And by the end of that, she said that she felt great."
The Hauser Communication Research Lab is located in the Liberal Arts Building South in Edinburg. But sessions with speech coaches also can be done from any location via Skype.
"All the services are available via Skype," Steele said.
Students, faculty and staff can arrange an appointment online at http://hauserlab.appointy.com/.
"If you have any questions, come to us," he said. "If we don't know, we'll tell you that, and then we'll try to find a resource in the university that can help. But we'll try to help you with everything we can."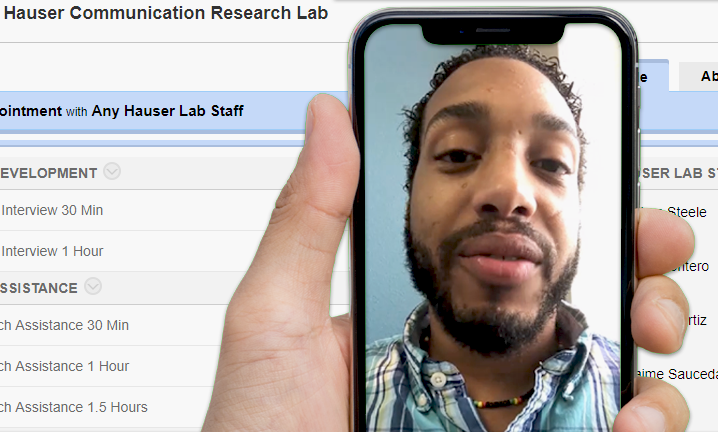 ABOUT UTRGV
The University of Texas Rio Grande Valley (UTRGV) was created by the Texas Legislature in 2013 as the first major public university of the 21st century in Texas. This transformative initiative provided the opportunity to expand educational opportunities in the Rio Grande Valley, including a new School of Medicine, and made it possible for residents of the region to benefit from the Permanent University Fund – a public endowment contributing support to the University of Texas System and other institutions.
UTRGV has campuses and off-campus research and teaching sites throughout the Rio Grande Valley including in Boca Chica Beach, Brownsville (formerly The University of Texas at Brownsville campus), Edinburg (formerly The University of Texas-Pan American campus), Harlingen, McAllen, Port Isabel, Rio Grande City, and South Padre Island. UTRGV, a comprehensive academic institution, enrolled its first class in the fall of 2015, and the School of Medicine welcomed its first class in the summer of 2016.