Two faculty members recognized by National Hispanic Medical Association

  Monday, April 9, 2018
  Awards and Recognitions
By Amanda Taylor
Rio Grande Valley, Texas – Two UTRGV medical professors were honored by the National Hispanic Medical Association (NHMA) during the 22nd annual NHMA Conference this month in Washington, D.C.
Dr. Francisco Fernandez, UTRGV professor of psychiatry, was appointed to the NHMA Board, and Dr. Michael Martinez, UTRGV clinical assistant professor in surgery, was named Young Physician of the Year.
DR. FRANCISCO FERNANDEZ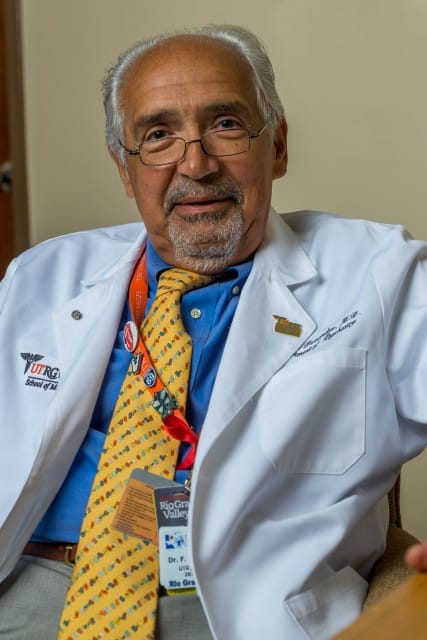 Fernandez, also clerkship director for the UTRGV Department of Psychiatry, Neurology and Neurosciences, was appointed to serve on the NHMA Board based on his dedication to advocacy and mentorship of young physicians.
"The appointment was a welcome surprise, especially since I'm given the opportunity to enhance mentorship, not only to health investigators but to all individuals who make up the Hispanic health population," Fernandez said. "This includes people who are not in medical school, but affiliated with other allied health professions."
Fernandez was reintroduced into NHMA when he was selected as Physician of the Year in 2016. Since then, he has been working with young Hispanic health investigators as a leader in supporting the mission of NHMA – to improve the healthcare practices of Hispanic and underserved populations.
Fernandez was the plenary session speaker and moderator during the NHMA conference, where he presented on "Mental Health Impact of Natural Disasters: Acute and Chronic Phases," based on lessons learned from hurricanes Harvey, Irma, Maria and Nate. He also presented on "Teaching Culturally Competent Latino Family Health," focused on improving family strategies, such as the delay-to-treatment factor.
Through his appointment to the board, Fernandez hopes to bring insight into the major issues surrounding Hispanic healthcare needs and to extend research opportunities.
"It's an honor to be able to engage and participate in this organization that's charged with modifying and improving care for the Hispanic community through research," he said. "The focus is on improving education on a federal level and being able to serve the Hispanic population in a patient-centered way."
DR. MICHAEL MARTINEZ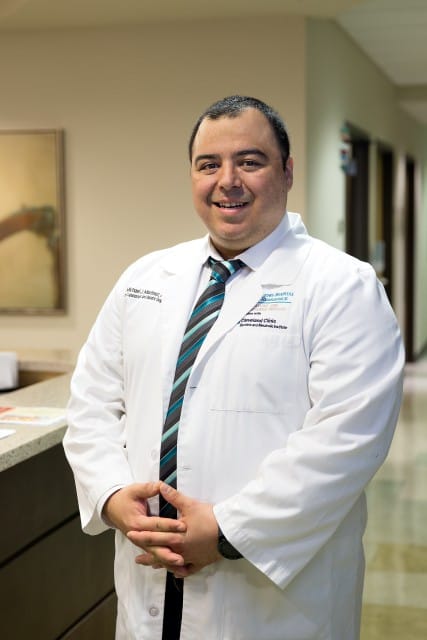 Martinez, who was named one of two Young Physicians of the Year from the Southwest Region, is a UTRGV assistant professor of surgery and a surgeon with the Bariatric and Metabolic Institute at Doctors Hospital at Renaissance (DHR) in Edinburg,
The award is bestowed upon physicians who are within five years of exiting training and have made an impact on Hispanic communities.
Physicians apply for the award by writing a personal essay on how they have given back to their communities. Martinez wrote about his experiences as a young medical student who came back to his hometown to be able to serve as a mentor and doctor.
"I was very thrilled and honored to be awarded," Martinez said. "In my essay, I wrote about how medically underserved the Valley once was and how I've been able to come full circle, mentoring students enrolled in the UTRGV School of Medicine. Now, we have some of the greatest resources in our own backyard."
Originally from Edinburg, Martinez obtained his medical degree from Yale School of Medicine in Connecticut.
He stressed the importance of medical partnerships and recruitment of physicians into the Rio Grande Valley to benefit the population.
"It's important to lend a voice (through NHMA) in what we're building here through the UTRGV and DHR partnership," Martinez said. "It's a matter of demonstrating how our model might apply to other border communities that also have underserved health populations, finding ways people are doing it better and bringing that knowledge back into the Valley."
A total of 12 physicians are awarded nationally from six different regions. The other Young Physician of the Year from the region is Gerardo Lopez-Mena, vice president of medical affairs at DHR Health.
Awardees are accepted into the NHMA and presented at the annual conference each year.

ABOUT NHMA

Established in 1994 in Washington, DC, the National Hispanic Medical Association is a non-profit association representing the interests of 50,000 licensed Hispanic physicians in the United States. The vision of the organization is to be the national leader to improve the health of Hispanic populations.
The mission of the organization is to empower Hispanic physicians to lead efforts to improve the health of Hispanic and other underserved populations in collaboration with Hispanic state medical societies, residents, and medical students, and other public and private sector partners.
As a rapidly growing national resource based in the nation's capital, NHMA:
Serves as a resource to the White House, Congress and the federal government
Develops leadership for Public Health and Private Sector Boards and C Suite Positions
Provides networking opportunities with stakeholders who impact Hispanic health
ABOUT UTRGV
The University of Texas Rio Grande Valley (UTRGV) was created by the Texas Legislature in 2013 as the first major public university of the 21st century in Texas. This transformative initiative provided the opportunity to expand educational opportunities in the Rio Grande Valley, including a new School of Medicine, and made it possible for residents of the region to benefit from the Permanent University Fund – a public endowment contributing support to the University of Texas System and other institutions.
UTRGV has campuses and off-campus research and teaching sites throughout the Rio Grande Valley including in Boca Chica Beach, Brownsville (formerly The University of Texas at Brownsville campus), Edinburg (formerly The University of Texas-Pan American campus), Harlingen, McAllen, Port Isabel, Rio Grande City, and South Padre Island. UTRGV, a comprehensive academic institution, enrolled its first class in the fall of 2015, and the School of Medicine welcomed its first class in the summer of 2016.