Friday, April 6, 2018
  Community, Alumni, Announcements
By News and Internal Communications
Rio Grande Valley, Texas – UTRGV scholarship recipients recently had the chance to meet the donors who are investing in their education.
The donors, who have established named or endowed scholarships, and the recipients connected at the university's annual donor scholarship luncheons, held in Brownsville on Tuesday, March 27, and in Edinburg on Thursday, March 29.
CHANGING LIVES
Endowment donor Jorge Estrada and his siblings set up the Carlos A. & Virginia G. Estrada Scholarship Fund Endowment in honor of their parents. The scholarship provides funds for tuition, fees, books and expenses.  The Brownsville luncheon gave him a chance to meet two of their recipients.
"It feels great to be sitting next to these guys and hear their stories," Estrada said.
Michael Garcia, one of the recipients of the Estrada Scholarship, graduated in December 2017 with a master's degree in rehabilitation counseling. Meeting Estrada gave him the opportunity to express his gratitude. 
"Thank you so much," Garcia said. "I wouldn't have achieved my goals without your support."
Jerry Martinez, another Estrada Scholarship recipient, is set to graduate in May with a master's degree in public administration. He was working full time and only taking one class each semester. But receiving the Estrada Scholarship allowed him to jump on the accelerated track to earn his degree.
"If it wasn't for the Estrada scholarship, I wouldn't have been able to pay for the accelerated route. Tuition is due every seven weeks. Now, I'm so close to graduating," Martinez said.
Like the Estrada family, Carlos X. Guerra and his family have invested in scholarships at UTRGV.  The family has set up five endowments with the university.  He and his wife, Ofira, attended the Edinburg luncheon. 
"In our opinion, education is the solution to all problems.  It's the greatest thing that a parent can leave their child or a community leader can leave their community," said Guerra "So, we work very hard to encourage students through scholarships."
Zafira Castillo is one of the Guerra family's recipients.  The Rafael and Carmen Guerra Honors Program Fund gave her the resources she needed to study abroad. 
"Their financial support allowed me to go to Peru.  I had such an amazing experience and learned so much," said Castillo.
BE THE CHANGE
This year's luncheon theme was "Be the Change," a shortened version of the popular phrase, "Be the change you wish to see in the world."
Alicia King, associate vice president for Development, spoke at both events about the formula for encouraging positive change.
"The first step is to notice what's happening in the world around you. Step two is to choose actions that create positive change. Step three is to act as a role model for kindness and compassion," she said. "By contributing to the world through positive actions and service to others, we can inspire change all around us."
King introduced a video about a cycle of generosity featuring a couple who is changing lives through their endowments. One of their scholarship recipients went on to establish three endowments at UTRGV, and is now supporting a student in the School of Medicine who plans to establish an endowment of his own someday.
Dr. Patricia McHatton, executive vice president for Academic Affairs, Student Success and P-16 Integration, thanked the endowment donors at each luncheon and had a message for the scholarship recipients. 
"Really think about this idea of paying it forward," she said. "None of us is self-made. All of us are where we're at because someone saw something in us, provided us an opportunity to dream, allowed us to be able to achieve those dreams," McHatton said. "So now, we have a responsibility. That responsibility is to give back and make sure that we do the same for others who come behind us."
INVESTING IN STUDENTS
Scholarships provide a stream of financial support for students to cover tuition, fees and other college-related expenses.  Donors can create a scholarship through an outright gift or through an endowment. Endowment gifts are a long-term, strategic investment in UTRGV.
For more information on establishing a scholarship at UTRGV, contact the Division of Institutional Advancement at (956) 665-5301.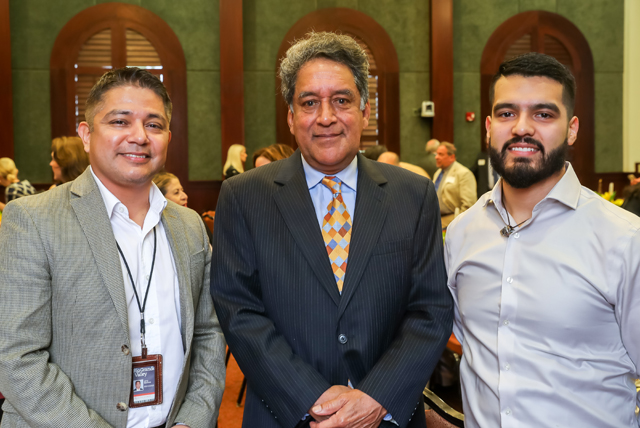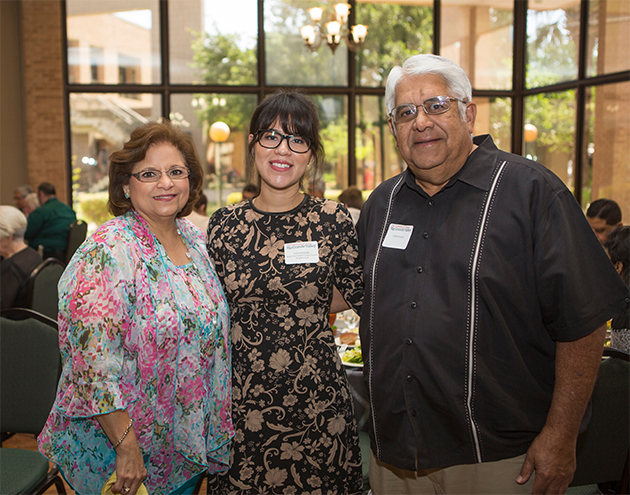 ABOUT UTRGV
The University of Texas Rio Grande Valley (UTRGV) was created by the Texas Legislature in 2013 as the first major public university of the 21st century in Texas. This transformative initiative provided the opportunity to expand educational opportunities in the Rio Grande Valley, including a new School of Medicine, and made it possible for residents of the region to benefit from the Permanent University Fund – a public endowment contributing support to the University of Texas System and other institutions.
UTRGV has campuses and off-campus research and teaching sites throughout the Rio Grande Valley including in Boca Chica Beach, Brownsville (formerly The University of Texas at Brownsville campus), Edinburg (formerly The University of Texas-Pan American campus), Harlingen, McAllen, Port Isabel, Rio Grande City, and South Padre Island. UTRGV, a comprehensive academic institution, enrolled its first class in the fall of 2015, and the School of Medicine welcomed its first class in the summer of 2016.