Tuesday, March 27, 2018
  Alumni, Announcements
By News and Internal Communications
RIO GRANDE VALLEY, TEXAS – On any college campus, you'll hear tales – rumors, myths, legends – some tall, some not. The University of Texas Rio Grande Valley is no exception.
One popular, contemporary way to spread those tales – at least at UTRGV – is Snapchat, a popular social media messaging platform. And with almost 36,000 followers at a university of about 28,000 students, the UTRGV Snapchat account can pack some punch.
With that many students Snapchatting, it's no surprise the account has had its share of trends. Like the white cat on the Edinburg Campus, said to bring good luck when spotted before an exam. Those Snaps of a "parachute guy," with a large backpack.
And, of course, The Man, The Myth, The Legend.
When people spot Astronomy 1401, 1402 lecturer John Faust on campus — usually wearing interesting combinations of colored pants, shirts, sweaters and hats — a photo (on some days, several) will pop up on UTRGV Snapchat with the caption: "The Man, The Myth, The Legend."
Faust has gained popularity on the UTRGV Snapchat account and across social media platforms. But the man himself had no idea he was myth or legend until a few weeks ago. In fact, he has no personal social media presence at all, and isn't quite sure what, exactly, Snapchat is.
"I don't know where this 'legend' business came from," said the self-effacing Faust, "but I must be doing something OK."
Cristopher Din, a kinesiology major who started the UTRGV Snapchat account, said students truly like Faust.
"We're not making fun of him by making him go viral," Din said. "If anything, it's out of admiration."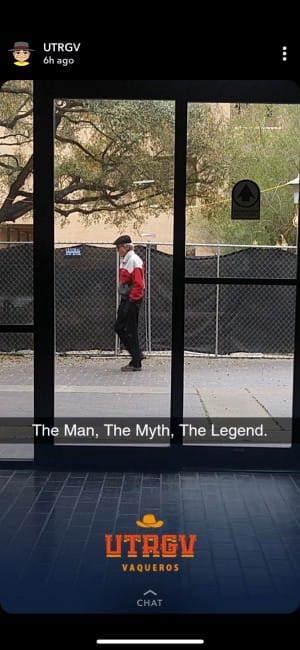 'HE MAKES YOU WANT TO LEARN'
A native of San Benito, Faust began teaching in public schools in the 1980s, and in 2011 joined UT Pan American, his alma mater, as a part-time lecturer.
Now a lecturer at UTRGV, Faust says most of his students aren't science majors; they're there to complete their basic science credits.
Ask Faust's students about him, though, and they'll tell you just how good he is as a teacher. And as proof, he rocks a 90 percent positive rating on his student evaluations.
Joan Juarez, a history education major in Faust's ASTR 1402 course, says he's one of the best teachers she has had.
"He's funny but he makes you want to learn," Juarez said. "If you mess up, he doesn't get after you – he just makes you laugh. And that just makes you want to pay more attention in his class."
Faust's approach to teaching is simple, but effective. In any given lecture he'll repeat things like "in other words" a dozen times or so to rephrase complicated theories. When approaching a term like "denominator," he'll simplify it to something like, "the guy on the bottom."
"My philosophy in teaching is to take what the field knows and put it into terminology that everybody can understand," Faust said. "In science, our biggest mistake is that we tend to publish for our peers, when in reality, we should publish for mankind. Every scientific paper should be written so anyone off the street could understand it."
With his big personality, Faust keeps his students alert by inserting humor into his lectures.
"As an educator, you have to be aware of this thing called 'attention span,'" he quips.
ABOUT UTRGV
The University of Texas Rio Grande Valley (UTRGV) was created by the Texas Legislature in 2013 as the first major public university of the 21st century in Texas. This transformative initiative provided the opportunity to expand educational opportunities in the Rio Grande Valley, including a new School of Medicine, and made it possible for residents of the region to benefit from the Permanent University Fund – a public endowment contributing support to the University of Texas System and other institutions.
UTRGV has campuses and off-campus research and teaching sites throughout the Rio Grande Valley including in Boca Chica Beach, Brownsville (formerly The University of Texas at Brownsville campus), Edinburg (formerly The University of Texas-Pan American campus), Harlingen, McAllen, Port Isabel, Rio Grande City, and South Padre Island. UTRGV, a comprehensive academic institution, enrolled its first class in the fall of 2015, and the School of Medicine welcomed its first class in the summer of 2016.