Popular UTRGV Snapchat account founded by student committed to campus life

  Tuesday, March 27, 2018
  Announcements, Alumni
By News and Internal Communications
RIO GRANDE VALLEY, TEXAS - UTRGV's large and still growing Snapchat footprint all began when kinesiology major Cristopher Din felt there was something missing in campus life. It was summer 2015, right before UTRGV opened its doors, and Din was finding it difficult to find out about events or social gatherings.
"The main reason I moved into the dorms was to experience the college life," he said. "I wanted there to be a way for people to know when events were going on, or if they wanted to meet up to play soccer."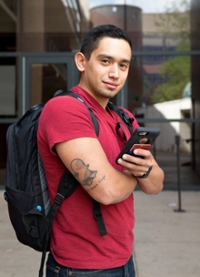 So Din, a Palmview native, decided to start a Snapchat account so students could have a way to connect. Originally, it was going to be called Vaquero TV, but after realizing the username "utrgv" was available, they seized the opportunity, and became the founders of what eventually would become the official UTRGV Snapchat account.
Having an account bearing the university name comes with a lot of responsibility, and Din knew that, so he made sure there were guidelines to follow. The account has never posted any illegal activities, parties, or "anything that could jeopardize the school's reputation," he said.
Eventually, the UTRGV Social Media team reached out to Din, and now they run the account together.
On UTRGV Snapchat – which now has almost 36,000 followers – you'll see student organizations set up around the Edinburg and Brownsville campuses fishing for customers to fundraise for their activities. They advertise on the account because they know people will see it. Each post get roughly 10,000 views, Din said.
"I do this for them," he said. "Whenever I have time, I try to update the Snapchat story because I know there are organizations that fundraise money for a good cause. At the end of the day, I may not be in that organization, but I helped them out in that way. That makes me happy." 
Even Din himself has been subject to Snapchat trends, with photos of himself often finding their way onto the account. And he has a Snapchat logo tattoo on his arm that says "Thoughts become Things," making him immediately distinguishable as the "Snapchat guy."
"There's a lot of things that go into making the account; it's not that easy," he said. "To me, this tattoo is really meaningful, it has a story behind it. It reminds me that if you set your mind to something, you can do it."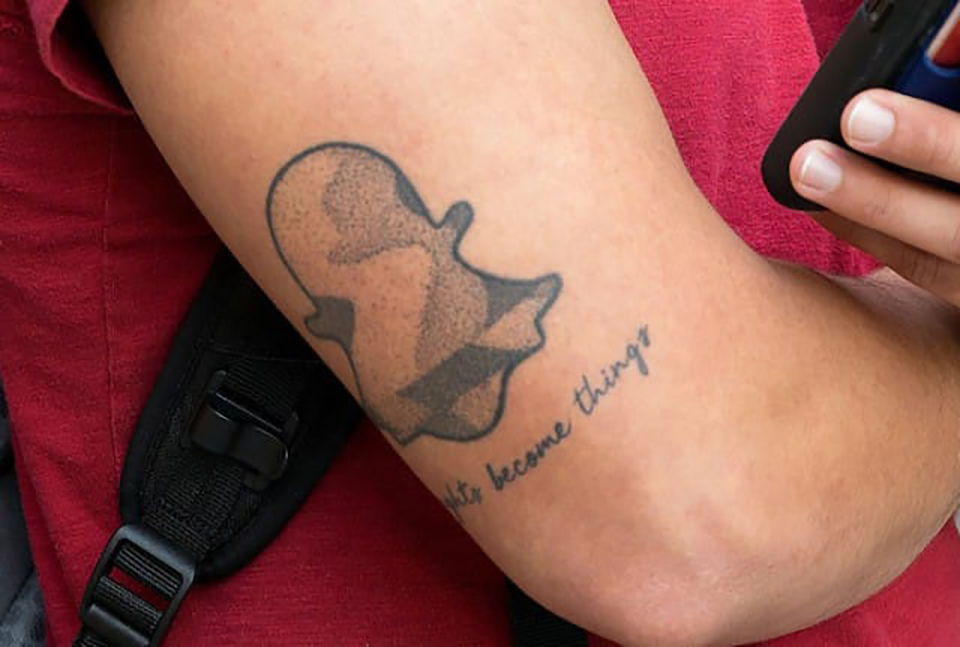 ABOUT UTRGV
The University of Texas Rio Grande Valley (UTRGV) was created by the Texas Legislature in 2013 as the first major public university of the 21st century in Texas. This transformative initiative provided the opportunity to expand educational opportunities in the Rio Grande Valley, including a new School of Medicine, and made it possible for residents of the region to benefit from the Permanent University Fund – a public endowment contributing support to the University of Texas System and other institutions.
UTRGV has campuses and off-campus research and teaching sites throughout the Rio Grande Valley including in Boca Chica Beach, Brownsville (formerly The University of Texas at Brownsville campus), Edinburg (formerly The University of Texas-Pan American campus), Harlingen, McAllen, Port Isabel, Rio Grande City, and South Padre Island. UTRGV, a comprehensive academic institution, enrolled its first class in the fall of 2015, and the School of Medicine welcomed its first class in the summer of 2016.