Wednesday, March 21, 2018
  Alumni, Announcements
By News and Internal Communications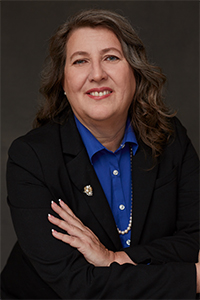 RIO GRANDE VALLEY, TEXAS – The American Council on Education ( ACE) has announced that Dr.   Elizabeth A. Heise, the vice provost fellow for Faculty Affairs and Diversity at The University of Texas Rio Grande Valley and an associate professor in the School of Earth, Environmental and Marine Science (SEEMS), has been named an ACE Fellow for academic year 2018-19.
Heise has been a faculty leader at both UTRGV and its legacy institution, UT Brownsville-Texas Southmost College. As vice provost fellow for Faculty Affairs and Diversity, she leads the General Faculty Development Program, the faculty awards and recognitions, and oversees the use of the Faculty Portfolio Tool (Digital Measures) for faculty reviews and promotions. She has been chair of the UT System Faculty Advisory Council, UTB Faculty Senate president, and a department chair.
"I am very excited to be an ACE Fellow and I look forward to the opportunity to learn from university leaders and bring the things I learn back to UTRGV," Heise said. "This is an honor that I intend to make the most of by engaging with the people I work with during my placement year."
ABOUT THE   ACE FELLOWS PROGRAM
Established in 1965, the program is designed to strengthen institutions and leadership in American higher education by identifying and preparing faculty and staff for senior positions in college and university administration through its distinctive and intensive, nominator-driven, cohort-based mentorship model.
Following nomination by the senior administration of their institutions and a rigorous application process, 45 ACE Fellows were selected this year.
More than 2,000 higher education leaders have participated in the ACE Fellows Program over the past five decades, with more than 80 percent of Fellows having gone on to serve as senior leaders of colleges and universities.
The program combines retreats, interactive learning opportunities, visits to campuses and other higher education-related organizations, and placement at another higher education institution to condense years of on-the-job experience and skills development into a single year.
During the placement, Fellows observe and work with the president and other senior officers at their host institution, attend decision-making meetings and focus on issues of interest. Fellows also conduct projects of pressing concern for their home institution, and seek to implement their findings upon completion of the fellowship placement.

"For more than a half-century, the ACE Fellows Program has been a powerful engine fueling the expansion of a talented and diverse higher education leadership pipeline," said ACE President Ted Mitchell. "We are excited to welcome this new class of Fellows and look forward to each enjoying a transformative experience that will help advance individual leadership readiness while also enriching the capacity of institutions to innovate and thrive."
ABOUT ACE

Celebrating its centennial in 2018, ACE is the major coordinating body for all the nation's higher education institutions, representing nearly 1,800 college and university presidents and related associations. It provides leadership on key higher education issues and influences public policy through advocacy.
ABOUT UTRGV
The University of Texas Rio Grande Valley (UTRGV) was created by the Texas Legislature in 2013 as the first major public university of the 21st century in Texas. This transformative initiative provided the opportunity to expand educational opportunities in the Rio Grande Valley, including a new School of Medicine, and made it possible for residents of the region to benefit from the Permanent University Fund – a public endowment contributing support to the University of Texas System and other institutions.
UTRGV has campuses and off-campus research and teaching sites throughout the Rio Grande Valley including in Boca Chica Beach, Brownsville (formerly The University of Texas at Brownsville campus), Edinburg (formerly The University of Texas-Pan American campus), Harlingen, McAllen, Port Isabel, Rio Grande City, and South Padre Island. UTRGV, a comprehensive academic institution, enrolled its first class in the fall of 2015, and the School of Medicine welcomed its first class in the summer of 2016.