Thursday, March 8, 2018
  Alumni, Announcements
By Marci Caltabiano-Ponce
RIO GRANDE VALLEY, TEXAS – A team of university faculty and administrators are leading an effort to help students and employees in the community in developing key skills that will meet the demands of a current and evolving workforce.

The effort is highlighted by UTRGV Continuing Education, via the "Professional Transferable Skills Course Series," designed to provide training in the soft skills expected in higher education and employment settings, but rarely taught directly. 

Potential employers today increasingly rely on skills like the ability to adapt to continuous innovation, develop lifelong learning strategies, teamwork, resiliency, agility and trust. These transferable, essential job and life skills – such as professional communication, interview skills, and professional netiquette – are not covered in traditional coursework. So they are now the focus of this innovative Continuing Education effort to strengthen the Rio Grande Valley's workforce.

The project germinated last fall, during a Student Academic Success Workshop on Innovative Strategies to Improve Student Success. In a small group discussion, Dr. Jesus Gonzalez, lecturer in Engineering Technology; Dr. Andreas Holzenburg, professor of Biomedical Sciences in the School of Medicine; Dr. Janet Martinez, lecturer II in the Department of Teaching and Learning; and Dr. Selma Yznaga, associate professor in the Department of Counseling and Guidance, collaborated and determined that many area students lacked the fundamental soft skills critical to their performance in the classroom, such as public speaking, netiquette and interpersonal communication skills for requesting help from professors. 
The initial idea was to provide soft skills training as part of a university learning framework course, but later was modified in order to offer the training to the community at large, as well. The team continued to meet and plan for the new courses, and was expanded to include Dr. Nikkie Hodgson, assistant professor in Communications Studies, and Dr. Juan Andres  Rodriguez-Nieto, director of UTRGV Career Services. The committee also included a community partner, Dr. Kai Wulff of Plexus Consulting in Brownsville, who will provide the leadership training module.
"The group was convinced that our students would benefit from soft skills training," Yznaga said. "As professors, we knew first hand that the lack of soft skills was an impediment to student success. We also knew that we didn't have the time to directly teach them in our courses. So, with advice from Deputy Provost Dr. Cynthia Brown, the course will be offered as a continuing education opportunity for anyone who wishes to improve their skill set."

The series on workforce skills development will be module-based, and participants can choose from a list of 10 soft skills modules. Each module introduces a key topic led by recognized local leaders with expertise on the module topic.
Participants in the series of 10 modules must complete a minimum of five to earn a certificate.
Each module does have a nominal fee, but Yznaga said profits from the modules will be used to develop scholarships for students with economic limitations who are interested in taking the courses.
The course series is for anyone wishing to boost their skill set for professional development purposes.
FOR MORE INFORMATION
You can also contact the UTRGV Office of Continuing Education at (956) 665-2071 or email:

 

continuinged@utrgv.edu.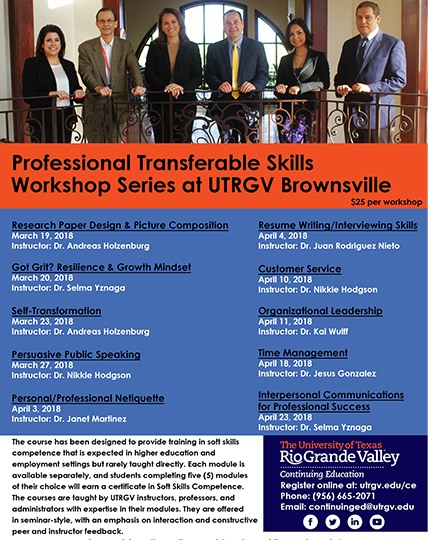 ABOUT UTRGV
The University of Texas Rio Grande Valley (UTRGV) was created by the Texas Legislature in 2013 as the first major public university of the 21st century in Texas. This transformative initiative provided the opportunity to expand educational opportunities in the Rio Grande Valley, including a new School of Medicine, and made it possible for residents of the region to benefit from the Permanent University Fund – a public endowment contributing support to the University of Texas System and other institutions.
UTRGV has campuses and off-campus research and teaching sites throughout the Rio Grande Valley including in Boca Chica Beach, Brownsville (formerly The University of Texas at Brownsville campus), Edinburg (formerly The University of Texas-Pan American campus), Harlingen, McAllen, Port Isabel, Rio Grande City, and South Padre Island. UTRGV, a comprehensive academic institution, enrolled its first class in the fall of 2015, and the School of Medicine welcomed its first class in the summer of 2016.