Friday, March 2, 2018
  Alumni, Announcements
By Maria Elena Hernandez
RIO GRANDE VALLEY, TEXAS – The pizza, chips and video games didn't look like your typical mid-term. But for art and computer science students in the University of Texas Rio Grande Valley game development course, that's exactly what it was.
"They tend to enjoy the exams, for sure," said Dr. Emmett Tomai, a UTRGV associate professor of computer sciences.
Tomai and Donna Sweigart, UTRGV associate professor of art, hosted the Game Showcase on Tuesday at the UTRGV Visual Arts Building on the Edinburg Campus. For the past five years, the two have led parallel classes in game design, which partners students from the College of Engineering and Computer Science and the College of Fine Arts for projects.
"We couldn't figure out how to co-teach the courses, because mine is a six-hour-a-week course and his is a three-hour," Sweigart said. "So we just figured out that if we overlap them time-wise, then we can meet in the same time period. So once a week, we meet both of those classes collaboratively."
Tomai said that while the classes are separate and have separate grading, the group project – creating a video game prototype – is part of both courses. The completed projects are featured in the Game Showcase, where others are invited to try out the games and vote for a favorite.
"It felt like a really good opportunity for art students and CS (computer science) students to learn collaboration and to work together to generate stuff that they then can show off – which we find to be much better motivation than whatever grades we give them," he said.
The Game Showcase was crowded, as users tested the 10 prototypes created. Game names included "Super Retriever," "Red" and "Crescent."
Tomai said students had less than four weeks to create the games.
"It's very much a rushed, rapid development sort of process, so it's a lot of having to pull together as a team and get things out quickly," he said.
Javier Gonzalez, a junior majoring in fine arts with a concentration in graphic design, said collaboration started with finding a style both he and his fellow artist could work with.
"And the programmers, it's so interesting working with them, because they have their own set of rules they have to follow with programming," he said.
Gonzalez said the game his group presented at the Game Showcase was very different from their original plans.
"It just kept changing and evolving as we moved things around," he said.
Tomai said that, thinking back over the projects of the past five years, "They really come up with some pretty impressive things."
Sweigart, too, is enthusiastic about what else the collaboration can bring.
"I'm looking forward to possible other collaborations cross-collegiate, and I think we have many good opportunities to do that," she said.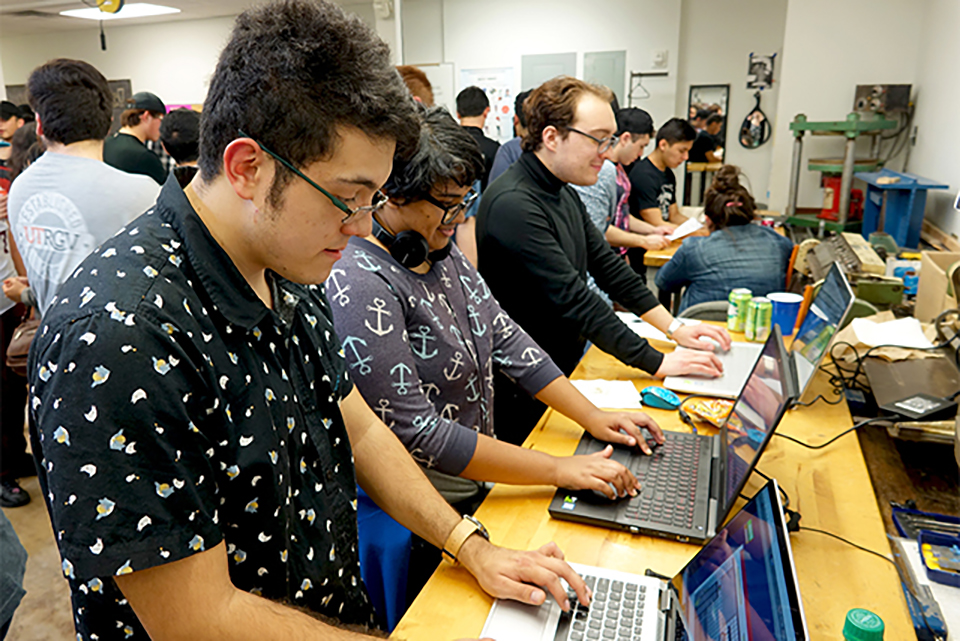 ABOUT UTRGV
The University of Texas Rio Grande Valley (UTRGV) was created by the Texas Legislature in 2013 as the first major public university of the 21st century in Texas. This transformative initiative provided the opportunity to expand educational opportunities in the Rio Grande Valley, including a new School of Medicine, and made it possible for residents of the region to benefit from the Permanent University Fund – a public endowment contributing support to the University of Texas System and other institutions.
UTRGV has campuses and off-campus research and teaching sites throughout the Rio Grande Valley including in Boca Chica Beach, Brownsville (formerly The University of Texas at Brownsville campus), Edinburg (formerly The University of Texas-Pan American campus), Harlingen, McAllen, Port Isabel, Rio Grande City, and South Padre Island. UTRGV, a comprehensive academic institution, enrolled its first class in the fall of 2015, and the School of Medicine welcomed its first class in the summer of 2016.